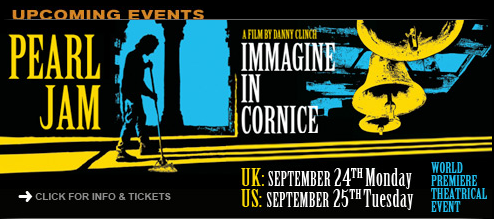 Apparently Seattle grunge rockers Pearl Jam are still around and will be appearing on a screen near you, at least if you live in one of a handful of US or UK cities, on 24 and 25 September. They are the latest act whose concert has been recorded in high definition an 5.1 surround sound and is being shown in cinemas by D&E Entertainment. The company claims that "the film will play exclusively in digital cinema," which must mean that they won't be making 35mm prints, because this 'exclusive' event will be available on DVD on the same day.
The D&E press release doesn't go easy on the hype, though:
Evan Saxon, Co-President of D&E Entertainment and Doug Kluthe, Co-President of the company, applaud Pearl Jam's embrace of digital cinema technology in opening the new movie: "Unveiling Pearl Jam's 'Immagine In Cornice' in Digital Cinema presents this historic movie in the kind of innovative and comprehensive setting it deserves. With a live show second to none, Pearl Jam is offering music fans and moviegoers a once-in-a-lifetime opportunity to experience the excitement of their hugely successful 2006 European Tour projected in HD. We are grateful to both Monkeywrench and Rhino for letting us be part of another great chapter in Pearl Jam's historic career."
There are, however, two things that are interesting about this screening. The first is that traditionally in the US it is NCM that has promoted these types of concert film DVD releases with one-off screenings. The second is that the bottom of the press release reveals that "Technicolor Digital Cinema is handling all mastering, digitization and distribution of the film," which means that it must have been mastered in the JPEG2000 format used for Hollywood films and playing off the digital cinema equipment, rather than using MPEG and the HD advertising projectors that NCM and others have used earlier.
D&E Entertainment also have a full schedule of other pre-recorded concerts by true rock notables that will get a big screen outing. The list includes:
Ramones 'It's Alive 1974-1996'
Peter Bogdonavich's 'Tom Petty and the Heartbreakers: Runnin' Down a Dream'
Bob Marley 'Live At The Rainbow'
Jimi Hendrix 'Live At Monterey'
Steve Miller Band 'Live in Chicago'
Smashing Pumpkins 'Live at the Filmore'
All of these are fairly recent and it will be interesting to see how they fare compared to truly live concerts shown in cinemas, such as David Gilmour most recently, or older ones like Queen's 1981 Montreal concert film.

Latest posts by Patrick von Sychowski
(see all)