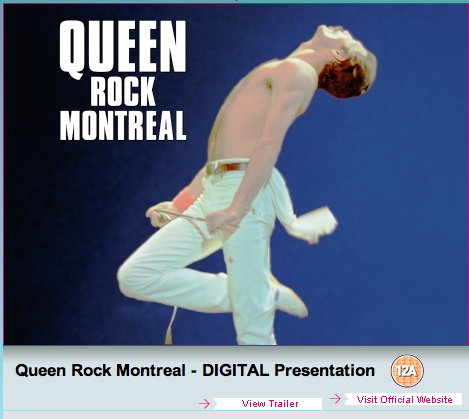 At a time when more and more rock bands are re-forming (Led Zeppelin, Police and Sex Pistols), one rock band that can't reform (RIP Freddy Mercury) is having one of its old concerts dusted off and projected onto the big screen. Queen's 1981 concert in Montreal will be shown at Empire cinemas in the UK courtesy of Arts Alliance Media, who are dipping a few more corporate toes in the alternative content waters. Here is what the press release has to say:
"Queen Rock Montreal" was filmed at the height of the band's worldwide popularity at two concerts in Montreal on November 24 and 25, 1981. Only previously seen on the big screen when it premiered at the Cannes Film Festival in 1984, the film has been specially re-mixed and will be released on new digital cinema prints, produced by Arts Alliance Media. It will play from Friday 21st September to Tuesday 25th September, at selected Empire cinemas, including the Empire Leicester Square (London), Empire Wigan, Empire Swindon, Empire Slough and Empire High Wycombe. The film will be released on DVD and CD (Eagle Vision and EMI/Parlophone) on October 29th.
While there have been successes with recent live concerts by old rockers such as Genesis and David Gilmour (as Time Out recently noted, there seems to be "an unaccountable bias towards progressive-rock dinosaurs" when it comes to alternative content screening in cinemas), there is as yet no proof that people will pay good money to watch old concerts. This trial will thus be an interesting test about whether Queen and their like can still pack them out in cinemas and not just as re-purposed musical. And if it does, will it be because it is a concert or because it is a concert movie?
As well as playing in the UK, the concert movie will also go out in Canada, where they are trying to drum up more interest by holding a Freddy Mercury look-a-like contest. Ultimately it will be available on DVD and CD, with Amazon already taking pre-orders, which is where Im sure most people will see it.

Latest posts by Patrick von Sychowski
(see all)