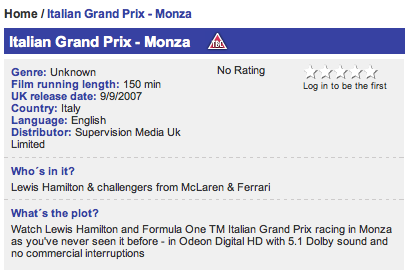 Or, more specifically, does Formula 1 work on the big screen? Time Out London decided to find out, so they tore one of their film critics, Edward Lawrenson, away from his Tarkovsky DVD collection and dispatched him to a multiplex screening a Formula 1 race.
The outlook was not good. Lawrenson himself notes, with typical British understatement, that "at the risk of indulging in wild generalisation, most arthouse film buffs are not sport fans." So how would he take to spending a Sunday afternoon at the Odeon Covent Garden watching a live screening of the Italian Grand Prix? Surprisingly well, it turns out.
In the article Lawrenson reviews the event as if it was a film:
The opening minutes, though, are disappointing: pre-race footage of of the drivers, glamorous young women, and balding technical guys mulling about in the paddock, typical TV sports coverage that gains nothing from being on the big screen. Where's the tension, the artistry, the foreshadowing of narrative motifs?

But then the race started, and the film became genuinely exiting. The picture was crisp, bright and smooth, far more vivid than any TV clips. But it was the noise of the cars, a cloud of mosquitoes amplified to thunderous cinema-surround levels that got me. Watching these sleek machines charge round the track to a soundtrack turned up to 11 jump-started the adrenaline levels; and it made me change my expectations. This was nothing like a film by Tarkovksy. Hot damn! This was a freakin' Michael Bay movie. 'Transformers' wimps out by comparison.
So as George Lucas almost said, sound is half the picture, and apparently also the key to why alternative content works so well in cinemas. As well as Formula 1, the same Odeon cinema – where three of its four screens are equipped with digital cinema projectors courtesy of the UKFC's Digital Screen Network – is also showing opera (categorized as 'Musical') and rugby.
And it's not just the Time Out film critic who treated the F1 event like a film. See the screen-shot below from Odeon's website advertising the event: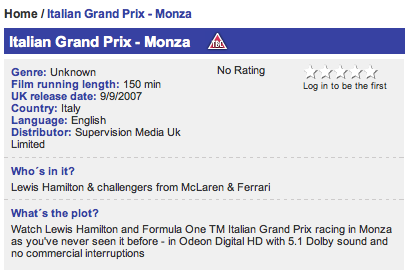 Listing F1 works up to a point, except on the same page under Other films in this genre Odeon lists: 'My Nikifor' ("Nikifor, a painter, enters the life of W?osi?ski, a quiet and private man. After discovering Nikifor has no family and no to turn to, W?osi?ski takes him in.") and 'We Are All Christs' ("Polish drama examines social relations in Poland, while telling the story of three generations of a family destroyed by alcoholism.") While these sound like the sort of films Time Out's critic might normal go to see, I don't think they will interest most people who go to the cinema to specifically see F1 races. But an interesting way for Odeon to try to entice any ODS audience to come back for regular film screenings.

Latest posts by Patrick von Sychowski
(see all)