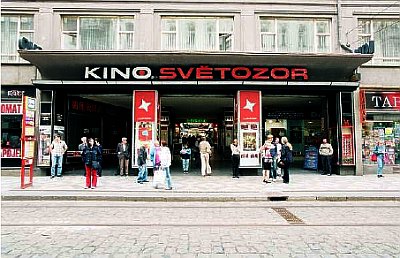 You can now adopt a seat in one of Prague's oldest cinemas, Kino Svetozor, which is raising money for refurbishment through the innovative scheme. The idea and the background to the cinema is discussed in an article and broadcast by Radio Praha:
Kino Svetozor is one of the oldest cinemas in the Czech Republic, screening its first film way back in 1918. The film-house may be one of the most historic in the Czech Republic, but over the years, it has taken great pains to keep up with cinematic trends. In 1968, it revamped its whole interior to accommodate 'kinoautomat' – or interactive cinema – a conceptual type of film invented by director Raduz Cincera. Now, Svetozor is introducing Czech cinemagoers to something new again – this time, the concept of visitors 'adopting' their own seats.
The idea of interactive cinema was launched at the Montreal 1967 Expo as Czechoslovakia's submission to the World's Fair, where it won rave reviews. This article also from Radio Praha:
Despite the film's success in Montreal, it wasn't shown here in Prague until four years later, in 1971. It was so popular that there were screenings twice a day. But less than a year later the Communists had banned it. Alena Cincerova explains why.

"All this group of authors was so-called 'politically unconfident', they didn't like them so much and I think that was the main reason the film was put in the safe, like many other beautiful films from the so-called New Wave era, the golden era, of Czech cinematography."

Times have changed, of course, and the Kinoautomat has been taken out of the vaults and dusted down. But speaking after a successful first night, Ivo Anderle, manager of the cinema screening the film, says he still feels it is a huge pity the system was not allowed to go further the first time round.


"As you might know, originally at the end of the 60s all the big Hollywood studios were asking Mr Cincera for Kinoautomat licensing. Unfortunately in the Socialist era this was not possible, it was the property of the state which did not care so much about selling it, so Kinoautomat was not lucky."
Would cinema history have looked different if the system had been licensed to the Hollywood studios, or would it have gone down the same cinematic cul-de-sac as Smell-o-vision and Cinerama? Would we today have fully interactive stories at the multiplex, allowing us to decide whether Tom Cruise lives or dies in the latest Mission Impossible? Some things we will just never know for sure.

Latest posts by Patrick von Sychowski
(see all)