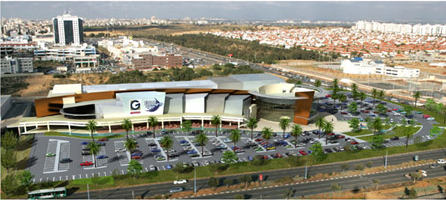 Israel is set to get its second Cinema City complex in a $50m joint venture between Israeli company Gazit-Globe Israel and Portuguese company New Lineo Cinemas (NLC), which built the first Cinema City complex in Portugal. The article in Ynetnews.com reports that:
The complex is expected to open in the second half of 2008, and will be located on a 4-acre plot in west Rishon Lezion. The 65,616 square foot building will include 21 movie theatres, conference halls, and commercial areas. The complex is expected to yield annual revenues of NIS 18-20 million ($4.4-4.9 million). According to the company's CEO, Ronen Ashkenazi, the complex was expected to attract many visitors due to its "strategic and easily accessible location".
With 21 screens it as large as the previous Cinema City, which was the largest multiplex in the Middle East when it opened, but the second Cinema City will probably end up taking more money. NLC claimed to have held the world record for largest multiplex with their 34 screen Cinema City in Portugal.

Latest posts by Patrick von Sychowski
(see all)