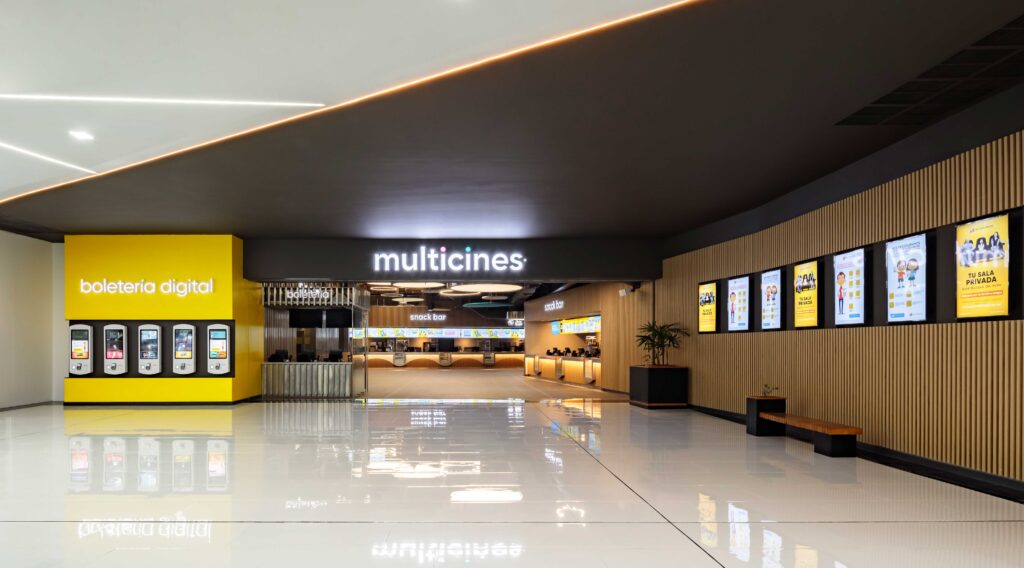 The Ecuadorian cinema chain Multicines has just opened a new multiplex in the city of Guayaquil in which all 11 screens are fully equipped with Christie RGB pure laser projectors. The installation was carried out by CES+ (Cinema Equipment & Supplies).
The new multiplex is located in the Mall del Río shopping centre in Guayaquil, the country's main port and largest city. "The 11-screen multiplex is equipped with leading-edge technology and with a totally innovative industrial design, unique in the country," explained Gonzalo López, General Manager of Multicines.
The multiplex includes a 4D E-Motion theatre with seating equipped with vibration and motion systems, as well as wind, water effects and scents. It also has a premium large format (PLF) theatre called Multicines Xtreme (MCX) with Dolby Atmos sound, premium seating and a giant screen measuring almost 200 square meters (2152 square feet).
It also has a kids' theatre designed to give families and children a totally new experience. It includes seats in different colours and a slide that connects with a playroom at the back of the theatre.
When choosing the projectors for its screens, Multicines, a long-standing Christie client, was never in doubt and put themselves in the hands of the brand once again. "Christie is a world leader when it comes to cinema projectors and we have always prided ourselves on having the best technology for our theatres," claimed Gonzalo López.
"RGB pure laser technology offers excellent quality coupled with energy efficiency," adds López "It affords significant advances in customer experience, because both the quality of the colour as well as the high brightness are the absolute best available in the market."
MCX, the multiplex's largest theatre, is equipped with a Christie CP4330-RGB projector with 28,000 lumens and 4096 x 2160 resolution (4K). The rest of the screens have CP2309-RGB (8500 lumens) and CP2320-RGB (18000 lumens) 2K models, all of which are based on Christie Real|Laser illumination technology, offering unbeatable long-term stability and reliability.
Gonzalo López from Multicines only had good things to say about the support they received from Christie and its partner CES: "They guarantee us impeccable attention and service at all times, and backed up by an excellent virtually maintenance-free product."
Diego López, Christie general manager for NOLA and the Andes Region, said: "Multicines has always kept up with the latest advances in technology for its cinema screens and has always given utmost priority to ensuring its audiences the best comfort possible. We are honoured that they opted for the superiority and brightness of our RGB pure laser projection systems for this cutting-edge multiplex which will give its spectators an incredible cinema-going experience."
Multicines began operating in Ecuador in 1996, pioneering the use of new technology in commercial cinemas in a series of modern multi-theatre complexes. Presently, it has 68 screens in different cities around the country, many of them equipped with Christie cinema projectors.
About Christie
Christie Digital Systems USA, Inc. is a global visual and audio technologies company and a wholly owned subsidiary of Ushio Inc., Japan (JP: 6925). Christie revolutionized the movie industry with the launch of digital cinema projection, and since 1929 has embraced innovation and broken many technology barriers. From the world's largest mega-events to the smallest applications, our technology—from advanced RGB pure laser and SDVoE technology to image processing and LED display solutions—empowers people to create the world's best shared experiences. Visit www.christiedigital.com.