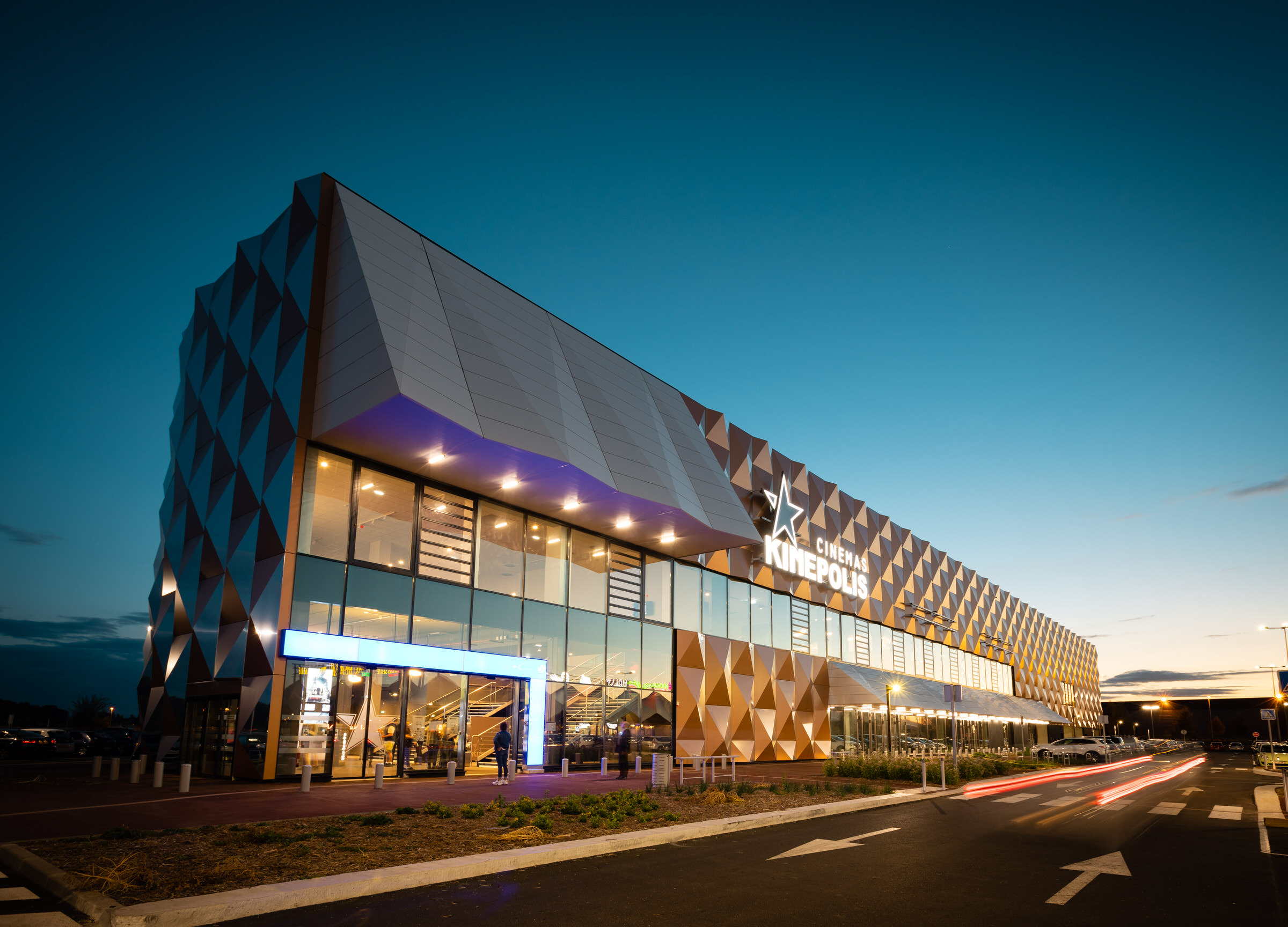 35 km south of Paris, in the new "Les Promenades de Brétigny" retail park, Kinepolis is today inaugurating its first complex in the Île-de-France region. With 10 screens and 1,507 seats, Kinepolis Brétigny-sur-Orge offers a new generation cinema, combining the latest technology, unique comfort and an innovative offer.
In Brétigny-sur-Orge, all theatres are equipped with Barco laser projectors – in partnership with Cinionic, Barco's joint venture – offering an image of unrivalled brightness and definition. The largest theatre (310 seats) is equipped with Laser ULTRA technology, a Kinepolis concept that combines the exceptional quality of the Barco 4K laser projector and the immersive Dolby Atmos sound for an even more spectacular viewing experience.
The cinema opened to the public on the 7th of September 2018. Today marks the official opening in the presence of the group's CEO, Eddy Duquenne: "Kinepolis opened its first complex in France in 1995, in Saint-Julien-Lès-Metz. Today, we are inaugurating our 13th cinema in France and the first in the Île-de-France region. We are convinced that this new complex will be a great success and are delighted to be able to bring the unique Kinepolis movie experience to the region's inhabitants. "
Beyond a wide range of films, Kinepolis Brétigny-sur-Orge offers, among other things, many previews, concerts, operas, ballets and innovative formulas such as Les Matinées Magiques for families, Horror Nights for fans of the genre, Girls' Nights and 'Les Soirées K' for 12-17 year olds.
About Kinepolis
Kinepolis Group NV was formed in 1997 as a result of the merger of two family-run cinema groups and was listed on the stock exchange in 1998. Kinepolis offers an innovative cinema concept which serves as a pioneering model within the industry. In addition to its cinema business, the Group is also active in film distribution, event organization, screen publicity and property management.
In Europe, Kinepolis Group NV has 52 cinemas spread across Belgium, the Netherlands, France, Spain, Luxembourg, Switzerland and Poland. Since the acquisition of the Canadian movie theatre group 'Landmark Cinemas' in December 2017, Kinepolis also operates 45 cinemas in Canada.
In total, Kinepolis Group currently operates 97 cinemas (45 of which it owns) worldwide, with a total of 850 screens and more than 180,000 seats. Including the acquired Canadian organization, Kinepolis employs 3,750 people, all committed to giving millions of visitors an unforgettable movie experience.