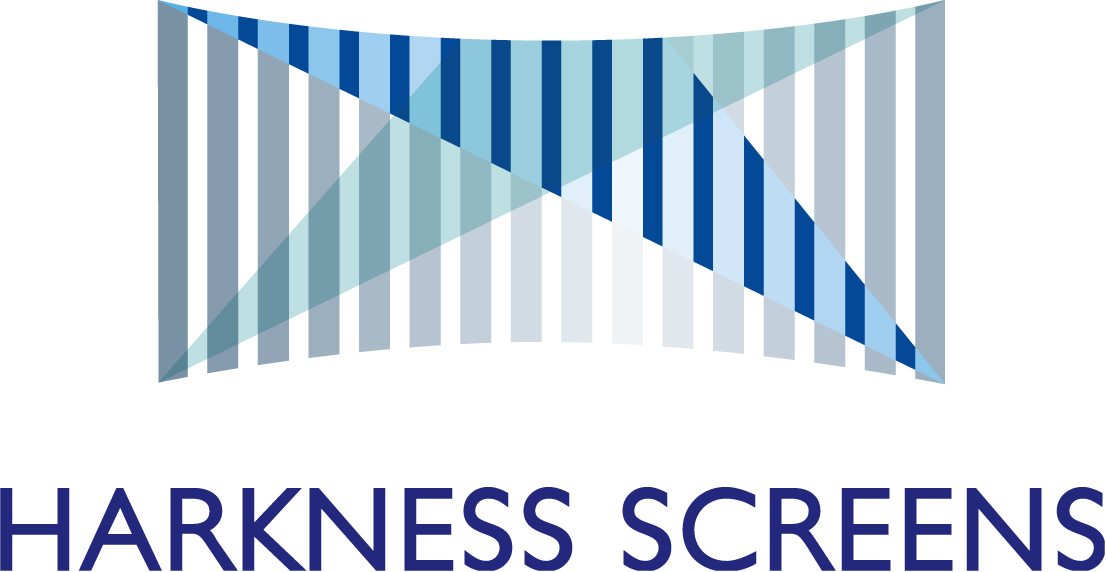 Harkness Screens the world's leading screen technology company and thought-leaders in on-screen brightness has launched its brand new 2D and Active 3D screen surface, Perlux HiWhite.
Perlux HiWhite re-imagines Harkness' previous Perlux products to create the whitest ever gain screen with ultra-wide viewing angles, improved uniformity, superior colour and contrast rendition and natively laser-ready.

"Our Perlux screen range has been the industry standard in white gain screens for over thirty years.  During that time, Perlux technology has overseen the transition from film to digital and been a key component in helping exhibitors to provide an outstanding visual experience to movie-goers around the world, whilst enabling exhibitors to manage operational budgets on power consumption and consumables such as projection lamps. Perlux HiWhite maintains that proposition whilst dramatically improving the overall visual performance of the screen delivering an incredible experience to every seat in the auditorium showcasing content as the film-maker intended," explains Matt Jahans, Director of Cinema Technology at Harkness Screens.
Perlux HiWhite screens also benefit from Harkness' recently launched NanolastTM technology helping to create an even more durable screen less prone to installation or surface damage. By adding additional strength to the base coating technology, the most often seen types of screen damage are mitigated and therefore risk of exhibitors requiring screen replacements is reduced thus improving total cost of ownership from their Harkness coated cinema screens.
Combining these two technologies together delivers ultra-wide viewing angles with a minimum 40% increase in half-gain angle, dramatically improved uniformity, superior color and contrast rendition and compatibility with all laser light sources.
"Whether it's to improve on-screen brightness from ageing projectors, reduce operating and lamp costs or to convert from silver 3D screens back to white 2D screens, we believe that Perlux HiWhite has a number of valid uses all of which help to enrich the movie-going experience and we are delighted with initial feedback from leading exhibitors around the world who are already seeing enormous improvements in presentation quality from utilising Perlux HiWhite technology, Jahans adds.
Perlux HiWhite is available globally in three gain levels (1.4, 1.8 and 2.2) with a maximum size of 60' (18.28m) in height and screens can be shipped either rolled or folded in a box for expedited delivery.
Visitors to Cinemacon 2018 will be able to see Perlux HiWhite screens the show in the Octavius ballroom and samples of the new screen surface will be available on the Harkness Screens booth #2203A (Augustus Ballroom).

For more information on the Perlux HiWhite family visit www.harkness-screens.com
About Harkness Screens
Harkness Screens™ is the world's leading screen technology company, specialising in the design and manufacture of projection screens and supporting technologies for cinema and live events. From single-screen independent theatres to large multiplexes to large format immersive theatre experiences or live events, Harkness supplies thousands of screens every year helping provide outstanding presentation experiences to audiences around the world.
With global reach, Harkness is regarded as the world leader in cinema and has screens in more cinemas worldwide than any other manufacturer. With its industry leading 2D and 3D screen brands (Perlux HiWhite, Clarus XC and Spectral) along with an innovative range of presentation monitoring tools, digital surveying services and suite of cinema design and specification apps, Harkness continues to lead the way in screen technology for cinema. 
Founded in 1929, Harkness has manufacturing facilities in the USA, UK, France, India and China and combines unrivalled experience with the latest technology and production methods to provide innovative solutions to the company's key markets.  For more information, visit the Harkness Screens web page at www.harkness-screens.com.