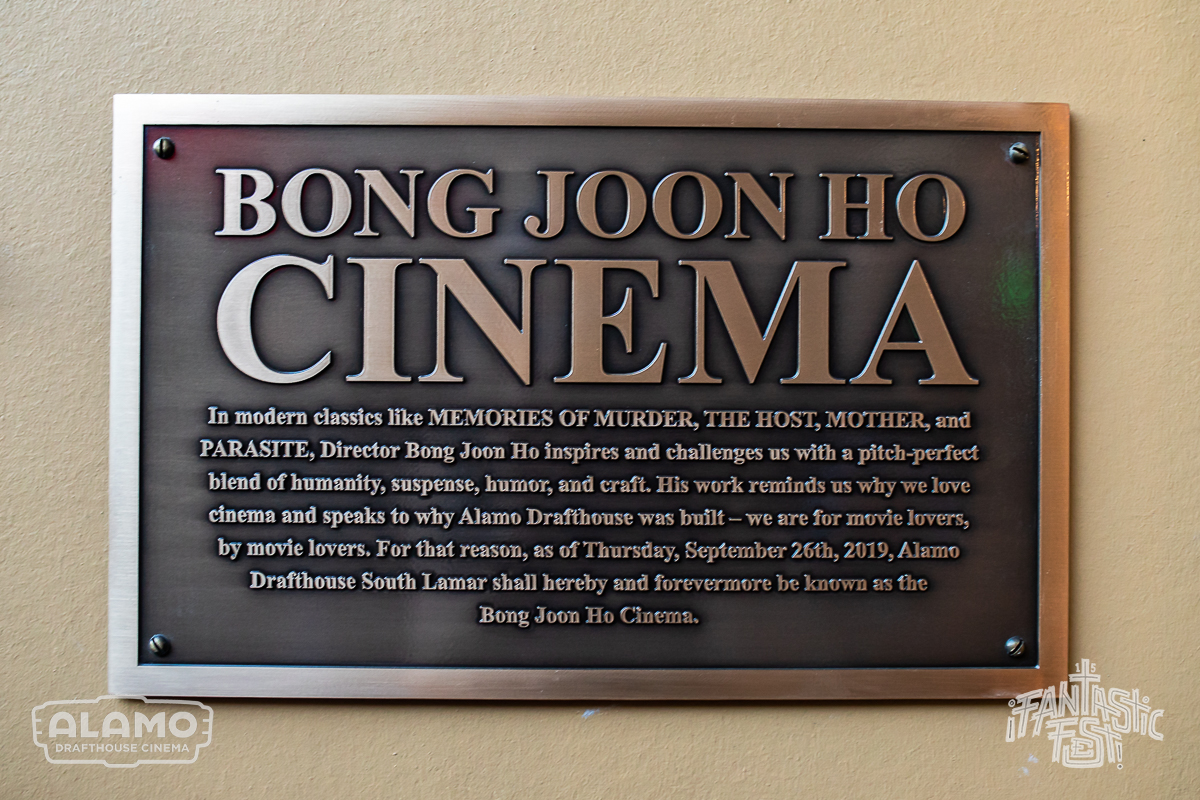 The cinema-eatery's flagship Austin location has been renamed after the legendary South Korean filmmaker behind "Snowpiercer" and "Okja"
Welcome to the Bong Joon Ho Cinema.
That's the new name for Austin's Alamo Drafthouse South Lamar, one of the premier first-run indie theaters in North America, after an announcement at Fantastic Fest by Alamo Drafthouse founder and CEO Tim League during the regional premiere of Bong Joon Ho's critically lauded family tragicomedy, "Parasite". The director of many films including "Snowpiercer", "Okja", and "The Host", Bong Joon Ho's movies have been a favorite of Alamo Drafthouse staff and guests for more than a decade.
"Bong Joon Ho is one of the most important directors of our generation; formally dedicating our Austin flagship cinema seems a fitting tribute to one of our all-time cinematic heroes," says League before unveiling a bronze plaque.
The plaque's inscription, written by League, reads as follows:
In modern classics like "Memories Of Murder", "Mother", and "Parasite", director Bong Joon Ho inspires and challenges us with a pitch-perfect blend of humanity, suspense, humor, and craft. His work reminds us why we love cinema and speaks to why Alamo Drafthouse was built – we are for movie lovers, by movie lovers. For that reason, as of Thursday, September 26th, 2019, Alamo Drafthouse South Lamar shall hereby and forevermore be known as the Bong Joon Ho Cinema.
"What a great honor. It makes me very happy to know that cinephiles will come to this special theater with my name on it," said director Bong Joon Ho at the plaque unveiling. "This cinema makes me feel like I have a home to share with fellow movielovers in this wonderful city of Austin."
League also announced at Fantastic Fest that "Parasite" would be the next title in Alamo Drafthouse's curated and highly-selective Drafthouse Recommends series. Selections are made by a panel drawn from Alamo Drafthouse's senior creative team, who then focus their efforts on helping titles reach a broader audience. Previous Drafthouse Recommends picks range from foreign language favorites to directorial debuts to eventual Oscar winners, and include "The Farewell", "The Favourite", "Eighth Grade", "A Fantastic Woman", "Won't You Be My Neighbour?", and "Call Me By Your Name".
"With its dark twists, thought-provoking social commentary, and wild sense of humor, we believe "Parasite" is one of the best films of the year," says Sarah Pitre, Alamo Drafthouse Cinema's Senior Director of Programming and Promotions. "That's why we've made it our next Drafthouse Recommends title, a designation we only place on films that move, innovate, and inspire."
Boasting a 100% Rotten Tomatoes score with 103 reviews, "Parasite" premiered at the Cannes Film Festival in May, and became – by the first unanimous vote in six years – the first Korean winner of the Palme d'Or. The film is South Korea's entry as Best International Feature Film in next year's Academy Awards, and is expected to be a multi-category contender.
Neon will release "Parasite" in theaters in NY and LA on October 11th, expanding to additional cities and theaters in the following weeks. Tickets will go on sale at drafthouse.com on Monday, October 2nd.
Drafthouse Recommends announcement for "Parasite"
With modern classics like "The Host" and "Snowpiercer", director Bong Joon Ho has proven himself time and time again to be one of the most compelling, twisted, and brilliant filmmakers working today. And his latest film, "Parasite", which won the Palme d'Or at this year's Cannes Film Festival, may be his best yet.
With its dark twists, thought-provoking social commentary, and wild sense of humor, we believe "Parasite" is one of the best films of the year. That's why we've made it our next Drafthouse Recommends title, a designation we only place on films that move, innovate, and inspire us. Here are a few reasons why:
A master filmmaker at the top of his game. While his films span a variety of genres and styles, Bong Joon Ho's elegant eye, shocking subject matter, and keen observations of class divisions coalesce into a singular body of work that is without peer. Whether it's the sci-fi dystopia of "Snowpiercer", the monster movie spectacle of "The Host", or the more grounded setting of "Parasite", he has shown that he's not merely a technical craftsman, but a master of genre filmmaking with something important to say.
A storyline you'll never see coming. Don't worry, we won't give anything away here. But take our word for it that "Parasite" is one of the most compellingly original films you'll see this year. More than merely shocking, the real power of "Parasite"'s twists and turns comes from the fact that every surprise is rooted in its rich characters and themes. You'll be laughing one moment and on the edge of your seat the next, all in service of a vivid, masterfully told story.
Weirdly lovable characters. You'll be hard-pressed to find a better ensemble cast this year, which includes some familiar faces for Bong Joon Ho fans, as well as some star-making performances from actors you've likely never seen before. "Parasite" revolves around a group of characters who are, shall we say, less than ethical, but the actors' razor-sharp performances, backed by the film's brilliant screenplay, will endear you to them against your better judgment.
About Alamo Drafthouse
Alamo Drafthouse Cinema was founded in 1997 as a single-screen mom and pop repertory theater in Austin, TX. Twenty-two years later, with 40 locations and counting, Alamo Drafthouse has been called "the best theater in America" by Entertainment Weekly and "the best theater in the world" by Wired. Alamo Drafthouse has built a reputation as a movie lover's oasis not only by combining food and drink service with the movie-going experience, but also introducing unique programming and high-profile, star-studded special events. Alamo Drafthouse created Fantastic Fest, a world renowned film festival dubbed "The Geek Telluride" by Variety. Fantastic Fest showcases eight days of genre cinema from independents, international filmmakers and major Hollywood studios. Alamo Drafthouse's collectible art gallery, Mondo, offers breathtaking, original products featuring designs from world-famous artists based on licenses for popular TV and Movie properties including Star Wars, Star Trek & Universal Monsters. Alamo Drafthouse continues to expand its brand in new and exciting ways, including Birth.Movies.Death., an entertainment content platform for movie lovers, and the American Genre Film Archive, a non-profit film archive dedicated to preserving, restoring and sharing film.