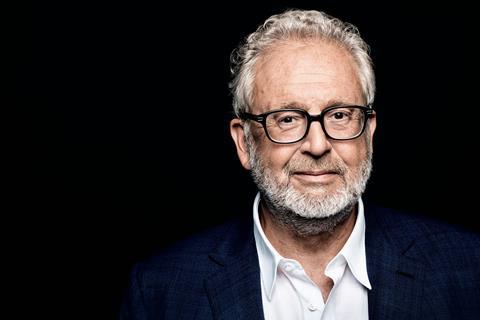 Martin Moszkowicz, Producer & Chairman of Constantin Film, will receive this year's "Career Achievement in Film Award," Mitch Neuhauser, Managing Director of CinemaCon announced today. CinemaCon, the official convention of NATO, will be held April 25-28, 2022, at Caesars Palace in Las Vegas. Moszkowicz will be presented with this honor at the International Day Luncheon taking place on Monday, April 25, 2022.
"Throughout his illustrious career, Martin Moszkowicz continues to make his mark on the global box office having overseen the production and release of hundreds of successful feature films," noted Neuhauser. "It is our honor to recognize his undeniable prowess in the international film industry by presenting him with this year's CinemaCon 'Career Achievement in Film Award.'"
Martin Moszkowicz, born in 1958, is the Chairman of the Executive Board at Constantin Film. In this capacity, Mr. Moszkowicz is responsible for the company's film business, including worldwide production and distribution, world sales, feature film acquisition, marketing and publicity as well as corporate communication and legal affairs. On March 6, 2019 Martin Moszkowicz was appointed Professor at HFF Munich (University of Television and Film Munich) – in this capacity he is supervising the academic production department of the university.
As producer, executive producer, or co-producer Mr. Moszkowicz has been involved in well over 300 nationally and internationally successful feature films and numerous television shows. Projects include "Nowhere in Africa", Downfall", "Perfume: The Story of a Murderer", "The Baader Meinhof Complex", "Pope Joan", "The House of Spirits", "Fack Ju Goehte 1-3", three of the biggest ever German box office hits, "What about Adolf?" (2018), "Polar" (2019), "The Collini Case" (2019), "The Silence" (2019), "Das perfekte Geheimnis" (2019), "Dragonrider" (2020), "Monster Hunter" (2021), "Contra" (2021), "Welcome to Raccoon City" (2021), "Der Nachname" (2022) and "Liebesdings" (2022).
About CinemaCon
CinemaCon will attract upwards of 6,000 motion picture professionals from all facets of the industry –from exhibition and distribution, to the equipment and concession areas – all on hand to celebrate the movie-going experience and the cinema industry.
CinemaCon is delighted to have both the International Cinema Technology Association (ICTA) and National Association of Concessionaires (NAC) as its tradeshow partners. CinemaCon is also delighted to have as its official presenting sponsor, The Coca-Cola Company, one of the industry's greatest and highly regarded and respected partners in the world of the movies.
About NATO
The National Association of Theatre Owners (NATO) is the largest exhibition trade organization in the world, representing more than 35,000 movie screens in all 50 states, and more than 32,000 screens in 100 countries worldwide. NATO's membership includes the largest cinema chains in the world and hundreds of independent theatre owners, too.
Additional information on CinemaCon can be found at www.cinemacon.com.
About Constantin Film
Constantin Film has been synonymous with quality and success for over 40 years. It has played a crucial role in establishing German cinema both nationally and internationally. Between 1977, when Bernd Eichinger established the company, and today, Constantin Film has emerged as the most successful independent production and distribution company in the German media industry. Constantin Film's operations include German and English language motion picture theatrical production, theatrical distribution, home entertainment distribution, licensing and television production.
Constantin Film's diverse slate includes box office hits and award-winning films alike, ranging from comic book to literary adaptations, historical dramas, action and genre, among them "The Neverending Story", "The Fantastic Four" film franchise, "The Name of the Rose", "Nowhere in Africa", "Downfall", "Perfume: The Story of a Murderer", "The Baader Meinhof Complex", "Pope Joan", "The House of Spirits", "Fack Ju Goehte 1-3", three of the biggest ever German box office hits, the Resident Evil film franchise and "Monster Hunter".
In the ever-growing field of TV and streaming platforms, Constantin Film has also been stepping up its television production business, including BLACK BEAUTY for Disney+, global hit series "Shadowhunters", "Perfume" and "We Children from Bahnhof Zoo", Canneseries winner "The Allegation" and numerous other shows for major streaming platforms and broadcasters in Germany and around the world. Constantin Film also produces a Resident Evil series for Netflix.