On 29 January, the International Film Festival Rotterdam's Pro, the IFFR's industry strand, hosted a closed-door talk titled "Distribution Potential – Exploring Your Possibilities." In particular, the conversation focused on the struggle of non-mainstream movies to get the recognition they deserve in a context wherein author-driven titles taking narrative and aesthetic risks often fail to secure sales, despite their potential to reach audiences.
Celluloid Junkie gained access to some of the key insights shared during the event by interviewing two of the panelists taking part in the discussion – Wouter Jansen, CEO of Vienna-based sales agency Square Eyes, and publicist and industry veteran, Kathleen McInnis. The talk, moderated by Marika Kozlovska, also saw the participation of sales agent María Vera, of Kino Rebelde; director Winnie Cheung, and Lidia Damatto, of film agency Morethan.
In his contribution, Jansen acknowledged how the "landscape for more artistic and outspoken films has become more and more challenging and competitive" but also suggested: "You have to make sure that as an independent filmmaker you start as early as possible to give yourself the best head start. Think about how you want to position your film and if you want to work together with a sales agent before finishing the film, so you don't end up only thinking about this when the film is finished or at the premiere of your film."
He explained how "a good premiere at an A-list festival is very important to get the attention from distributors and buyers," even though the room for non-mainstream titles is becoming smaller and smaller, "with programmers leaning to more audience-driven programming." Besides, "filmmakers are often not aware that their film has a value" and that "they can ask for things in return when they go to festivals and not just be grateful to get selected." "[It's] not just screening fees but also, for instance, exposure during the festival or a good slot in the programming," he added.
As one of the emerging European players handling non-mainstream titles, Square Eyes' CEO confirmed that the right path is "having a small catalog and being able to give every film the care it needs." Jansen concluded, "It's more about a tailor-made strategy than one-size-fits-all for the type of films we gravitate towards, and so far it seems to pay off".
In her contribution, McInnis explained how, during her work, she looks at "how the film is being brought to audiences, [namely] looking closely at how the creative language has been translated to the marketing language."
"This is the language that moves the film through the industry conduits such as programmers and journalists, on towards ticket buyers. Inevitably, filmmakers have neglected in production to create the materials needed to bring the film to audiences – there are often no set stills, no iconic image, no EPK material, no marketing language crafted. All of this, aside from being required to deliver the film should it sell to a distributor, is of the utmost importance in 'selling' your film to anyone who is going to watch it – again, programmers, journalists, ticket buyers but also sales agents, publicists, financiers and so on."
On the role of festivals as distribution platforms, she said, "I don't believe film festivals are the default distribution for films, but I do believe that global festival plays prove audiences and once an audience is proven, I equate that with proof of potential box office… Festivals launch voices, not just films. That is, for me, one of the single most important things to remember. And often filmmakers are hazy about their own voice (or even just how to find it in their work)."
"The challenges [non-mainstream titles must face] are the same for all non-Hollywood blockbuster films – how to find attention and profile to drive audience interest?" McInnis added. "Rough pre-pandemic numbers suggested the same 400 films travel the festival circuit each year, but there are far more than 400 films made each year. Trying to first help programmers see the film you want them to see – and by way of that, help them understand how the film may speak to their audience. Second, convincing journalists your film is not only worthy of publication space but will be of interest and available to their readership. Third, making space in the crowded market for these films is a 100% uphill battle."
McInnis also pointed out how independent animated shorts and features are the titles struggling the most: "I think the animation community doesn't realize the festival community is dying to see more of their work; and the festival community doesn't realize the animation community thinks there isn't any room for them at the festivals because they don't see their work programmed often. It's a Möbius strip conundrum."
On a more positive note, the context seems more favorable for non-fiction: "Documentaries that come from a strong filmmaker voice will continue to find an audience; documentaries that are designed to 'fit' onto a Netflix menu will inevitably fail to reach a broad audience – exceptions always noted."
McInnis underscored how the concept of "success" for films (and filmmakers) should also be reconsidered: "Theatrical is likely an outdated model; streamers are overloaded with content, and most platforms are generating their own content. So how do you define success for your film? Is it eyeballs? If so, put it on the internet. Is it financial recoupment? If so, how did you factor the market into your business plan for the film? Is it awards? Where are the elements in your film that capture the attention of juries? Is it the audience? Audience-facing festivals are extremely vital but less sexy than industry-facing festivals – are you paying attention to those as well as the favorites like Sundance, Cannes, Berlin? Answer these questions before you start shooting."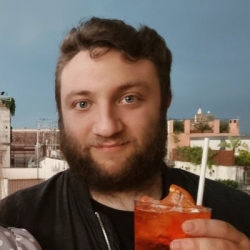 Latest posts by Davide Abbatescianni
(see all)