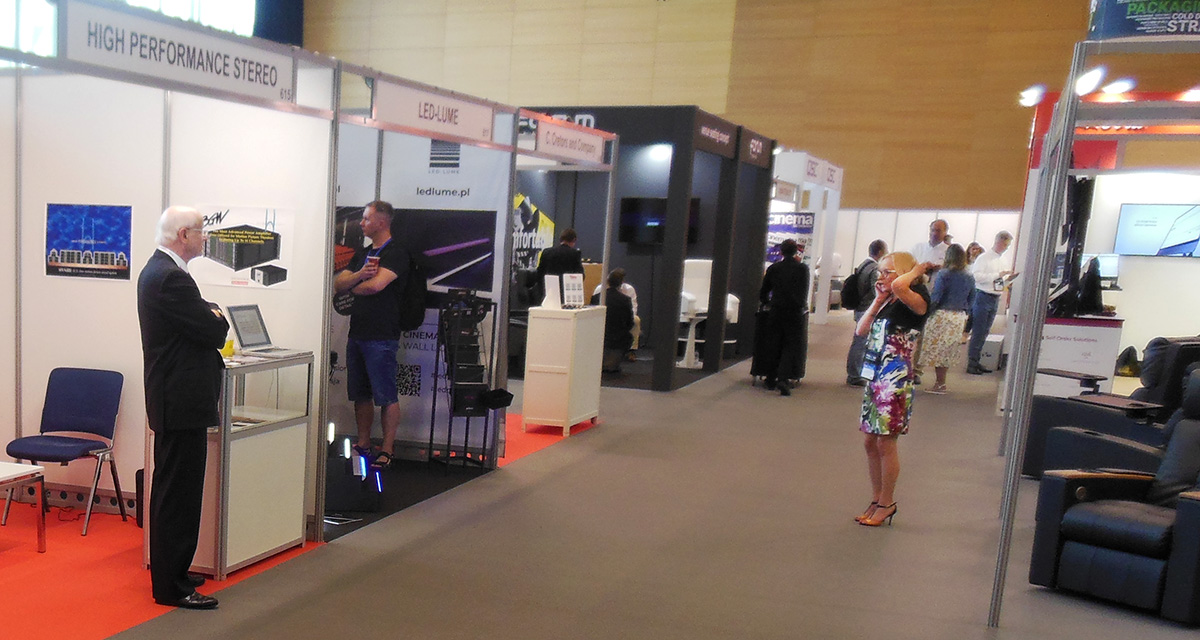 For those who attended this year, it's safe to say that CineEurope 2022 was a great success. Attendance numbers were at least double that of the 2021 convention (itself a success in terms of ambience and getting the cinema community back together again) and there was a definite feeling that "cinema was back." So, on with the show…
We're pleased to share a round up of relevant audio and acoustics products from the trade show floor in Barcelona. There were certainly some interesting products and concepts to be seen and experienced.
However, a special mention must be given to the display of vintage projectors – including a "shadow theatre," which is surely the first retro projector to exist. Of particular interest, and underlining the efforts to combine picture and sound, was a Western Electric sound projector from the late 1920s. This unit combined film projection with a synchronised record player and marked the first steps before films featured an optical soundtrack. Although the system worked reasonably well, discs were fragile and a break in the film meant that all synchronisation was lost. But the concept underlines just how important sound was to film from the beginning and marks the transition from piano, or orchestra, to recorded soundtracks.
Here, we'll take a look at some of the specific audio system providers and what they had to offer.
Delair
Delair offers a range of screen speakers that use what is called Front Wave Audio technology (FWA). This innovative approach means that the speakers are coupled to a non-perforated acoustically-transparent screen to provide an integrated system. The advantage here is that the screen is no longer an obstacle to sound reproduction, as in the case of perforated screens, and virtually eliminates frequency response anomalies.
A range of screen systems – from Point Source to Line Array – is available to suit the various sizes of auditoria and is complemented by a selection of surround speakers and subwoofers, the latter being either reflex or horn-loaded. For installations requiring ultra-low frequency performance, the SW21-EXP subwoofer has a useable response down to 14Hz.
Dolby
Dolby has introduced a new range of cinema speakers: the System 136 screen speaker, the DSR 1260/1280 surrounds and the SB218XL subwoofer.
The System 136 is for large-format installations and features two bass cabinets each loaded with 38cm (15") drivers and a high/mid horn assembly with dual entrant compression drivers for a smoother frequency response. The horn assembly can be positioned in both the vertical and horizontal planes and an accessory laser pointer provides accurate aiming.
The surround enclosures feature asymmetrical high frequency horns to cover both near field and far field applications and can be rotated to meet vertical or horizontal installation. The DSR1260 is suited for side surrounds, with the DSR1280 for use as overheads.
The range is completed by the SB218XL subwoofer with two 46cm (18") drivers in independent reflex-loaded chambers.
The Dolby Accessibility Solution provides Wi-Fi audio for the Hearing Impaired (HI), Visually Impaired (VI) plus Closed Caption (CC) text in one convenient small tablet, or receiver. This is mounted on a flexible arm that will fit into a standard cup holder and a 3.5mm headphone socket allows use with either venue-supplied phones or those of the customer. Various configurations are possible and the screen is designed for minimum distraction to neighbouring seats. The signal is fed directly from the cinema server.
JBL Professional
JBL Professional featured their CPi2000 Cinema Processor, which had been hiding under a bushel due to Covid!
Designed for 5.1 and 7.1 installations, the unit can be either standalone or part of a complete system with JBL speakers and Crown cinema amplifiers. Features include both digital and analogue inputs for connection to the server plus inputs for non-sync signals (such as a CD player), a microphone input with 12V phantom for announcements and/or a measurement microphone, plus a USB port for loading configuration files.
The cinema processor includes two and three-way crossovers for the screen channels, together with presets for JBL cinema speakers. Each output channel offers third-octave equalisation plus a three-band parametric.
Control of the CPi2000 is via a LAN network and an external computer. The graphical user interface (GUI) is limited to five main pages for easy navigation. The processor has two sets of analogue outputs: the 10 main outputs are each via HD-15 connectors and include crossover signals and amplifier access. A second analogue output features a 7.1 signal flow without processing.
KCS
KCS introduced two new screen systems, in both tri-amp and bi-amp configurations, and two surround speakers.
The S-8801 is a three-way system made for bi-amping and includes a passive crossover for the mid- and high- frequencies. The S-8802 uses the same components and should be tri-amped. The driver components for the three bands are a bass cabinet with two 38cm (15") drivers, a twin mid-frequency (MF) horn section with two 16.5cm (6.5") drivers and a high-frequency (HF) horn with a 7.6cm (3") compression driver. Dispersion for the MF is 90° x 30° and 90° x 40° for the HF. The MF/HF horn section can be rotated and angled for precise aiming.
The S-8901 and S-8902 are identical systems but with two mid-horn assemblies, thus giving four drivers for greater headroom.
The SR-50 is a two-way surround speaker with 30cm (12") bass driver and 100° x 100° HF horn with a 2.5cm (1") driver. Rated max SPL at 1m is 131dB. The speaker can be mounted on side walls and ceilings.
The SR-60 is the same basic design but with driver components rated for greater power handling. Quoted max SPL at 1m is 137dB.
MAG Cinema
MAG Cinema deserves a special mention, being a manufacturer hailing from Ukraine. In spite of facing great difficulties due to the current war, the company remains in operation and exhibiting at CineEurope underlined their "business as usual" attitude.
In a conversation with Jérôme Michel, the MAG sales director, Celluloid Junkie learned that production is still in full swing:
"The first three or four weeks were a bit difficult due to some staff having to leave but the majority – more than 250 people – stayed on in order to keep production going and fulfill outstanding orders. MAG is rather special in that all components are manufactured in-house, which means that we are not dependent on outside suppliers.
One thing that has been a big help is that we recently opened a large warehouse in the eastern part of Belgium at Welkenraedt, close to the border with Germany and Netherlands. This makes deliveries worldwide a lot easier and we have even managed to increase production."
MAG Cinema featured three new product ranges at CineEurope 2022: the SCR line of screen speakers, the DANA integrated systems package and the CineBox 10 sound package (for smaller rooms).
The SCR-42L is the top-of-the-line system and can be bi-amped or tri-amped. A true full-range speaker, the SCR-42L features an LF enclosure of four 12" (30cm) drivers and a MF/HF assembly with two 8" (12.5cm) horn-loaded drivers with phase plugs for the mids and asymmetrical horn with a 1.5" (380mm) compression driver for the highs. The HF horn is variable between 70°-90° and allows for a more even coverage in the auditorium by combining the effect of long and medium throw characteristics.
An interesting feature is the Screen Reflection Diffuser at the edges of the MF/HF horn assembly. This is designed to minimise the interactions between the reflections from the screen and the direct sound, thus improving clarity.
DANA (for Direct AES and Network Amplifiers) provides an end-to-end digital audio solution directly from the media server to the amplifiers, thus removing the requirement for a cinema processor. The components of the system are: the AE versions of the DC series of amplifiers that are fitted with AES/EBU and network ports, the Theater Control Suite software package, an IO Box for auxiliary inputs and outputs and two power distribution racks.
The software provides DSP for all calibration functions, speaker presets for all speakers in the MAG range and monitoring.
CineBox 10 is literally a turnkey sound solution for small cinemas – up to 70 square metres (sq m) – that fits onto a standard Euro pallet and offers all the components required for an installation. These include three SCR-412 screen speakers, a SUB-421 subwoofer, eight SUR-406S surrounds with WMT-20 wall mounts, a P-AMP-10 8-channel power amplifier totalling 4300W and a TSAP-8 D/A converter. The latter features an 8-channel AES/EBU input to interface directly with the projector or SMS.
Volume should not be a problem for CineBox 10: after a home cinema installation that was exactly 70 sq m and even at 75dBC reference level, the client found it too loud!
Scenic Technical Textiles
Scenic Technical Textiles presented Gol-Bicolor, a new version of their Gol acoustically-transparent fabric. As the name suggests, the new range is woven with two colours and is ideal for covering custom acoustical treatments in order to have a pleasing aesthetic. Gol-Bicolor is available in 12 different finishes.
CineEurope Offers Up Sound Advice
As well as the manufacturers mentioned above, audio suppliers had a strong presence at CineEurope 2022. Also in attendance were Flexound Augmented Audio, High Performance Stereo (with audio luminary John Allen), Krix Loudspeakers, QSC, Trinnov Audio, Vive Audio and VCL Sound Experience – as the saying goes, "product confirmation."
Great sound is an integral part of the cinema experience and research has shown that sound can make an average picture look great, but a great picture can do nothing for poor sound! See you next year in Barcelona.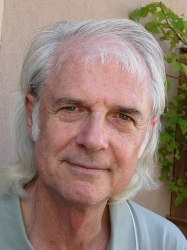 Latest posts by Terry Nelson
(see all)