While the rest of Europe's cinemas are recovering from pandemic closures, Italian cinemas are still struggling. Although every local business sector suffered an economic setback, the Italian cinema industry has been the market most impacted by the laws implemented to contain COVID. To this day cinemas and theaters, like hospitals and public transportation, are the only places in Italy where FFP2 masks are mandatory. And will remain so until 15th June.
The result is that the local box office is not only below 2019 levels, but Italy is currently the market struggling most to recover from the pandemic; not only compared to other countries in Europe but also outside. The admissions decrease fluctuates between 55% and 65% with lows of 80% compared to 2019 as of Friday 20th May. Unfortunately, summertime in Italy is traditionally a slow box office season and Italy will need more than just blockbusters to reverse the trend. It is worth noting that there were good results from international tentpole hits like "Spiderman: No Way Home," "The Batman" and "Doctor Strange in the Multiverse of Madness." These movies gave the market a glimmer of hope that has left the Italy's cinema industry today wounded, but still alive.
However, it's clear that the Italy's moviegoers are not yet coming back to the cinema in significant numbers. As Laura Fumagalli of Arcadia Cinemas told Celluloid Junkie, "Cinema fans have come back to enjoy movies on the big screen: after two years of home viewing, they couldn't wait to be here again and they are not losing a single opportunity anymore to see their preferred films at the cinema, no matter the mask. The wider adult and senior audiences, on the other hand, are still missing: unfortunately, the victims and the most seriously affected by coronavirus have been a lot in seniors age range in Italy and the fear of infection for them has not disappeared."
"Moreover, we are facing a lack of constant, high-profile titles appreciated by these audiences. Adult target movies are more arduous to promote and this age of people is more difficult to reach: as an exhibitor, we always try to organize some special events around the opening of the movies, like the exclusive screening of 'Death on the Nile' with a 70mm film print or the orchestra in-theater lobby live concerts for 'Ennio' by Oscar winning director Giuseppe Tornatore – a documentary about Maestro Ennio Morricone – and for 'Doctor Strange in the Multiverse of Madness'."
The lack of older audiences and the disparity of treatment between different economic sectors regarding changing health restrictions in general, and mandatory use of masks specifically, are only two of the causes highlighted by Fumagalli: "A third big issue for our market are the Italian movies: local productions are widely in place and Italian movies are released in cinemas, but most of those titles seem not to meet cinema audience's appeal." Actually Cinetel reports only three Italian movies exceeded one million euro of box office in 2022: "Ennio," "Corro da Te," "Il Sesso Degli Angeli," while Netflix's "The Hand of God" was not included in Cinetel data despite being released in cinemas.
Italian movies are fundamental to local box office success, especially for cinemas in southern Italy, where homegrown comedies are usually the biggest winners. The need for much anticipated Italian titles, those high-level movies that push people to go out and pay EUR €9 to see a fresh comedy at the cinema, is predominant here. "Less movies during the year, but with a better appeal to the public, for a better box office": this is the recipe according to Mattia Lo Tufo of Multisala Loren, two screens in a small town on Tirreno Sea in Calabria. "There are at least two causes that have been crucial in the lack of audience in Italy," he continues. "The first one is the mandatory use of masks and the disparity between business sectors: the feeling during these two years has been that cinemas were the most dangerous place to get COVID, without any evidence of that and in spite of other places for social mixing. The over-45 audiences are still missing from Italian cinemas. They prefer to go out to restaurants [where there are] no restrictions. We know that all of Europe is still seeing year-on–year minus signs in front of their box office results, but no one else has -70% like Italy: unfortunately, this number will not guarantee the survival of some Italian cinemas. In fact, part of the box office decrease can also be explained by the closure of more than 500 theaters, crushed by the pandemic. The second thing is, as said, the local productions: a few successful Italian movies together with international releases would be enough to recover. But a window of only 90 days is unacceptable. Rai and Mediaset have recently asked for at least 180 days for the next three years which is more reasonable. On the contrary, with current conditions, in my opinion, it would take more than three-four years to be back to pre-Covid levels."
Fumagalli agrees with Lo Tufo on the issue of theatrical windows. "We wish for a clear regulation for theatrical release windows, both for Italian and international releases alike," she said. "Generally speaking, it's clearly evident to anyone that audiences are more willing to go to cinemas if they don't know in advance when movies will be available on streaming services."
There is also another difficulty for exhibitors, which has been emerging recently; the holdover appeal of releases extending the number of weeks a title can be programmed. Mauro Atzori, owner of SuperCinema Carbonia, a single screen cinema in southern Sardinia, raised this point in talking to CJ: "We had good results with international releases, but our main issue is the duration of the content. Even if we show a major movie, the box office decreases enormously after the first week. Moreover, with one strong title every three months and nothing else, we cannot offer any choice to our audiences." Atzori has the same difficulties as his colleagues regarding adult audiences, but he highlighted the case of "Il Muto di Gallura", a small film completely shot in Sardinia that sold out in every single screening on the island. "The movie was perfect for the adult public of our region" said Atzori, "this means that we still have different audiences for cinemas. We only need to attract them with the right movie."
Francesco Di Cola, Sales and Screen Content Director at The Space Cinema – the major Italian circuit owned by Vue International – highlights that, "all European territories are struggling to recover. Italy is struggling more than others just because we introduced restrictions earlier than anyone else and also our restrictions have been modified several times by the government. This created a sort of confusion and, every time, the audience decreased."
Di Cola added, "We have been the first country to lock down cinemas and we will be the last one to totally remove masks, hopefully in June. Despite these limitations, we registered very good box office results for blockbusters, in line with our expectations for Italy. The variable is with local productions. The poor offering of Italian films have driven away the adult audience which is already in hiding. Only in the case of art movies for a specific niche, like 'Ennio' or 'Belfast,' has this public segment responded. In our market, it's the local market share that makes the difference. It's the same for Poland, where we saw the best positive results thanks to Polish movies. Unfortunately, this summer doesn't seem to be rich in Italian titles, but we wish this will change in the future."
The pandemic hit big cinema chains particularly hard in Italy. Independent exhibitors and small cinemas were able to reduce costs significantly, but major circuits such as The Space Cinema faced serious challenges. "Now we are more motivated than ever and ready to restart," confessed Di Cola. "The Space Cinema is focused on investing mainly on three assets: the first one we are working hard on is the diversification of our offering, proposing new entertainment opportunities (like the BTS concert exclusive and the VERSUS project). Then, we are concentrating on data analytics in order to have more effective customer-oriented communication. Finally, the renovation of our cinemas with new modern concepts, not only regarding the auditoriums, but also the foyers."
Ramon Biarnes, Managing Director – Southern Europe and Northern Europe at Odeon Cinemas Group, weighed in with positive feelings regarding the imminent future of the country's cinema market. "Italy is quite different from the rest of Europe because it's the only market where restrictions in cinemas are still in place," he pointed out. "Customers would like to have an enjoyable experience when they decide to go out and the idea of a mandatory mask staves them off. We have experienced in other markets that no restrictions bring excellent results in terms of box office recovery, so I'm sure that, when masks will be completely lifted, we'll see better figures in Italy as well. It's true for sure that the adult and senior audiences are still struggling to come back. From one point of view, I think this is a sort of 'long Covid effect,' as we are facing also in other territories. On the other hand, good local content – especially Italian comedy – are crucial for this audience sector. We wish that there will soon be a shared release plan for Italian movies so that we would welcome the general audience again. The wait for new successful movies is high in the rest of Europe and I'm sure it will be the same in Italy. Great titles attract great audiences, as we saw recently with 'Top Gun: Maverick'."
Given the current state of the Italian cinema market, there is certainly no shortage of growth opportunity; with summer just around the corner it won't be easy, but "Jurassic World: Dominion," "Thor: Love and Thunder," "Minions 2" and the recent "Top Gun: Maverick" should help to buttress the local box office until the fall and winter season. There will be the last call for the Italian industry: everyone must be ready to row in the same direction, studios, exhibitors and government, in order to set up a new regulation that could put the country's cinema business back on track.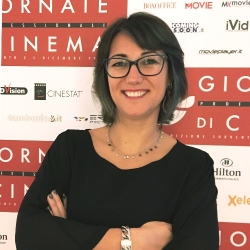 Latest posts by Alice Tentori
(see all)