Film is a widely used propaganda tool especially in times of war but simply keeping cinemas open can be an act of defiance. In Ukraine, local exhibitors are intent on business as usual even while shopping malls which house many of the country's multiplexes are being destroyed.
Planeta Kino, a network of nine cinemas owned by the Triumph Media Group, has managed to resume operations in the Forum shopping mall in Lviv.
"The state is asking businesses to open up and launch Ukraine's economy to support our defenders at the forefront. That is why we are trying to [make this] work," a company spokesperson explained in a telegram post. It will show light hearted movies and cartoons, a slate of content designed for families and to boost morale.
Similar fayre with addition of Ukrainian productions are being organised for display at a series of metro stations in Kyiv, which are also shelters for hundreds of families.
The government is in charge of this effort, led by the Department of Culture of the Kyiv City State Administration together with the State Film Archive Dovzhenko-Center. Ukrainian producers Film.ua and Arthouse Traffic, have provided additional content and include animated kids films, comedies and festival favourites.
"Our mission as cultural workers is not only to preserve cultural values, but also to strengthen the spirit of Kyiv residents who spend the night in the subway for their own safety," said Yana Barinova, Director of the Kyiv Administration's Culture Department.
Screenings of films in subways began on March 10 in nine metro stations with more hoped to be opened.
Also, in Lviv, at the city's Municipal Art Center, Ukrainian films have begun regular screenings followed by QA discussions led by local film critics. The aim here is less about alleviating the stress of the war with entertainment and more about furthering an understanding of Ukrainian culture.
Outside of the country, Danish director Simon Lereng Wilmont's documentary "A House Made of Splinters", about a children's shelter in eastern Ukraine, earned the top prize at the Thessaloniki Documentary Festival, taking home the Golden Alexander Award. It also won the FIPRESCI Award for best documentary given by the International Federation of Film Critics.
The competition jury judged it "an unforgettable film that shines a light on the burden carried by children for the horrors and mistakes perpetrated by the world of the adults who should be caring for them."
The Thessaloniki festival has made the director's previous film "The Distant Barking of Dogs," shot in the Donbas region of Ukraine and which won the Golden Alexander award in 2018, available for 500 screenings on its online platform. All proceeds are going to Voices of Children, an NGO helping children impacted by the war in Eastern Ukraine.
The current Vilnius International Film Festival in Lithuania is expressing solidarity with the cause. Russian films are boycotted, and the blue and yellow symbols of the country flag are being displayed on screens. Moreover, Festival organisers are inviting all Ukrainian refugees in Lithuania to watch films for free. Several films have been translated into Ukrainian including Belle by Japanese director Mamoru Hosoda, was dubbed by Ukrainian refugee actor Karina Chernyavskaya.
"Our annual mission to show quality cinema was given a new meaning this year," said Algirdas Ramaška, CEO of the Festival. "For this reason, we will commit to creating a reason and a place to meet up, be together, and feel a sense of unity and normalcy, which, according to psychologists, is essential right now, as much as possible."
Broadcast Industry Shows Support Too
With backing from broadcast technology vendors and integrators, the group Support for Ukraine Media Professionals has begun identifying employment opportunities for refugees and assisting those still in the war-hit country.
The LinkedIn group posts information about local help, shelters and transport – and is open to any ideas that could help Ukrainian colleagues.
The International Trade Association for the Broadcast & Media Industry (IABM), a trade body representing technology suppliers, has initiated the Stand With Ukraine platform, to highlight members' efforts to support Ukraine and oppose Russia's invasion of the country.
Ross Video CEO, David Ross, said of the forum, "I'm confident that many companies would like to take a public stand in the face of true tyranny that is openly threatening Europe and a regime that is now likely guilty of crimes against humanity. This is especially true since our equipment and software is enabling the Russian propaganda machine, and IABM is the best organization to coordinate those who want to make a statement similar to what Ross Video has made.
"I'm fully aware that being in the media industry, our tools are always used to promote a wide range of ideas which inevitably will not align with our own personal beliefs. That's normal, we sell typewriters, not content as it were. This isn't about differing ideas, this is about doing what we can to hinder naked aggression towards a European democracy."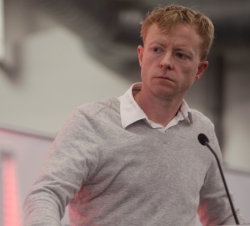 Latest posts by Adrian Pennington
(see all)