In normal years event cinema titles are programmed amidst a stream of blockbuster releases, often during low occupancy times such as early matinees or weeknights. But in a year which saw a global pandemic force studios to delay all of their big releases into 2021 or later, event cinema titles turned out to be real box office winners, as marketing data analytics firm Movio recently discovered.
According to the company, which compiled a report in support of the Event Cinema Association, the top earning event cinema release of 2020 in the United Kingdom were as follows:
"Andre Rieu: 70 Years Young" (Concert)
"Kinky Boots: The Musical" (Theatre)
"Cyrano De Bergerac" – NT Live 2020 (Theatre)
"Riverdance 25th Anniversary Show" (Concert)
"The Sleeping Beauty – Royal Opera House, London 2019/20 (Ballet)
"La Boheme" – Royal Opera House, London 2019/20 (Opera)
"The Cellist/Dances At A Gathering" – Royal Opera House, London 2019/20 (Ballet)
"Porgy And Bess" – Met Opera 2020 (Opera)
"David Attenborough: A Life On Our Planet" (Documentary)
"Break The Silence: The Movie" (Concert)
Movio, which provides campaign management solutions for cinema exhibitors and film distributors, set out to examine not only which event cinema titles earned the most money, but applied their expertise in breaking down audience behaviour to understand precisely who was attending such releases and how it might differ from previous years. For instance, using deterministic and transaction-level data for all of their research, Movio was able to deduce that audiences for National Theatre productions spent more on food and beverages in 2020 than in 2019 (GBP £1.02 vs £0.60 or USD $1.48 vs $0.85) than those attending concert event cinema releases, who regularly spend less money per admission (GBP £0.11 in 2020 vs. £0.15 in 2019 or USD $0.15 vs. $0.21).
While movie theatres in the UK (and most of the world) were only open for a short time in 2020, Sarah Lewthwaite, Movio's Chief Client Officer, said the company wanted to learn from the data generated by those audiences that attended event cinema releases before the COVID-19 closures began and how any success could be applied to the years ahead.
"We are really encouraged by the data we are seeing from the UK in 2020 which reinforces the fact that event cinema can effectively bring net new audiences to cinemas," Lewthwaite acknowledged. "Twenty three percent of people who had attended an event cinema production in the UK last year, were new cinemagoers."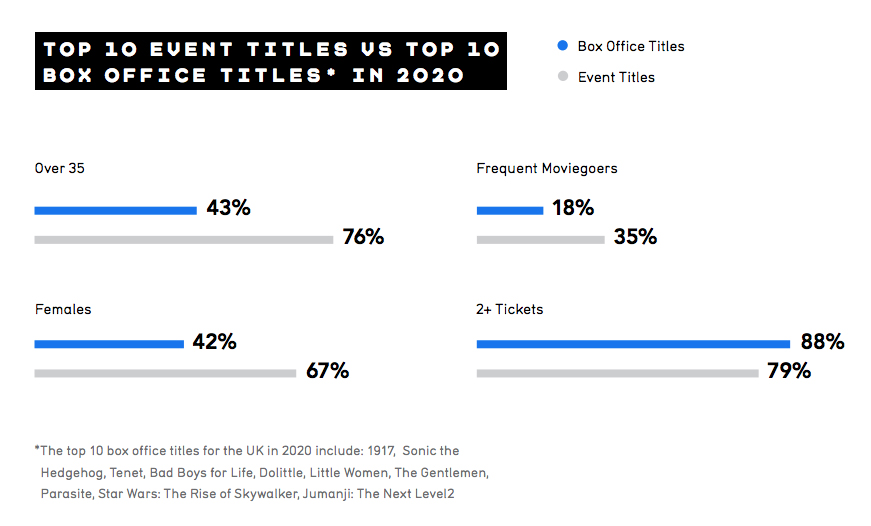 Likewise, Movio found that groups accounted for as much as 86 percent of attendees for titles such as the Andre Rieu concert and "Kinky Boots", whereas the National Theatres' production of "Cyrano de Bergerac" attracted individual purchasers, which made up 30 percent of its audience. As well, audiences for event cinema releases are predominantly over the age of 45 and 65 percent female. That's the kind of slicing and dicing of audience numbers that Movio is known for (and we mean that as a compliment).
It's worth noting, though unsurprising, that almost all of the top nine event cinema titles in 2020 were released in January, February or early-March. "David Attenborough: A Life On Our Planet" and "Break The Silence: The Movie" were released in the fourth quarter of 2020 when cinemas briefly reopened during a lull in coronavirus infections.
Lewthwaite believes event cinema could be crucial to reigniting moviegoing as theatres reopen. "How we continue to expand the cinema experience to new audiences via unique content will no doubt be an important lever in our industry's tool kit for rebuilding attendance post-pandemic," she said.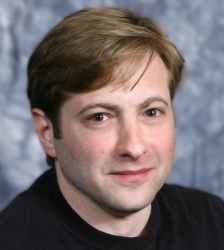 Latest posts by J. Sperling Reich
(see all)