Our first CJ Green post is firmly focused on the United Kingdom's Curzon Cinemas. Particular thanks to Jordan Bedding, Sustainability Manager at Curzon, for his help and time providing information and answering numerous questions.
A Bit On Curzon's Background
Curzon is a UK-based cinema company with 13 sites, seven in London and six further afield around the country. Known for their premium offering, carefully-curated atmosphere and comfortable cinema experience, they've been around since 1934 and are steadily expanding.
Launched in 2010, their home streaming service, Curzon Home Cinema has successfully operated alongside their cinema going experience. And 2006 saw Curzon purchase distribution company, Artificial Eye, originally founded in 1976.
Curzon have also teamed up with Julie's Bicycle, a London based charity that supports the arts and creative community to act on climate change and environmental sustainability. Watch this space for more information on Julie's Bicycle in future.
We spoke with Curzon about the impressive work they're doing to make their business more sustainable and limit their impact on the environment. We've compiled a list of the top four initiatives of which the company is particularly proud. Please note that this list is not exhaustive, so for more information on their full sustainability approach, please go to www.corporate.curzon.com/sustainability.
The Curzon Green Team
A strong move made by Curzon in 2017 was to create an in-house group focussing specifically on green issues. The 'Green Team' spans as many different areas of the company as possible, including programming, operations, development, technical and facilities, distribution, marketing, human resources and, of course, food and beverage. The team started with three members but has now grown to 10, all of whom voluntarily (and enthusiastically) signed up to be part of the initiative.
The Green Team meet every month to discuss the company's sustainability agenda, to coordinate new initiatives and to advance the annual environmental plan. Curzon's commitment to the Green Team shows its progressive way of thinking, from the top down. CEO Philip Knatchbull leads the business with his attitude to a sustainable future for the company:
"We celebrate our common humanity through the power of storytelling. I believe many of our films have contributed to that. All of us at Curzon are concerned about the future.

The power of film lies in bringing compelling and thought-provoking stories from diverse perspectives to the wider world. Curzon strives to bring you such films that will help stimulate the conversation for creating a shared, sustainable future. Curzon is also taking important steps to reduce the impact our cinemas have on the environment."
But it's not just management who are involved in the environmental aspects of the business. The staff are very much part and parcel of the overall ethical way of thinking and approach to eco-friendly matters. One instance of this is when new starters are given a 'Staff Environmental Handbook' detailing Curzon's stance on sustainable issues, embedding this mindset from Day One of employment.
BREEAM – "Very Good"
BREEAM is an international sustainability assessment method in master-planning projects, infrastructure and buildings, originating from the UK and was set up by BRE Group. BRE Group are a group of engineers, scientists, researchers and technicians passionate about making the built environment as sustainable as possible. The acronym stands for "Building Research Establishment Environmental Assessment Method". (For more info on other similar global initiatives, like LEED (US) and Green Star (AUS), click here).
Similarly to OFSTED (UK's Office for Standards in Education), BREEAM has a range of performance ratings that are awarded as a result of the assessment. The scale is thus: Acceptable (In-Use scheme only), Pass, Good, Very Good, Excellent, Outstanding and is represented by a number of stars on the certificate awarded.
Two of the newer Curzon cinema sites – Oxford and Aldgate East (East London) – have been awarded BREEAM's "Very Good" rating. To achieve this, several measures were put in place: a building management system (BMS) installed in each site to control heating and ventilation, LED lighting used throughout each building, reclaimed wood used instead of plastic alternatives, and installation of more energy-efficient equipment.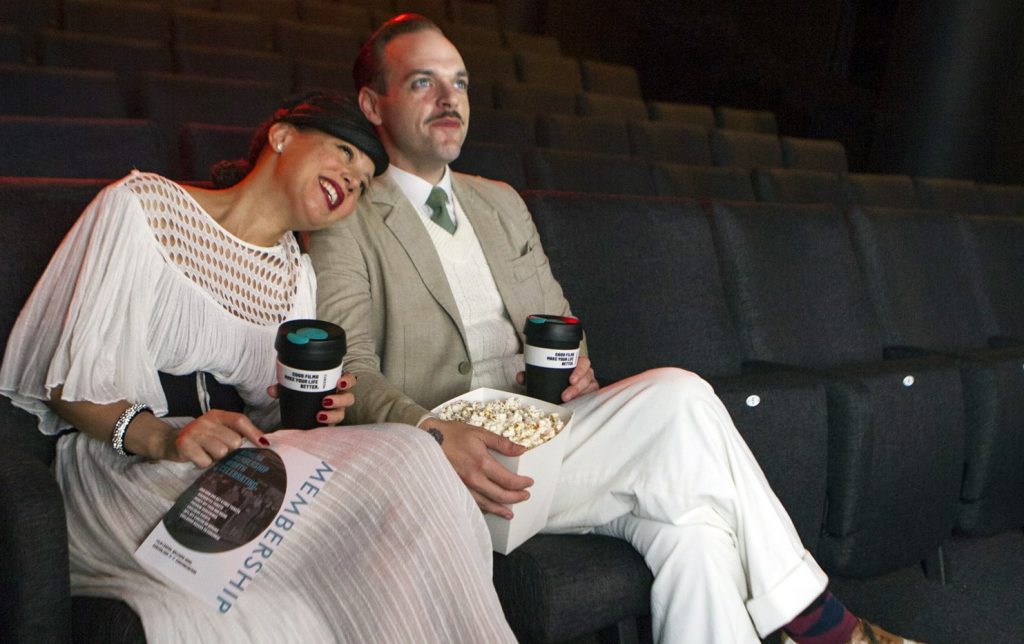 'Snackaging'
Curzon have been looking closely at the packaging their snacks come in, with a view to minimising unnecessary (usually plastic) waste. As most things come wrapped in some form of plastic these days, this can be tricky but Curzon's view is that if an item has to be packaged, they'll choose an option with as little wrapping as they can and the packaging must be recyclable, where possible. At their last Green Team meeting, they've been able to report that all snack packaging is now fully compostable.
On top of this, the staff at Curzon make the sustained effort after a screening to physically go through their bins and ensure all recycling and non-recycling are separated out. (A team after this writer's own heart!)
First Mile Waste Collection
First Mile is a waste collection company who have a "zero to landfill" policy. Curzon switched to them for their business waste when they became aware that their then-waste collection service wasn't complementary with the sustainable direction of their business. After Ally Chow (HR Operations Manager) and Paul Brown (Technical and Facilities Manager) did some research into different options, they found First Mile and have been working with them ever since.
First Mile's "zero to landfill" policy does what it says on the tin by ensuring all waste they collect is either recycled or, if non-recyclable, is sent to generate Green energy. First Mile really do go the extra mile for the environment, with the benefits of using their service going way above and beyond just bin collections.
CJ Green is the new sustainability feature for Celluloid Junkie. If you'd like to be part of the feature, wherever you are in the world, or you'd like to nominate another company in the cinema industry who are doing their bit for the environment, then please contact Helen Budge on helen.budge@celluloidjunkie.com

Latest posts by Helen Budge
(see all)