In bright daylight, a man, in his thirties or early forties, pushes into a crowd. He wears a lanyard around his neck; a badge that reads "Cannes – 70 – Presse" dangles from the end. Others wear them too. The journalist hands his shoulder bag to a security guard and steps through a metal detector. He retrieves his bag and is waved toward a long, wide red carpet that travels up a vast staircase toward a modern building. The journalist makes his way down the carpet. Other men and women scurry about, running up the steps, into the building. He ascends the steps, stopping mid-way to gaze at a giant banner hanging above the building's entrance. It displays a picture of a woman jumping in joy and lettering that reads "Festival International du Film 2017 – Cannes – 70". The journalist finishes climbing the steps, shows his badge to a security guard at the door and steps inside under a sign that reads: Grand Théâtre Lumière.
Movies about the filmmaking process are not unique at the Cannes Film Festival. After all, this is the same festival that in 1963 programmed Italian director Federico Fellini's "8½" starring Marcello Mastroianni as a distraught filmmaker struggling creatively to come up with a new movie idea. The film is now considered a masterpiece and an image of Mastroianni from the movie was used by Cannes on its official poster for the 2014 festival.
And who can forget the drama caused by the Coen brothers' "Barton Fink", about a 1940s playwright trying to make his way as a screenwriter in Hollywood. The film angered some by winning three awards at the 1991 Cannes Film Festival; Best Director, Best Actor, and the top prize, the Palme d'Or. The festival now has a rule in place limiting the number of awards any one film can win.
It is safe to say the Cannes Film Festival has never selected a film the centered on making movies accessible to the hearing and visually impaired. That was until this year, when programmers selected "Radiance" from Japanese filmmaker Naomi Kawase. The movie tells the story of Misako (played by Ayame Misaki) who writes and records versions of films for the visually impaired.
Working with a focus group of blind and near-blind members, she struggles to craft the audio description for a specific film title. She hopes to perfectly capture its plot, emotion and meaning. A mere blow-by-blow account is too sterile, but injecting subjective commentary is frowned upon by visually impaired audiences who don't want to be told how to feel when watching movie. Misako begins a friendship with Masaya Nakamori (portrayed by Masatoshi Nagase), a once renown photographer who suffers from a degenerative condition that leaves him with little to no eyesight. Through their budding romance Nakamori helps Misako describe a movie he will never be able to view, enabling her to truly see the world around her.
While the idea of moviegoing for the deaf and blind is nothing new to those within the film industry who struggled for years to create the technology and standard to allow for HI/VI capability (not to mention the legislation), it seems a far stretch that it could be the centerpiece of an auteur driven Japanese movie. Indeed, even an experienced filmmaker such as Kawase, who has had seven films play in Cannes over 20 years, wasn't entirely familiar with what went into making movies available to the visually impaired, only learning about it during her trip to Cannes in 2015 to present her last film, "Sweet Bean"
"I was aboard the plane coming to Cannes and I read through the documents prepared on audio description for 'Sweet Bean,'" Kawase told reporters after "Radiance" screened for the press in Cannes. "When I saw these documents I realized that these descriptors see perhaps more than the actual director. These are people [audiologists] that work on the sidelines. We don't see them, but they love the cinema as much as we do. I therefore wanted to convey there feelings through the film. I thought that by portraying this character, the heroes in my film, I could make a film which would really talk about the love of the cinema."
Just as the 2017 Cannes entry "120 Beats per Minute" about the founding of the AIDS activist group Act Up Paris during the 1990s features lengthy scenes in which characters vociferously debate how to organize political protests in a classroom setting, Kawase uses the focus group of blind audience members in "Radiance" to provide platform for the visually impaired to express their own thoughts on how they wish to watch and experience movies.
Closeups is another technique utilized by Kawase in order to convey how her blind characters "see" the world. While some in Cannes were turned off by the large number of closeups, the method was mostly appreciated. "First of all I love closeups, that's why I use them so often," Kawase explained. "Also, in the film, I'm portraying people who can't see well. Blind people. And as they can't see properly, the closeups are designed to convey, partially, what these blind people have in their sole."
That might sound somewhat overly dramatic, but Kawase's films are known for being, if not spiritual, cerebral as their often thin stories unfold in a manner that might best be described as contemplative. Thus, Kawase's use of audio description in segments of "Radiance" to describe the film within her film, as well as the main narrative, slowly builds into a form poetry.
Kawase's response about choosing to tile her film "Radiance" is a perfect example. "Light is something you can find in many different places. It illuminates everything and we tend to forget the very existence of light," she said. "Even now everyday, the sun comes up in the morning, but how long will this world last? For how long will we remain alive on earth. I don't know how long, or nobody knows how long we'll still be here, or in my case how long I'll be able to continue making films?"
If you can appreciate Kawase's thought process, which directly injects itself into her work, then you are likely to appreciate her films. Eventually, all of her responses answer the question asked, though not always in the most direct manner. Sometimes however, it is what Kawase says leading up to the requested answer that make getting to them so fulfilling. The same might be said of her films.
"I think that around the world there are many people who love the cinema," said Kawase, still answering the question about her title choice. "They don't want wars to rage. They want to live in a rich and peaceful world. But war will never disappear and one day we'll just vanish off the face of the earth. I would like to think that films will remain for eternity. I have devoted my whole sole the cinema. I would like to say that this film 'Radiance' is for all cinema buffs around the world."
What makes "Radiance" so intriguing for anyone working in the HI/VI space is that Kawase depicts not the nitty gritty technical details of how deaf and blind moviegoers get to enjoy films in cinemas, but rather their feelings, reasonings and ultimate reward for wanting to do so in the first place.
The journalist sits in a cluttered apartment at a messy table stacked with disorganized papers and press kits. His "Presse" badge dangles from the lanyard around his neck. He looks at the laptop in front of him. His hands float over the keyboard as his fingers rapidly type. The journalist stops typing, leans back in his chair and stares at the screen. He re-reads and edits what he just wrote. On screen, the text appears in a form on a web page. The journalist reaches for a mouse to place the cursor into a field labeled "Enter Title Here". On screen he types one letter at a time; Moviegoing Accessability Takes A Dramatic Turn at Cannes In Naomi Kawase's "Radiance". The journalist reaches for the mouse again. He moves the cursor across the web page to a button labeled "Publish" and clicks it.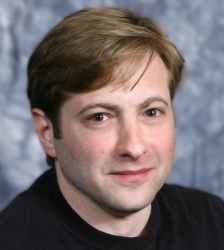 Latest posts by J. Sperling Reich
(see all)