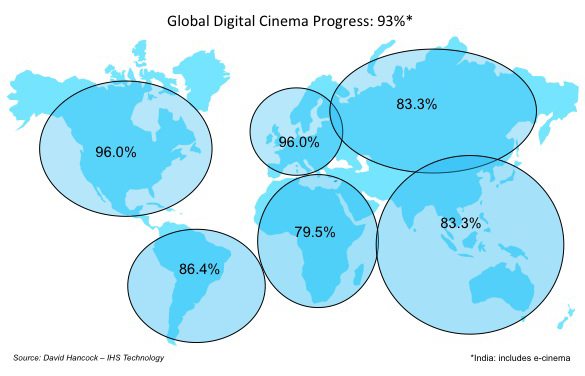 The very first CinemaCon was held in 2011 with the worldwide conversion to digital projection at movie theatres already underway. Maybe that's why David Hancock of IHS Technology has been a regular speaker on the first day of the event since it's inception, presenting an update on the global rollout of digital cinema.
Speaking last Monday in his usual slot at this year's CinemaCon, Hancock said his days of flinging industrial facts and figures at trade show attendees may indeed be drawing to a close. Not because he is retiring or moving to another position, but because, according to Hancock, there soon won't be any further updates needed for digital cinema.
The process of installing DCI compliant equipment in movie theatres began in 2004 and Hancock reports the industry has now converted 93% of over the world's 120,000 commercial screens to digital projection. More specifically, the United States and Europe are both 96% converted, while Russia, Asia and Australia are all at an 83.3% conversion rate, a figure dragged down by the high number of e-cinema screens in India. Latin America, which was late to begin their d-cinema rollout has already converted 86.4%, with Venezuela being a big holdout. Africa is also having some problems making the leap to digital thanks to some issues with financing (especially in North Africa), but has still converted 79.5% of its screens.
As for 3D grosses, Hancock states, "China became the largest 3D market. The 3D revenue in China last year rivaled the USA." Hancock pointed out that indigiounous releases have helped with growth of the 3D market throughout international territories, though due to a lack of quality content, North America saw 3D revenue fall. "What's going to happen now is it's going to fluctuate up and down depending on the content," he says.
With digital cinema equipment installed on most of the world's movie screens, Hancock jokes that "the genie is out of the lamp" in regards to the technology, which has led to an "alphabet soup" of industry jargon relating to the next set of innovations. He is referring to high frame rate (HFR), variable frame rate (VFR), high dynamic range (HDR), extended dynamic range (EDR) and wider color gamut (WCG), to name but a few of the acronyms that have made their way into our lexicon over the past two years.
Hancock highlighted laser projection in part because it is a technology that solves a specific problem; image brightness, especially on 3D titles. The market for laser projectors is just now taking shape with a wide range from smaller laser/phosphor hybrids, retrofit kits and high end 3P and 6P laser projectors for larger screens. "The higher end are going to take longer to get through into the market, because it's expensive," Hancock predicts. "The stuff that we're hearing about, the 6P laser, this is going to take time to filter down into the market."
Since 2013, upwards of 200 laser phosphor projectors have been installed in smaller cinemas, whereas only a handful of the high end laser projectors have made their way into auditoriums around the world. In two or three years time, Hancock believes the equipment replacement cycle will begin to help with the adoption of laser technology.
Immersive audio has already caught on with offerings such as Dolby Atmos, Barco Auro and more recently DTS:X. There are roughly 900 or so installations of Atmos completed or committed to date, while Barco hovers just under 600 screens. An open standard for immersive audio is being developed by the Society of Motion Picture and Television Engineers, which may be needed before exhibitors embrace the technology in earnest.
All of this technology is meant to drive cinema going as not only the best way to see a film, but build on the idea that the cinema is the best place to see a movie. This build on what Hancock calls the "experiential side of cinema", wherein technology allows the exhibitor to provide the ultimate moviegoing experience.
Thus the reason more than 70 circuits around the world have launched their own premium large format (PLF) brands, accounting for 1401 screens in the first half of 2014. IMAX remains the market leader and most recognized brand, earning 58% of the USD $570 million earned through PLF during 2014, but Hancock thinks two such offerings can co-exist. RealD for instance has launched Luxe as a PLF solution for developing markets. Dolby Cinema takes the concept one step further by providing not only branding, but HDR, laser projection, immersive audio and premium seats all on an enormous screen.
"The key is revenue growth," explains Hancock. "An enhanced experience using a palette of technology options offers a credible justification of a ticket premium."
What we are beginning to see is increased segmentation within the cinema marketplace. Hancock says, "You can have five to six different cinema experiences within the same multiplex". This includes giant screen, 4D, upmarket indie, mainstream indie multiplex, IMAX, community driven art houses, etc."
Meanwhile, the global entertainment market has slowly been shifting toward subscription models and away from physical transactions. Unfortunately, Hancock reveals this has meant a decline in the transaction side of film consumption, which in turn risks eroding consumer perception of content.
"The value is in transactional," Hancock says. "That's important because cinema is transactional. You're buying a ticket to a film. If you have a subscription model you're not doing that. So in a world in which the whole model is shifting, changing to digital, cinema becomes increasingly relevant in terms of value."
By 2018 Hancock forecasts 63% of the transactional value of a particular film's consumption will take place in cinemas. What this means is that though cinema is not the principal source of revenue, it is the principal source of transaction and perceived value to the film business.
"That's what exhibitors are doing, creating an environment where technology is driving the premium experience, something you can't get anywhere else," Hancock proclaims. "In a home cinema system, you can't stick 4D in your home, you can't have Atmos at your home. It won't be the same. This is a very strong message to go away with. When you talk about value chains, we talk about changing value chains, we talk about changing windows… it all relates to value and the value of the cinema is quite important because It is the primary source of revenue for the transaction based cinema world."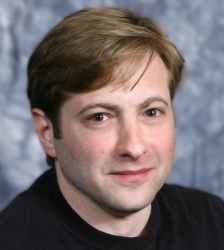 Latest posts by J. Sperling Reich
(see all)