Monday night the film industry may have figured out a way to combat a growing problem faced by most television advertisers; time shifting. Wikipedia, that bastion of all things completely true and accurate, defines "time shifting" as:
"the recording of programming to a storage medium to be viewed or listened to at a time more convenient to the consumer. Typically, this refers to TV programming but can also refer to radio shows via podcasts."
While time shifting may be all the rage these days, I've been doing it since September of 2003 when I first purchased Tivo. Ever since, it is the rare television show that I will watch live. Anyone who has ever owned a Tivo or DVR knows the luxury of being able to record your favorite television shows, and even live events, so that you can watch them whenever you want. And for those of you who don't know what I am talking about, you might want to join the 21st century as soon as humanly possible by taking a trip to your local electronics store to pick up one of God's gifts to couch potatoes.
One of the greatest features of Tivo and DVRs is their ability to allow viewers to skip over commercials either through fast forwarding through them, or jumping ahead 30 seconds. While consumers may be saving millions of hours by jumping past plugs for the latest laundry detergent or gas guzzling SUV, advertisers have been griping quite loudly about their commercials being "zapped" for some time now.
I myself am guilty of zapping more than my fair share of commercials over the last four years. In fact, I have become quite the Tivo remote jockey. I would however tend to agree with those who argue that I pay more attention to the commercials I am whizzing past so that I can return to normal viewing when they are over. I can usually remember commercials that appear during my favorite television shows, even though I've watched them at three times the speed. Besides, I'd like to think I'm smarter than your average television viewer and therefore can pick up any advertisement's message in a third of the actual running time.
So with a real dilemma on its hands television advertisers in the United States are trying all sorts of tricks with varying degrees of success. Last night Paramount Pictures may have tried a concept that actually works.
There I was watching Monday night's episode of Comedy Central's 'The Daily Show with John Stewart' when I hit the first commercial break. By reflex alone I lifted my remote, aimed it at the Tivo and was about to click the fast forward button when the green MPAA preview banner stopped me in my tracks. I had never seen the bumper put in front of a television commercial for a movie before, let alone one that lasts the full four seconds. What followed was the full two-and-a-half minute teaser trailer for Paramount Pictures summer 2008 tent-pole actioner Iron Man. At the end of the trailer the 'The Daily Show' returned.
More amazingly, I had watched the entire "commercial" without fast forwarding through it. The last time I watched an entire commercial break for a non-sporting event without zapping any of the commercials was probably the Oscars telecast. I only realized this a minute into the second segment of 'The Daily Show' when my outstretched arm, still clasping the remote, began to ache.
Certainly, buying an entire commercial break is no cheap way to solve the problem of viewers fast forwarding through advertisiments, though I'm sure Paramount got a deep discount since parent company Viacom also happens to own Comedy Central and MTV, where the trailer debuted earlier in the evening.
I'm not sure if this is a new trend, though it is one I quite like given my love of movie trailers. With the buzz the stunt generated, Paramount may be onto something.
For those of you who want to see the trailer, you can do so here.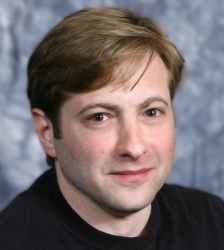 Latest posts by J. Sperling Reich
(see all)