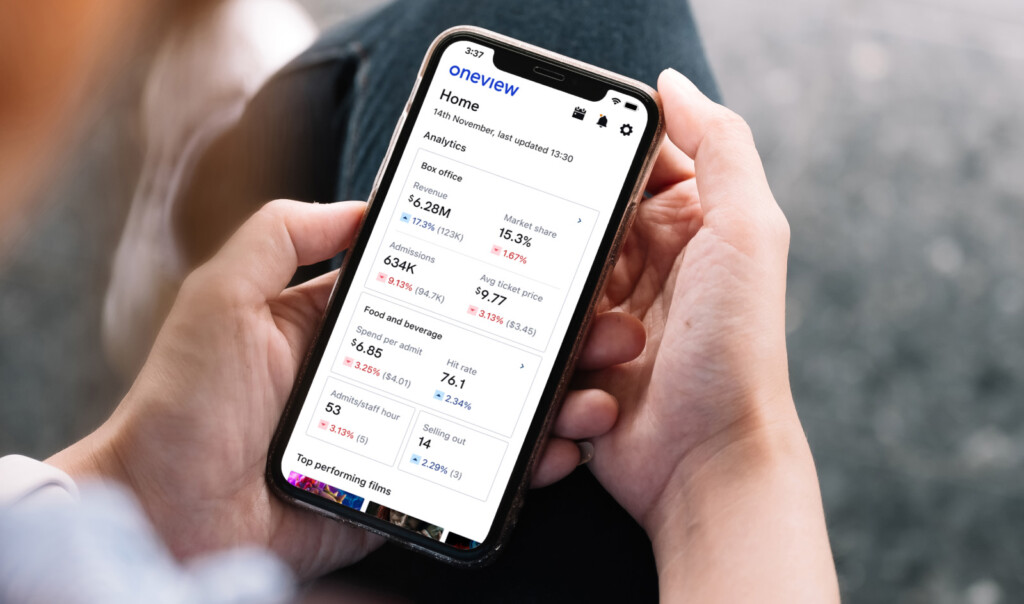 Vista Group, a global leader in software and data solutions to the international film industry, has officially launched its innovative new mobile app and digital assistant, Vista Oneview.
Oneview offers exhibition CEOs and their leaders real-time benchmarked and actionable insights, allowing them to keep their finger on the pulse of their circuit right down to the individual theatre and showtime level.
Powered by Vista Horizon, Vista's Cloud-based data warehouse, Oneview provides direct access to insights such as box office, admissions and market share, food and beverage performance, operational KPIs, member insights and release calendars. Together with Oneview's insight-sharing capability, cinema executives will be ideally positioned to effectively action critical opportunities across their business before they disappear.
"With Oneview, we're responding to an essential need among exhibition leaders to quickly absorb vital information and direct their teams to respond to evolving situations within their business," says Matthew Liebmann, Vista Group's Chief Product, Innovation, and Marketing Officer. "By essentially allowing users to 'carry their business in their pockets wherever they are', we're confident Oneview will be a game changer."
Oneview marks an additional milestone as Vista Group's first solution to unite data from Vista Cinema, the world leading cinema management software solution; Numero's aggregated box office results, and Movio Cinema EQ's loyalty and membership data.
"Our constant drive for innovation is fueled by Vista Group's purpose to bring more people together to experience the magic of movies and cinema," says Vista Group CEO Stuart Dickinson.
"Oneview is the latest innovation to integrate with our core Cloud platform, and is set to significantly increase Vista Group's ability to connect different areas of the industry and power the moviegoer experience. We're excited to share this product with clients, and help them achieve greater success in their day-to-day operations."
About Vista Group International
Vista Group International Ltd (Vista Group) is a public company, founded in New Zealand in 1996 and listed on both the New Zealand and Australian stock exchanges in 2014 (NZX & ASX: VGL). Vista Group is a global leader in providing tech solutions to the international film industry. With brands including Vista, Veezi, Movio, Numero, Maccs, Flicks and Powster, Vista Group's expertise covers cinema management software; loyalty, moviegoer engagement and marketing; film distribution software; box office reporting; creative studio solutions; and the Flicks movie, cinema and streaming website and app.