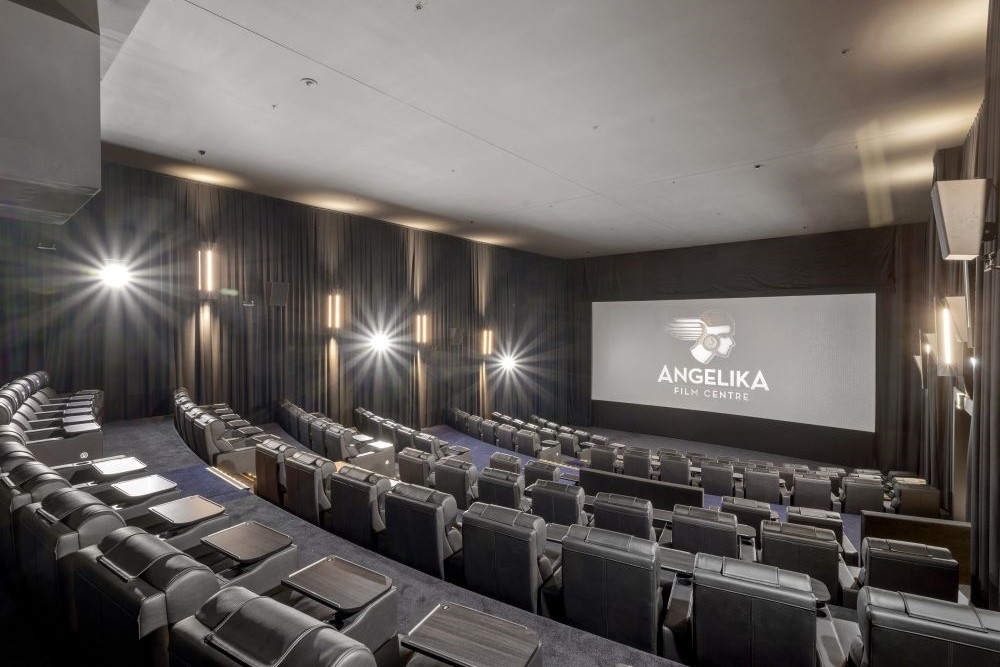 Reading International, Inc. ("Reading"), today announced that it will open its first-ever Angelika Film Centre at South/City/SQ in Woolloongabba, Australia on Thursday August 24th.
Reading's newest cinema venture will be the company's first Angelika Film Centre outside of the U.S. Since 1989, the original Angelika Film Center & Café in New York City's Soho neighbourhood has been the most successful dedicated arthouse cinema in North America. A cultural institution in New York City, the Angelika is known for showcasing the best in independent, foreign and specialty films. In the last decade, the Angelika in New York City has delivered the highest box office engagements of any North American cinema for ground-breaking films like Greta Gerwig's "Lady Bird," Academy Award Winner for Best Picture "Moonlight," "I, Tonya" starring Margot Robbie, foreign language films like Pedro Almodovar's "Pain & Glory," and documentaries like Academy Award Winner for Best Documentary, "Free Solo."
The Angelika at South/City/SQ is soon to become Brisbane's hub for cinephiles and will feature the best foreign and specialty film, along with the most compelling movies from the major studios. Among the movies opening at the Angelika in Brisbane and ticketing now at www.angelikafilmcentre.com.au are:
"Past Lives" – director Celine Song's critically acclaimed love story;
"Blackberry" – an entertaining story about the generation defining gadget that has 98% Rotten Tomatoes rating;
"Asteroid City" – a beautiful movie from visionary director Wes Anderson with an ensemble cast including Tom Hanks, Scarlett Johansson, Jason Schwartzman, Tilda Swinton, Willem Dafoe and Jeff Goldblum;
"Rose Gold" – the inspiring true story behind the historic Olympic medal win of the Boomers, Australian men's basketball team;
"Gran Turismo"- a fast-paced underdog story based on a true story about car racing; and
"Ego: The Michael Gudinski Story" –  a film about the life of the Aussie music industry legend.
The Angelika Film Centre in Brisbane will consist of 8 screens, including 3 luxurious SoHo Lounge cinemas, and is state-of-the-art with fully recliner seating and crisp, colourful laser projection in all auditoriums. The SoHo Lounge offers a true first-class experience, elevating movie nights to extraordinary heights. Plush reclining seating and a friendly table service that brings delectable dishes right to your seat. The SoHo Lounge Bar is fully licensed, offering a curated selection of premium wines, signature cocktails, and a range of spirits.
"We look forward to joining the Angelika family, and being part of the exceptional reputation that comes with the Angelika name. More so we are incredibly pleased that we get to open our doors in such an impressive and elegant complex as South/City/SQ. We are really looking forward to being part of the community," said Mark Douglas, Reading International's Australia and New Zealand Managing Director.
The Angelika Film Centre will open in the brand-new South/City/SQ complex developed jointly by Pellicano and Perri Projects, a refreshing and vibrant mixed-use urban development consisting of retail, residential and commercial.
"South/City/SQ's intrinsic focus on delivering entertainment and hospitality has culminated in a popular precinct that consistently draws local, domestic and international crowds," says Pellicano Managing Director Nando Pellicano.
"The addition of Angelika Film Centre to the South/City/SQ precinct adds another drawcard for existing residents, as well as for domestic and international tourists. Our aim is to create a lifestyle-focused precinct that appeals to a diverse audience. The opening of the Angelika Film Centre will be a further boost to the already bustling entertainment scene of Woolloongabba – we are looking forward to watching the area continue to evolve as we approach the 2032 Olympics," he said.
Alongside Hobart's State Cinema by Angelika, the brand will align film festivals, independent and unique screenings, and specialty events across both cinema complexes. Reading is also excited to announce their special opening week value pricing for Angelika Film Centre, with $10 tickets across all sessions, including SoHo Lounge.
Tickets for the opening week are now on sale via www.angelikafilmcentre.com.au. The Angelika Film Centre is located at Level 1, 160 Logan Road, Woolloongabba. They can also be found via their social channels at Facebook/Angelika Film Centre and Instagram @angelikaaustralia.
About Reading International, Inc.
Reading International, Inc. (NASDAQ: RDI), an internationally diversified cinema and real estate company, is a leading entertainment and real estate company engaging in the development, ownership and operation of cinemas and retail and commercial real estate in the United States, Australia, and New Zealand.
The family of Reading brands includes cinema brands: Reading Cinemas, Angelika Film Centers, Consolidated Theatres, and the State Cinema in Tasmania; live theatres operated by Liberty Theatres in the New York City; and signature property developments, including Newmarket Village, Cannon Park, and The Belmont Common in Australia, Courtenay Central in New Zealand, and 44 Union Square in New York City.
Additional information about Reading can be obtained from the Company's website: http://www.readingrdi.com.
About Pellicano
Pellicano owns and manages over 190 properties, with 370+ commercial customers currently enjoying these spaces. The property portfolio is diverse, comprising assets in the residential, commercial, retail/large format retail, industrial and hospitality sectors. As one of Australia's leading award-winning developers, it has a reputation based on an ongoing commitment to excellence and meticulous attention to detail.
Pellicano focuses on quality and affordability while personally managing each phase – design, construction, leasing, selling and delivery. This approach sees Pellicano's developments consistently in high demand by owner-occupiers, tenants and investors alike. Today, Pellicano looks at leading technologies around the world to ensure its team is using the latest ideas and creating future proof spaces. By embracing cutting-edge technology, Pellicano creates new digital environments to enhance the building experience, from enabling clients to view and manage property services, to improving the integration of urban precincts.