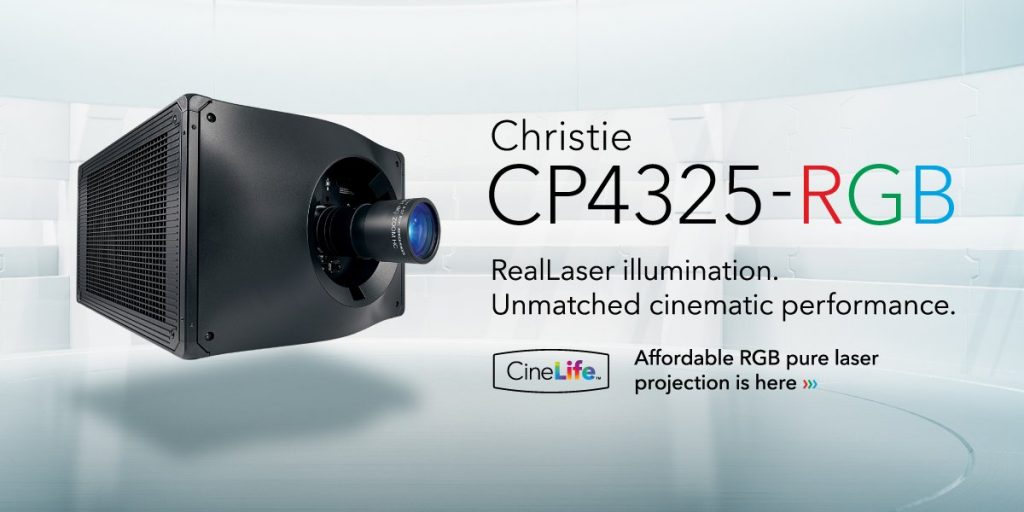 The acquisition exemplifies strong confidence in Christie's next generation RGB pure laser projector, which delivers low cost of ownership and unmatched visuals
Christie is pleased to announce that HOYTS has purchased several units of the newly introduced CP4325-RGB pure laser cinema projector to deliver unmatched visuals in mainstream auditoriums and post-production facilities in Australia and New Zealand.
The acquired units will be installed at HOYTS' upcoming flagship "all RGB laser" cinema complex located in Docklands, Melbourne, as well as in Auckland-based post-production house Department of Post. The installations will be carried out by HOYTS Cinema Technology Group (CTG), which offers its extensive service and support capabilities to members of the exhibition and post-production industries in Australian and New Zealand.
"With Christie's new CP4325-RGB pure laser projectors, we endeavour to deliver the best visual experience possible in every auditorium at our new cinema in Docklands and at post-production facilities such as Department of Post," said Adam Wrightson, General Manager, HOYTS CTG. "Christie RGB pure laser projectors are the future of cinema projection and the gold standard for that technology. We're very confident that the CP4325-RGB will deliver rich and vibrant visuals in mainstream auditoriums, as well as for filmmakers and post-production facilities."
Michael Bosworth, General Manager, Christie Australia, added, "We are delighted that HOYTS has purchased our next generation CP4325-RGB pure laser projectors following its official introduction at CineAsia 2017. This exemplifies the strong trust and confidence that HOYTS and HOYTS CTG have in our new product to deliver unrivaled cinematic performance. At the same time, it reinforces our vision that RGB pure laser will become the standard for mainstream cinema in the very near future."
Besides the new CP4325-RGB projectors, HOYTS' Docklands site will also install the Christie CP42LH fibre-coupled RGB pure laser projection systems in two XtremeScreen premium format auditoriums equipped with screens of over 20 metres wide. Each CP42LH unit will be upgraded to 60,000 lumens to deliver the brightest and most engaging visuals.
"This will be our second and third CP42LH systems installed at HOYTS cinemas in Melbourne delivering the ultimate cinematic experience available to our guests. In addition to the Christie RGB pure laser projection systems powering the visuals, every auditorium at Docklands will also have Dolby Atmos sound," said Wrightson.
Strong and Enduring Christie-HOYTS Partnership
As a longstanding and valued partner of Christie, HOYTS CTG specialises in the design, build, implementation and support of HOYTS' cinematic technologies to the highest standard. It also offers its service and support capabilities to other exhibitors and companies requiring assistance in the procurement, installation and ongoing support of digital cinema and related technologies.
For over two decades, Christie and HOYTS CTG have collaborated on numerous projects across Australia and New Zealand to deliver the best visual experiences possible. These include independent exhibitors such as Palace Cinemas, as well as post-production house Definition Films, which has a CP42LH deployed at its facility in Sydney.
"HOYTS has been using our equipment exclusively and they have many venues in Australia and New Zealand. And between us are two companies that built a breadth of experience over many years in terms of delivering the best movie-going experiences to customers. As we roll out the CP4325-RGB projectors, we look forward to even stronger growth in the Australia and New Zealand marketplace in the future," noted Bosworth.
Unmatched visuals for the mainstream market
Featuring Christie's new CineLife™ Series 3 electronics and RealLaser™ illumination, the direct-coupled Christie CP4325-RGB offers a wide colour gamut exceeding DCI P3 specifications, enhanced contrast ratios and high frame rates (HFR) compatibility.
With its innovative all-in-one form factor that eliminates the need for sub-ambient external cooling, the direct-coupled Christie CP4235-RGB utilises next-generation, pure red-green-blue direct-emitting laser technology that offers an unparalleled visual experience for the mainstream market. It also provides rich colours, higher contrast ratios, and the lowest total cost of ownership of any projector in its class.
Employing next-generation RGB pure laser devices, the CP4325-RGB ensures an impressive and reliable operational life of more than 30,000 hours, with only a 20 percent loss in brightness over this time. The projector also boasts a contrast ratio of up to 6000:1 and provides better uniformity and a wider colour gamut than other cinema projection systems. In addition, its compact form-factor means that it can be easily integrated into standard cinema booths. 
  
About HOYTS
From its 1909 inception, HOYTS has gone on to become one of the world's leading entertainment companies – boasting over 400 screens and more than 75,000 seats across its network. Today, HOYTS is the largest single-brand movie exhibitor in Australia and New Zealand. For more information, go to:www.hoyts.com.au.
About Christie
Christie Digital Systems USA, Inc. is a global visual and audio technologies company and a wholly-owned subsidiary of Ushio Inc., Japan (JP:6925). Consistently setting the standards by being the first to market some of the world's most advanced projectors, complete system displays, and cinema audio solutions; Christie is recognised as one of the most innovative visual technology companies in the world. From retail displays to Hollywood, mission critical command centers to classrooms and training simulators, Christie display solutions and projectors capture the attention of audiences around the world with dynamic and stunning images, accompanied by awe-inspiring sound. Visit www.christiedigital.com.