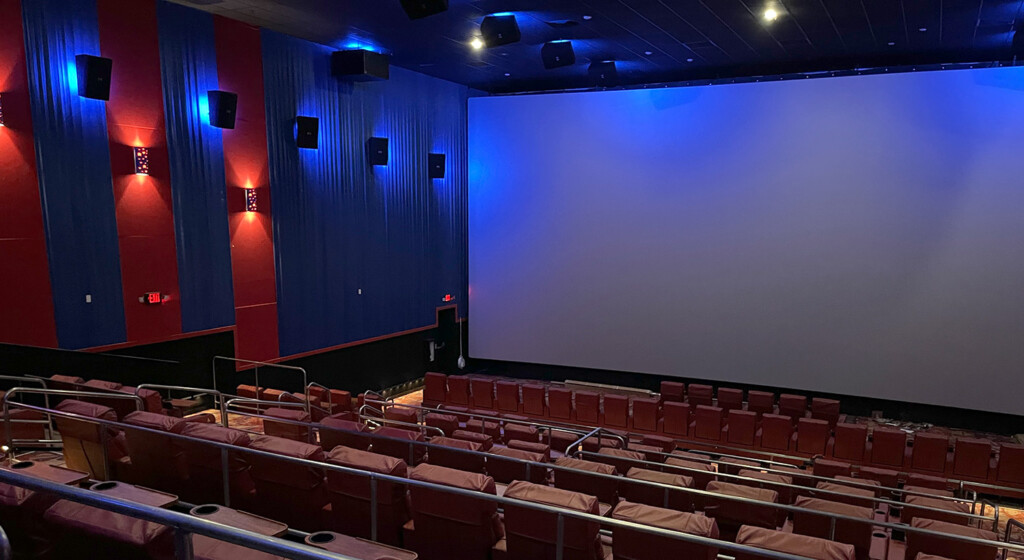 Galaxy Theatres is elevating the cinematic experience for its guests by introducing Christie RGB pure laser cinema projectors in select recently updated Digital Fusion Experience (DFX) auditoriums.
Susan Griesi, Director of Marketing at Galaxy Theatres, emphasizes, "With a prominent presence spanning across the Western US, including Arizona, California, Nevada, Texas and Washington, Galaxy Theatres has garnered a reputation for its unwavering commitment to delivering the ultimate immersive movie experience."
The DFX auditoriums boast immersive sound systems, expansive wall-to-wall and floor-to-ceiling screens, and plush power lounge chair recliners. To complete this luxury cinematic experience, Christie CP4430-RGB pure laser cinema projectors, featuring Real|Laser illumination, have recently been installed by Southern California Cinetech Services in the DFX auditoriums located at Galaxy Theatres Cannery in Nevada and Gig Harbor and Monroe in Washington.
Griesi emphasizes the choice of Christie solutions, stating, "We selected Christie because of their top-of-the-line projectors, delivering exceptional brightness for unparalleled presentations, along with the best warranty. We have had a successful 25-year partnership with Christie, ensuring a first-class presentation for our guests. It was only natural to collaborate again, this time for their latest laser digital projectors."
"We're thrilled that Galaxy Theatres has continued to place their trust in Christie to help them deliver a premium moviegoing experience for their guests through a self-branded large format DFX experience." says Jason Jacobson, account manager, Cinema, at Christie. "Christie has been in the cinema business for over 65 years, and we echo Galaxy's passion and commitment to delivering an unforgettable experience for guests."
Christie's RGB pure laser cinema projectors, featuring Real|Laser illumination technology, reduce energy costs by converting more lumens per watt and long-lasting light sources provide more than 50,000 hours of DCI-specified on-screen brightness. With the most expansive color gamut of any projection technology – delivering greater than 95% of the Rec. 2020 color space – and superior contrast ratio, visuals are more vibrant, and every detail is clearer than ever to enable the ultimate visually immersive experiences on a PLF screen.
About Christie
Christie Digital Systems USA, Inc. is a global visual and audio technologies company and a wholly owned subsidiary of Ushio Inc., Japan (JP: 6925). Christie revolutionized the movie industry with the launch of digital cinema projection, and since 1929 has embraced innovation and broken many technology barriers. Our technology, paired with the support of professional services to design, deploy and maintain installations, inspires exceptional experiences. Christie solutions are used around the world, from the largest mega-events to the smallest boardrooms, and include advanced RGB pure laser projection, SDVoE technology, content management, image processing, and LED and LCD displays. Visit www.christiedigital.com.