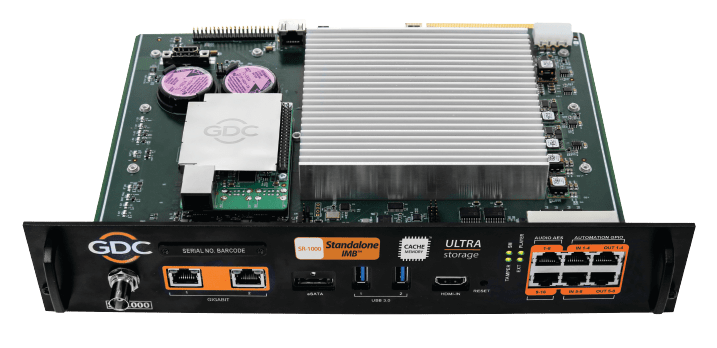 GDC Technology Limited ('GDC'), a leading global provider of digital cinema solutions, announced today the company's SR-1000 IMB with the capability to process 5.1 and 7.1 surround sound, announced in April at CinemaCon 2022, is now deployed in over 500 cinema screens worldwide. Based on evaluation of the sound quality, cinema owners in Bonaire, Canada, China, Croatia, Czech Republic, Germany, Greece, Hungary, India, Italy, Korea, Lithuania, South Africa, Spain, Switzerland, Taiwan, United Kingdom, and the United States are choosing GDC's cinema audio processor over an external sound processor for new construction projects and replacement of legacy equipment. This rapid adoption of a new product by cinema owners substantiates GDC's decision to continually innovate during the pandemic.
With the built-in cinema audio processor option, the SR-1000 offers the capability to provide superior sound designed for 5.1 and 7.1 PCM uncompressed surround sound functionality – the purest digital sound not "contaminated" by compression. The cinema audio processor license which can be procured remotely from GDC Technology, unlocks the optional built-in cinema audio processor's features. The embedded robust audio processing engine can achieve precise sound system calibration of the theatre by supporting
5.1 / 7.1 / 15.1 audio equalizer (EQ)
1/3-octave graphic EQ with independent bass and treble controls (non-LFE channels)
Parametric EQ (choice of dedicated general LFE settings or SMPTE standard LFE settings for LFE channel)
5.1/7.1 2-way crossover with selectable filter type and configurable slope
Fader (gain adjustment), global and individual channel delay
Uncompressed audio processing (including LPCM on HDMI input)
Provides booth monitor output
Built-in signal generator, mute with configurable fade-in/fade-out times, wide dynamic range
Audio input level display, easy configuration backup and restore
Channel routing & duplication
"The availability to support the processing of top-quality surround sound enables cinema owners to offer an amazing listening experience to moviegoers, said Dr. Man-Nang Chong, founder, chairman and CEO of GDC Technology Limited. "We are confident that adding the cinema audio processing support to our next generation SR series media servers will generate even greater sales opportunities in the future."
About GDC Technology Limited
GDC Technology Limited ('GDC') is a leading digital cinema solutions provider with its manufacturing facility certified with ISO 9001:2015 by SGS. GDC develops, manufactures and sells cinema projector, media server for both projector and LED cinema display, content storage system, cinema enterprise software including theatre management system and advanced cinema automation system for the global cinema industry. GDC is a licensee of the DTS:XTM object-based immersive sound technology from DTS, Inc. for the development of its media servers. In addition, GDC also provides a suite of digital cinema products and services, including LED cinema, 3D product, audio equipment, projector lamp, Supra 4.0 high-gain and high-contrast screen, post-production service, Electronic Delivery System (EDS).