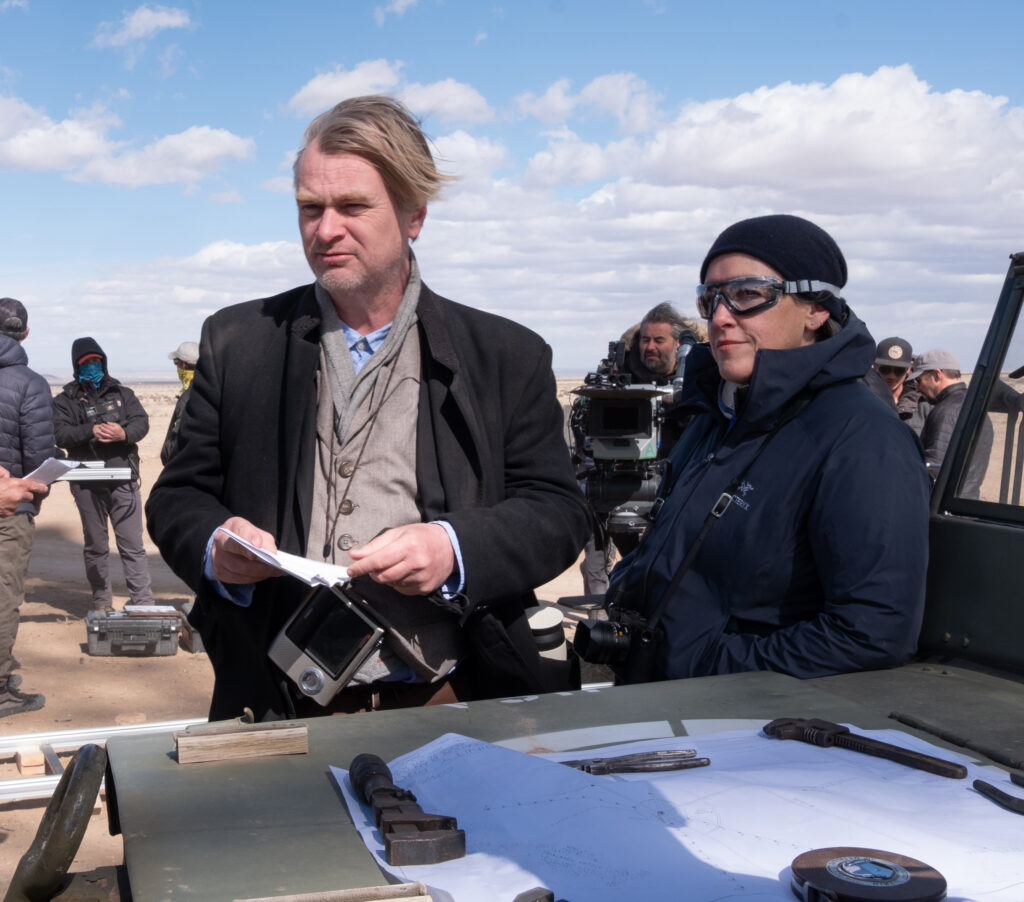 Universal Pictures' "Oppenheimer" Arrives Exclusively in Theatres on July 21, 2023
The National Association of Theatre Owners (NATO) will honor Christopher Nolan and Emma Thomas with the NATO Spirit of the Industry Award during this year's CinemaCon, Mitch Neuhauser, Managing Director of CinemaCon, announced today. CinemaCon, the official convention of NATO, will be held April 24-27, 2023, at Caesars Palace in Las Vegas. Nolan and Thomas will be presented with this special honor at the Big Screen Achievement Awards ceremony taking place on the evening of Thursday, April 27, at The Colosseum at Caesars Palace and hosted by official presenting sponsor The Coca-Cola Company.
"I am deeply honored to present the Spirit of the Industry Award to our good friends Chris and Emma as my last official act as President of NATO," noted NATO President and CEO John Fithian. "No one has done more to advance the theatrical experience than these two champions of cinema."
Christopher Nolan and Emma Thomas' films shatter the limits of what cinematic storytelling can achieve, maintaining a shared passion and commitment to the theatrical filmgoing experience that is unwavering and unparalleled. Nolan and Thomas' films, including "Tenet", "Dunkirk", "Interstellar", "Inception" and "The Dark Knight" trilogy, have earned more than $5 billion at the global box office and have been awarded 11 Oscars and 36 nominations, including two Best Picture nominations.
Nolan and Thomas' work can be seen this summer in Universal Pictures' "Oppenheimer", their first film with the studio, arriving exclusively in theaters on July 21, 2023. Written and directed by Nolan, Oppenheimer is an IMAX-shot epic thriller that thrusts audiences into the pulse-pounding paradox of the enigmatic man who must risk destroying the world in order to save it. "Oppenheimer" stars Cillian Murphy as J. Robert Oppenheimer, Emily Blunt as Katherine "Kitty" Oppenheimer, Matt Damon as General Leslie Groves Jr. and Robert Downey, Jr. as Lewis Strauss. "Oppenheimer" also stars Florence Pugh, Benny Safdie, Michael Angarano, Josh Hartnett, Rami Malek and reunites Nolan with actor, writer and filmmaker Kenneth Branagh. Additional cast includes Dane DeHaan, Dylan Arnold, David Krumholtz, Alden Ehrenreich and Matthew Modine.
The film is based on the Pulitzer Prize-winning book American Prometheus: The Triumph and Tragedy of J. Robert Oppenheimer by Kai Bird and the late Martin J. Sherwin. The film is produced by Emma Thomas, Atlas Entertainment's Charles Roven and Christopher Nolan.
Oppenheimer is filmed in a combination of IMAX 65mm and 65mm large-format film photography including, for the first time ever, sections in IMAX black and white analogue photography.
About CinemaCon
CinemaCon attracts upwards of 6,000 motion picture professionals from all facets of the industry – from exhibition and distribution, to the equipment and concession areas – all on hand to celebrate the movie-going experience and the cinema industry.
CinemaCon is delighted to have both the International Cinema Technology Association (ICTA) and National Association of Concessionaires (NAC) as its tradeshow partners. CinemaCon is also thrilled to have The Coca-Cola Company – one of the industry's most highly regarded and respected partners in the world of the movies – as its official presenting sponsor.
About NATO
The National Association of Theatre Owners (NATO) is the largest exhibition trade organization in the world, representing more than 35,000 movie screens in all 50 states, and more than 32,000 screens in 100 countries worldwide. NATO's membership includes the largest cinema chains in the world as well as hundreds of independent theatre owners.
Additional information on CinemaCon, as well as an application to apply for press credentials, can be found at www.cinemacon.com.