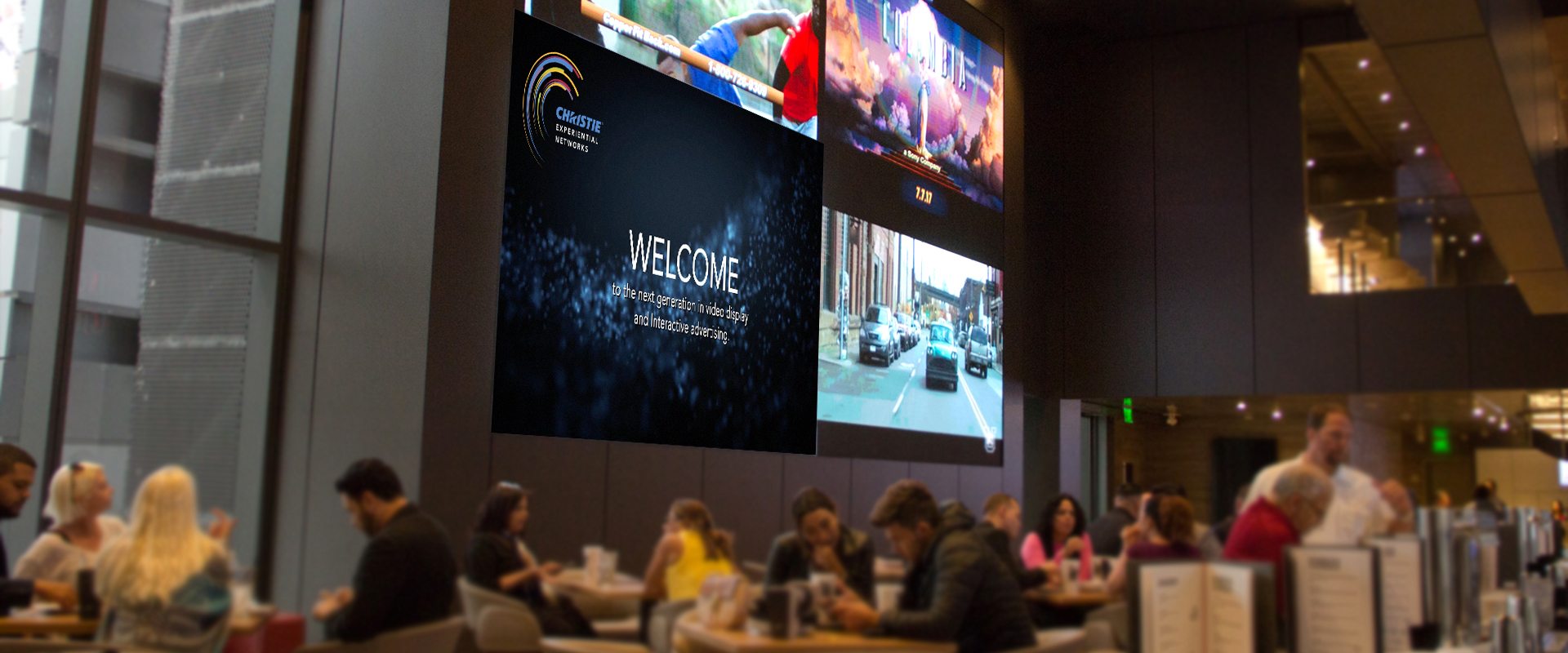 With over 200 interactive displays, Christie Experiential Network delivers more than 250 million exposures annually
The Christie Experiential Network (CEN), leaders in creating immersive and engaging experiential Digital Out-of-Home (DOOH) solutions, is proud to announce a partnership with Times Square Strategies and MVP Interactive.
CEN, the world's first experiential media network in movie theatres, has tapped Times Square Strategies and MVP Interactive to fuel its game-changing and highly engaging mix of branded, interactive content and mobile-based interactions. The network connects theatre owners, brands, agencies, advertisers, and consumers with its unique digital in-lobby environments.  In achieving this, the network provides 100 percent coverage of the movie-going audience; delivering multiple exposures and higher dwell times during their visit to the theatre.
Kevin Romano, EVP Christie Global Media states, "We are thrilled to partner with MVP Interactive and Times Square Strategies. Moviegoers are spending more time within the cinema lobby environment as the industry continues to build 5-Star venues, complete with club-like lounges and upscale food and beverage service. Our CEN lobby platform provides advertisers with creative engagements that generate memorable experiences and impressions that are designed to be entertaining and relevant to this discerning and hard to reach audience."
CEN is in alignment with the DPAA principles as its President & CEO, Barry Frey, identifies, "This is such an exciting time as the full throttle capabilities of digital advertising are now available outside the home. We see here another important example of innovative companies delivering increased value to today's consumers and brands."
MVP Interactive's technology platform significantly enhances CEN's network with award-winning augmented reality and gesture recognition technology. In addition, MVP's highly robust audience measurement platform, DART (Data Analytics Reporting Tool), compiles all of the emails captured, audience measurement data, and social shares tracked during an engagement and puts this information into a proprietary dashboard that allows for extensive reporting. Anthony DiPrizio, CTO of MVP Interactive says, "Our applications are developed to seamlessly manage and distribute large amounts of interactive content in real-time utilizing the MVP API and virtual private cloud (VPC). This gives Christie the flexibility to change content, provide engaging user touch points and seamlessly capture valuable data and consumer insight." 
"We're very excited to be partnering with Christie. With our technology partner, MVP Interactive, we've created what we believe is the broadest reaching and most scalable interactive network in North America. Our platform will live on over 200 displays, with audience measurement that rolls up to a singular dashboard, allowing Christie to compile crucial audience data," said Michael Steinberg, Principal at Times Square Strategies.
In addition, "The Christie Experiential Network allows us to showcase our content and software capabilities, which further validates the growing demand for brands and marketers to leverage technology to connect with their consumers," says James Giglio, CEO of MVP Interactive.
About the Christie Experiential Network
The Christie Experiential Network draws upon Christie's more than 85 years of experience in the exhibition industry to create the first fully-integrated, dynamic and immersive digital out-of-home network that connects brands and Hollywood studios with today's sophisticated consumers. CEN provides a dynamic platform for advertisers to increase their reach and engage consumers by delivering content through their versatile Ayuda content management system to brilliant digital and experiential displays.  Theatre operator's benefit from Christie's well established national network of service technicians and 24/7 Operations Center to insure all systems is running smoothly. Christie manages all aspects of the network including sales, content creation, interactive programming, deployment, nationwide monitoring, and maintenance. http://christienetworks.com
About Times Square Strategies LLC
Times Square Strategies is an integrated media solutions company helping real estate, retail and sports properties uncover new revenue streams by identifying underutilized space that could be generating incremental revenue using the latest technologies in the out-of-home world. In addition, Times Square Strategies helps brands create engaging, exciting and effective media placements. www.tsqs.com
About MVP Interactive
MVP Interactive is a consumer engagement software company that enhances brand experiences through interactive technology and social media. Our products integrate touchscreens, gesture technology, augmented reality, virtual reality, facial morphing, social media platforms and mobile applications to give consumers unique access to their favorite teams and brands. http://www.mvp-interactive.com
About Christie (www.christiedigital.com)
Christie Digital Systems USA, Inc. is a global visual and audio technologies company and is a wholly-owned subsidiary of Ushio, Inc., Japan, (JP:6925). Consistently setting the standards by being the first to market with some of the world's most advanced projectors, complete system displays, and cinema audio solutions, Christie is recognized as one of the most innovative visual technology companies in the world. From retail displays to Hollywood, mission critical command centers to classrooms and training simulators, Christie display solutions and projectors capture the attention of audiences around the world with dynamic and stunning images. Visit www.christiedigital.com for more information.
Christie (CEN) Media Contact: Times Square Strategies Media Contact:
Kevin Romano Michael Steinberg
(646) 779-2015 (917) 609-6674