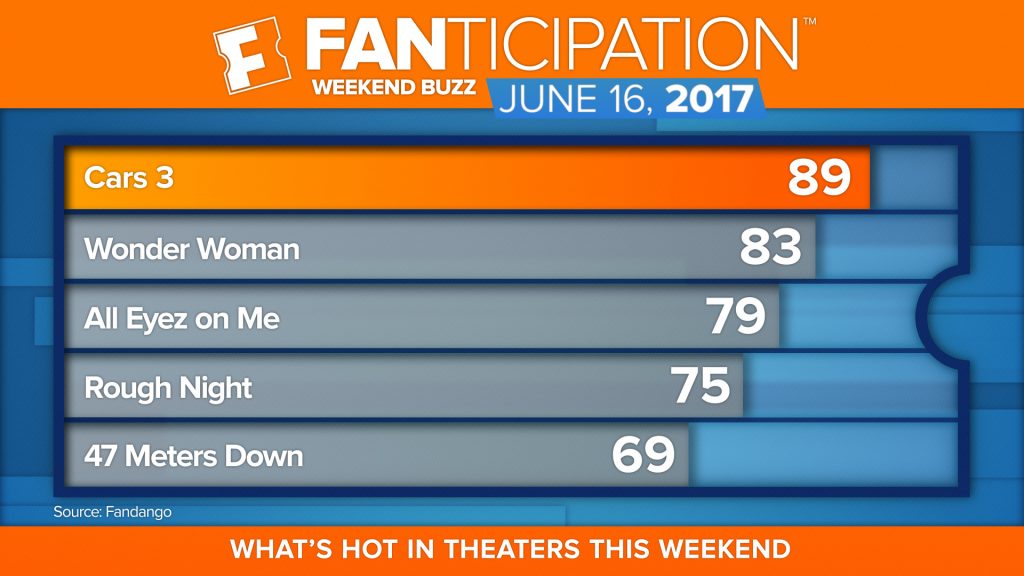 Disney/Pixar's "Cars 3," "Wonder Woman" and the new Tupac Shakur biopic, "All Eyez on Me," are finishing at the top of Fandango's weekend sales and Fanticipation movie buzz indicator with 89, 83 and 79 points, respectively, out of 100 points.
Pixar's "Cars 3" is currently outpacing Disney Animation's "Zootopia" and Pixar's "Inside Out" at the same point in the Fandango sales cycle. (In Fandango's daily ticket sales for Thursday showtimes only, "Cars 3" is taking first place, while "All Eyez on Me" is finishing in second place.)
According to a Fandango survey of more than 1,000 "All Eyez on Me" moviegoers:
91% are looking forward to seeing Demetrius Shipp Jr.'s performance as Tupac.
86% are excited to hear the film's soundtrack.
79% saw "Straight Outta Compton."
78% are Tupac Shakur fans.
"As summer movie season kicks into high gear, 'Cars 3' is racing to the top of our ticket sales, while 'Wonder Woman' continues to thrive in its third weekend," says Fandango Managing Editor Erik Davis. "At the same time, all eyes are on the brisk advance ticket sales for the Tupac biopic, 'All Eyez on Me,' which is shaping up to be a potential summer sleeper hit along the lines of 2015's 'Straight Outta Compton.'"
About Fanticipation
Known for having its finger on the pulse of moviegoers, Fandango's movie buzz indicator, Fanticipation, provides statistical insight into the movies fans are planning to see in a given weekend. Fanticipation scores (based on a 1 to 100-point scale) are calculated via an algorithm of Fandango's advance ticket sales, website and mobile traffic, and social media engagement. Fanticipation is not intended as a forecast of the weekend box office; it is a snapshot of movie fan sentiment. Fandango is the ultimate digital network for all things movies, reaching more than 60 million unique visitors per month across its portfolio of digital properties, according to comScore.