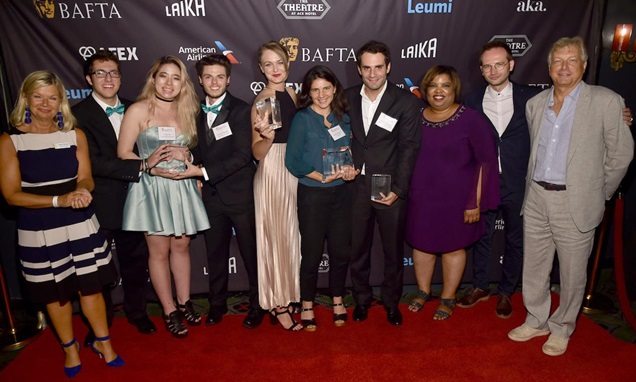 Special Jury Prize Went To University of California, Berkeley Student Daphne Matziaraki for her film "4.1 Miles"
Tonight, The British Academy of Film and Television Arts (BAFTA) announced the winners of its 2017 Student Film Awards in a gala ceremony and presentation at the Theatre at Ace Hotel in downtown Los Angeles.
The vote for the first ever BAFTA Student Film Award for Animation presented by LAIKA resulted in a tie between Alicja Jasina from the University of Southern California for "Once Upon a Line" and Kal Athannassov, John McDonald and Echo Wu from Ringling College of Art & Design for "The Wishgranter." The BAFTA Student Film Award for Documentary was awarded to Daphne Matziaraki from University of California, Berkeley for "4.1 Miles." The BAFTA Student Film Award for Live Action was awarded to Jimmy Keyrouz from Columbia University for "Nocturne in Black."
The Special Jury Prize was also presented to Daphne Matziaraki from University of California, Berkeley for "4.1 Miles." The panel of Hollywood luminaries included BAFTA and Oscar nominated directors Ron Clements and John Musker ("Moana," "Aladdin," "The Princess and the Frog"), Oscar nominated actress Shohreh Aghdashloo, BAFTA winning actor Ioan Gruffudd ("Fantastic Four"), Emmy nominated director/producer David Gelb ("Chef's Table"), and BAFTA nominated editor Joan Sobel ("Nocturnal Animals").
This year, the BAFTA Student Film Awards underwent an international expansion, and this year's finalists were selected from over 400 submissions by students at film schools in 15 countries across the world, including Argentina, Austria, Canada, China, Germany, India, Israel, Lebanon, South Africa, and the United Kingdom.
"The films were incredibly moving and shocking, and the stories were brilliantly told," remarked Special Jury member Shohreh Aghdashloo. "I found myself forgetting that I was watching the work of students, and not professional filmmakers."
"This was a very exciting experience for me. The films were so moving and I was glad to have seen them all," added Special Jury member Ron Clements. "I was not sure what to expect, but was incredibly impressed with the quality of the students' work."
"We are delighted that our first international BAFTA Student Film Awards has exceeded our expectations, bringing together a multi-cultural group of filmmakers who have produced a range of films with depth, humor, and pathos," said Peter Morris, Chair of the BAFTA Los Angeles New Talent Committee. "The future of our industry is in great hands!"
The 2017 BAFTA Student Film Awards were sponsored by new presenting sponsors LAIKA and Bank Leumi USA, as well as returning sponsors American Airlines, AKA, and AFEX.
The program of activity curated for the finalist filmmakers also included a networking reception with the BAFTA Membership, a Masterclass presented by LAIKA, and a roundtable discussion on global production with Pinewood and Entertainment Partners.
BAFTA's Student Film Awards competition was expanded this year as part of BAFTA's growing international footprint, which seeks to foster strong talent connections across the globe. The expansion also furthers BAFTA Los Angeles' work within its newly launched Access for All campaign, a commitment to ensuring that talented individuals are offered a clear pathway to careers in the entertainment industry, uninhibited by background, demographics or personal circumstance. The campaign will drive funds towards BAFTA Los Angeles' acclaimed scholarship, education and community initiatives, allowing the organization to discover, support and nurture talented professionals.
In 2016, the BAFTA US Student Film Award, as it was previously named, was presented to Clara Roquet from Columbia University for "El Adiós" and the Special Jury Prize was awarded to Seth Boyden from California Institute for the Arts for "An Object At Rest". The panel of Hollywood luminaries included BAFTA nominee Yann Demange ("'71"), BAFTA and Academy Award winner Pete Docter ("Inside Out"), The Hollywood Reporter Film Critic and Editor Jon Frosch, BAFTA and Academy Award winner William Goldenberg ("Argo," "The Imitation Game"), actress Ashley Madekwe ("Salem," "Revenge"), and STX Entertainment President Sophie Watts. The finalists were selected from 245 films submitted by 56 schools across the US, with each school submitting their best films for consideration.
About BAFTA and BAFTA Los Angeles
The British Academy of Film and Television Arts supports, develops and promotes the art forms of the moving image by identifying and rewarding excellence, inspiring practitioners and benefiting the public. In addition to its Awards ceremonies, BAFTA has a year-round programme of learning events and initiatives – featuring workshops, masterclasses, scholarships, lectures and mentoring schemes – in the UK, USA and Asia; it offers unique access to the world's most inspiring talent and connects with a global audience of all ages and backgrounds. To access the best creative minds in film, TV and games production, visit www.bafta.org/guru. For more, visit www.bafta.org.
Founded in 1987, BAFTA Los Angeles serves as a bridge between the Hollywood and British production and entertainment business communities. Its commitment to professional and community education is at the heart of all activity, including an award-winning community outreach programme, screenings, seminars, Behind Closed Doors series, Q&As, scholarships for British students studying in the US, a Newcomers Program for emerging British talents working in the US, and a Heritage Archive project that preserves in-depth interviews with the industry's leading talents for future generations. BAFTA Los Angeles celebrates and promotes excellence through its annual Britannia Awards, Awards Season Film and Television Tea Parties and the Student Film Awards.
BAFTA Los Angeles is a 501(c)3 Non-Profit Corporation and relies on income from membership subscriptions, individual donations, trusts, foundations and corporate partnerships to support its ongoing work. www.bafta.org/losangeles
About The Theatre at Ace Hotel
The Theatre at Ace Hotel Downtown Los Angeles is Ace's loving re-animation of the historic United Artists Theater. Built in 1927 for the maverick film studio founded by Mary Pickford, Charlie Chaplin and Douglas Fairbanks, The Theatre stands as a monument to a group of seminal American artists — modern iconoclasts striking out on their own. Ace's restoration of this majestic space serves as a singular stage for art, film, dance and creative celebration in the heart of the Broadway Theater District's vibrant modern renaissance. View all upcoming events at The Theatre at Ace Hotel DTLA at theatre.acehotel.com.
About LAIKA
Fueled by the vision of its owner, Nike co-founder and former Chairman Philip H. Knight, and its President & CEO Travis Knight, feature film animation studio LAIKA was founded in 2005. Located just outside Portland, Oregon, LAIKA was awarded a Scientific and Technology Oscar® for its innovation in 3D printing in 2016. Its four films, Kubo and the Two Strings (2016); The Boxtrolls (2014); ParaNorman (2012), and Coraline (2009) were all nominated for Oscars® and PGA Awards as Outstanding Animated Film. Kubo, which marked the directorial debut of Travis Knight, also received an Oscar® nomination for Outstanding Visual Effects. Kubo won this year's BAFTA Award as well as three Annie Awards, the National Board of Review and 19 regional and critics' group awards. The Boxtrolls also earned Critics' Choice and Golden Globe Award nominations and 13 Annie Award nominations, more than any other film that year. ParaNorman garnered BAFTA, Critics' Choice, and GLAAD Media Award nominations and won two Annie Awards and was cited as the year's best animated film by 14 critics' groups. Coraline earned Golden Globe, BAFTA, and Critics' Choice nominations, and was named one of the year's 10 Best Films by the American Film Institute (AFI). For more information, visit http://www.LAIKA.com
About Leumi
Bank Leumi USA (Leumi) is a full-service commercial and private banking institution providing financial services to middle market firms, as well as a full range of private banking solutions to domestic and international clients. Leumi also offers a broad range of securities and insurance products through its brokerage subsidiary, Leumi Investment Services Inc. More information about Leumi is available at www.leumiusa.com.