Just days before he launched Ukraine's first LGBTQIA+ film festival this month, Celluloid Junkie spoke to organiser Bohdan Zhuk about history, culture, and Russia's efforts to oppress another generation.
With everything that's going on, what's the main agenda, I ask. "We're taking back our legacy," Zhuk declares in his understated, engaging manner.
We're sipping craft beers in a bar opposite the offices of Molodist – the Kyiv International Film Festival – Ukraine's largest and longest-running film festival, and a masthead for independent film Europe-wide. Zhuk is a considered young man, and a loquacious and fluent communicator. Having spent decades as a programmer and curator for some of the premier festivals on the world circuit, Zhuk projects as the ideal man to spin out the Sunny Bunny festival from its paternal roots at Kyiv's Molodist. But I've caught him at a tricky time.
"We had a number of shortlisted films that were cut from the programme, unfortunately, because we had to reduce it." The compact, confident smile returns. "But there are plenty of films that are worth all of the attention."
He has more than 60 films programmed this year. I say 'more than', because as we speak, and with just about a week to go until opening night, some of his entries remain unfinished, locked in sweaty, anxious editing suites and scattered worldwide.
Zhuk has been diligently searching for feature-length Ukrainian films to programme this year, but his high standards have meant they are thin on the ground. "It's getting a bit better, but the new films that I have seen – the new feature films from Ukraine that I've seen – were not something that I wanted to programme, because either they were not well done to me, or not really focussed on queer subjects. Or we have had issues with several films that I had hopes for. And they are brand new, they have not been shown anywhere."
So, has he succeeded in uncovering any native-born gems that do meet his exacting standards? "We do have a Ukrainian programme, but it's a retrospective programme. It goes back to the 60s, and there are a couple of films from the 90s, two from 2018, and one from 2021. So we don't have any brand-new feature length films, only the short films in the selection." This, I think, speaks volumes about Zhuk as a festival director; in his first year in charge, with the world watching, he and his team would rather cut completed, world premiere films that only qualify by technicality than present an injudiciously curated slate of films.
It's apposite to firm up the timeline for Zhuk's festival, as this is the first year that Sunny Bunny will be its own exclusive, standalone queer film event. "Molodist is the biggest and the oldest film festival in Ukraine. It's more than 50 years old, so it was founded in 1970. Sunny Bunny – or to be exact, the queer programme of the festival, which was a few years later named Sunny Bunny – has been part of it since 2001, so more than 20 years."
This will be Zhuk's 10th year of programming Sunny Bunny, a decade that has seen war, social upheaval, and political turmoil on a grand and global scale, and with Ukraine axiomatic to much of it. But despite an as-yet-unknown headcount of entries, the inherent logistical headaches faced by international casts, crews, and festival goers in even getting to Kyiv, and the sometimes two, even three air raids a day visited upon the capital, Zhuk can most aptly be described as zen.
Possibly somewhat hypnotised by his granite tranquillity, I waffle through a question, skirting around the idea that perhaps some in Western Europe perceive Ukraine as a difficult, possibly even repressive place to be gay. Zhuk, as ever, snatches the intent from my question and confronts it head-on; "That's the stereotype in many other parts of the world. The truth is we have the same difficulties and problems as other parts. It's just that, you know, in some other more established democracies, the rule of law and the legislation protects queer people as much as any other person, better than here. I would say that we're more progressive than Poland or Hungary, not even talking about our other eastern or northern neighbours [Belarus and Russia]. There is, of course, a lot of things left to be done, there's a lot of progress that needs to happen. But, at the same time, yes; Ukraine is maybe the most progressive in our region in these terms of LGBT+ rights and protections."
And is Sunny Bunny a vehicle to perhaps attract LGBT+ visitors to Kyiv? "In a way, yes. The festival and programme is to highlight this and to stimulate society to change. And that's been the mission of this programme as part of Molodist, and overall the festival in total. I mean, Molodist over the previous decades has been always daring and progressive and unconventional in different representations of concerns of LGBT rights and community. And, of course, Sunny Bunny is highlighting this, but naturally it's aimed primarily at a local audience. And why we have the Ukrainian retrospective, for instance, is to stress that queer culture is part of our culture as much as any other. And this is small and this is just the beginning of this work, I suppose, but it's important to reclaim this."
Sunny Bunny is also dedicated to unearthing the long-lost queer focus of some of history's most important pieces of cinema, important pieces that Russia has been trying to take from Ukraine and claim as its own for more than a century.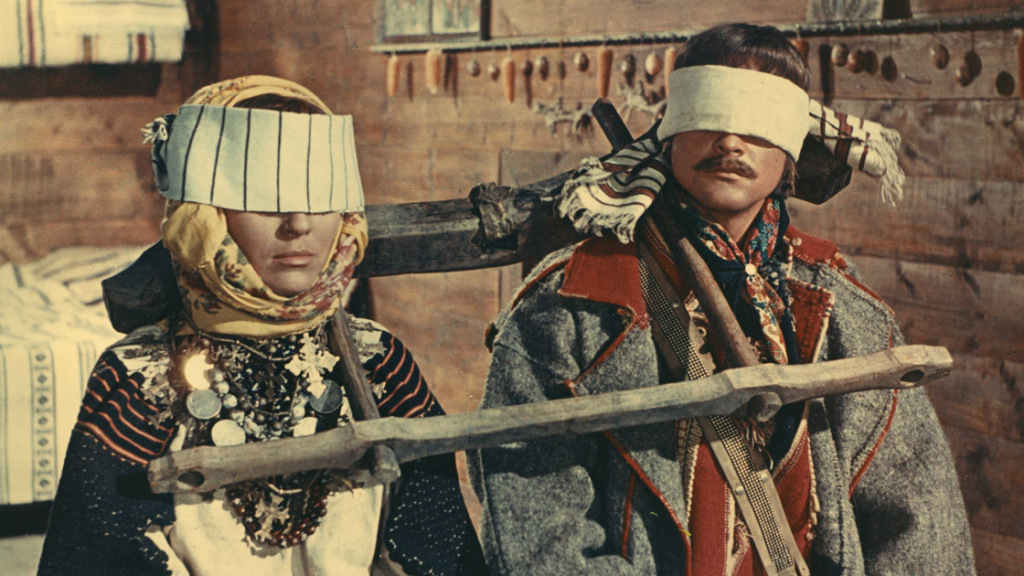 "We are also going to show, for instance, 'Shadows of Forgotten Ancestors' [above], which is considered the greatest Ukrainian film ever. And while it's not queer in its story, the director was queer." He's talking, of course, of the 1965 film by Sergei Parajanov, the director who eschewed social realism in his movies, the Soviet standard, and paid a heavy toll, spending years in labour camps.
"[Parajanov] was imprisoned for homosexuality, even though this was definitely a political imprisonment, because he was a Ukrainian nationalist. Even though he was of Armenian descent, he worked for a long time in Ukraine, and he was a student of Alexander Dovzhenko, maybe the greatest Ukrainian filmmaker from the classic times. So, yeah, it's important to reclaim him and his legacy as a person who was queer, and consequently to say, look, this film that everyone in Ukraine knows, that is the greatest Ukrainian film of all time, it's also one of the greatest films in the world of all time, universally acclaimed and well known, and it was done by a queer filmmaker. So, this is important to reclaim."
Are there any other directors from history who deserve an honourable mention? "For instance, also another filmmaker I mentioned was Kira Muratova; another one of the greatest filmmakers in the history of cinema, whose films are very deeply queer, inherently, even if they don't touch on LGBT subjects or characters. But we're going to show one film that has this explicitly ["Three Stories", 1997]; a queer character and a storyline, which is from the 90s. So this is our way to say that this has been around for a long time, and it's just been erased or banned, like lots of other things in the Soviet Union."
But Zhuk's endeavours are equally global as local in their goals. "In many other places around the world, queer culture is also in need of being reclaimed and rediscovered. And this is also what we are hoping for; that we will stimulate in some way – or maybe even contribute to – research that will be done in national film archives and with the more classic films, because we don't know a lot of films with queer subjects or themes or visual subjects, you know. We are hoping for that to happen in the future, because there hasn't been any research, really."
There is one issue that I'm very interested to hear Zhuk's opinion on: Considering the vicious crimes and indignities visited upon the LGBT+ populace in Russia by Putin's regime, I'm keen to know if the queer cinema community in Kyiv is perhaps more tolerant of films produced by their near neighbours than programmers at other Ukrainian festivals. Zhuk's reply is both unequivocal and in lock step with his colleagues around the country; "There will not be any Russian films at Sunny Bunny."
I press a little as to why. "We were not considering Russian films, because at Molodist, we have not been showing Russian films since 2014 [the invasion of Crimea]. And this is not what's going to happen in the near future. I mean – and this is also part of my work and my colleagues' work, representing Ukrainian films abroad – our condition is that these festivals should not be showing Russian films."
Should Russian films be permanently struck off then? "Not necessarily banned. I mean, it's not going to be forever. But right now; last year, this year, until the victory, until Russia leaves, the Russian army is out of Ukraine, until the reparations are done, paid to us, the damage is repaid, until they apologise, until they do all the work we need to do in terms of understanding and apologising for their colonial policies that have been in place for a very long time."
With a shake of the head, Zhuk uses an expression I've heard many times before in Ukraine's cinematic landscape; "It's very black and white." His intensity deepens. "They need to lose this war, they need to realise." I ask why; "Because the Russian so-called liberals.. I guess you've heard of the expression, the 'good Russians'? Yeah, Navalny and all of this is bullshit. Even if they are liberal – like Navalny, like many others like him – they, in their absolute majority, they still have their imperialist mindset, and they are really unable to realise this, that the narratives they are reproducing, that they are trying to bring to the world even now, they are deeply imperialist and neo-colonial. So the only way is this; for Russia to lose this war, to collapse, to fall apart."
After punctuating his Russian film policy with a finalistic shrug, Zhuk switches back to his engaging half-smile as we circle back to the history of the festival.
One phenomenally interesting story circling in the Ukrainian cinema universe involves protests at previous Sunny Bunny events at the Zhovten Cinema. Whilst horrific, in hindsight Zhuk can't help but afford a wry smile at the woefully sub-Scooby-Doo nature of the criminal enterprise.
"Yeah, that was the cinema that was set on fire during one of the screenings of Sunny Bunny in 2014, under, you know, 'radical anti-LBGTQ homophobic slogans and remarks'." He shrugs. "But these three persons that did this were caught a couple of days later, they were arrested."
After protestors burned posters outside the cinema, one or more of the 'activists' released smoke bombs inside the main Hegemon screen at the Zhovten. Whether or not the prank was intended to cause anything more than panic, a fire started, and the cinema's largest screen was razed to the ground. Shockingly, when the perpetrators were caught, they received non-custodial sentences at court.
The fascinating element of this horrendous crime was only uncovered later: The finger was firmly pointed at property developers, keen to run the community cinema off their turf to turn the district into flats. "The general understanding and idea of basically everyone is that this was just used as a pretext. You know, 'these gays are showing their films, so it deserves to burn down'."
The subterfuge quickly came full circle, with the outrage prompted by the attack on Sunny Bunny at the Zhovten leading to the first time that the Mayor of Kviv, former Heavyweight boxing champion, Vitali Klitschko, stood side-by-side with LGBT+ activists on stage in front of City Hall, sending an unexpected and powerful message. "We moved part of the screenings that were set for Zhovten to a different cinema. Some of the film copies burned there, but a few others were saved, or were not in the cinema, so we moved part of the screenings to a different one; KinoPanorama – which is not far from here."
The right-wing Pravy Sektor again protested at the new venue, however, by this time, it was generally believed that the post-Maidan ultras were being paid by property moguls eager to evict the municipally owned cinema. Crucially, the enduring message arising from these despicable incidents was that there was, in fact, no hostility in the local community; that the City, the people and the Mayor stood firmly alongside Sunny Bunny against intimidation and hatred.
Another wry smile from Zhuk; "It was really annoying. Fortunately everyone was fine, no one was hurt, but there was just a lot of property damage.. That's arson and a hate crime."
Zhuk has a defiant final message: "I would say, yeah, [Ukrainian] civil society is very progressive. That's why we're never going to be like Russia or Belarus, because we are much stronger, more active, more influential." It's like social cohesion? "Yeah, exactly. We would not have withstood the attack of Russia, the full-scale invasion last year, if it wasn't for that."
He adds with a shake of the head "If you don't understand, then you're not trying to understand." Zhuk glances over his shoulder at Molodist's headquarters, then levels his calm, confident gaze at me. "We are united."
Sunny Bunny runs from the 22nd to the 28th of June in Kyiv.
Tickets for Sunny Bunny are on sale at www.ticketsbox.com
The Sunny Bunny programme is available at www.SunnyBunnyQiff.com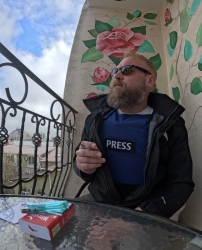 Latest posts by Mark Law Hitchings
(see all)