Russian State Media is reporting that legislative changes are being proposed by the Federation's Council Committee on Economic Policy that will allow the distribution of foreign films in Russia without the consent of the copyright holders, but with payment of remuneration to them. These proposals also include changes to the criminal code so that there is no criminal liability for users of such works (in other words, cinemas would face no criminal charge for copyright infringement).
Russian cinemas have faced a huge content deficit since March 2022, when the Moscow-based branches of major US studios halted all new releases across the region as a result of the invasion in Ukraine. For an industry that relied on Hollywood-produced films for 80% of its box office top ten in 2021, the withdrawal of these movies has had a huge impact on exhibitors' ability to get customers in the door.
According to the Russian media research firm, Nevafilm, 2022 has been a record year for cinema closures across the region so far, surpassing even the record-numbers seen during the COVID-19 pandemic. And on the ground, cinema owners have been finding novel – and illegal – ways to deal with the black hole in their release schedule.
In April 2022, The New York Times reported that some smaller cinemas in Russia had begun openly screening pirated movies, a trend that has become more widespread as the war with Ukraine has intensified.
Now, on any given day in the coming week in one Moscow cinema, audiences can see "Black Adam", "Ticket to Paradise", and "Amsterdam" despite an embargo on all those distributors' releases in the city. "The Batman", released globally in the US & UK in March 2022, is currently still showing across four cinemas in Moscow.
Research from piracy analytics firm, MUSO, has found that visits to streaming and P2P Torrents piracy sites reached 647 million across the Russian Federation between January and September 2022, a 39% increase over the same period in 2021. Russia now has the second highest rate of piracy globally (second only to the US).
Writing in the Moscow-based Film Reader's Bulletin (also known as "BC") in July 2022, Chairman of the Association of Cinema Owners in Russia, Alexei Voronkov, said, "I can't even blame cinemas now that dabble in torrent screenings… I understand that this is caused primarily not by the desire to earn money, but by the desire to survive, and this mainly concerns small cinemas." In June 2022, The Association of Cinema Owners in Russia withdrew its membership from the International Union of Cinemas (UNIC).
Media reports, including a CJ exclusive, have suggested that so far, major cinema chains have resisted showing bootlegged movies on their screens, to protect their future relationship with distributors as soon as the war is over. However, it remains to be seen whether that will change with these new legislative proposals, especially as the conflict shows no signs of abating.
In an increasingly barren release landscape, larger chains may feel pressure from audiences to show the biggest forthcoming Hollywood titles, particularly "Avatar: The Way of Water," one of the year's most anticipated films. It will play globally in 3D – a spectacle that is tailor made for big-screen viewing. Separately, CJ reported this week that Cinema Park and Formula Kino – Russia's largest cinema chain – are suing IMAX following the company's withdrawal from the Russian Federation on 1 June 2022.
In the meantime, Russia's big cinemas continue to think outside the box to find new content to show on their screens. Russian magazine, Inc., recently reported that Cinema Park and Formula Kino have entered an agreement with the TV channel 'Yu' to have pre-premiere screenings of the new season of "Pregnant at 16". The reality show is now on release in 60 cinemas across the country. According to the same report, cinemas have also been showing serial marathons of popular programmes like "Game of Thrones".
How the newly proposed system will actually work remains something of a conundrum. Will it be up to individual cinemas to find their own (presumably illegal) copies of embargoed titles?
On the studio side, the mechanism for remuneration that will be offered to the "copyright holders" also remains somewhat vague: the new proposals state that 10% of revenue will be siphoned off for copyright holders and transferred to the account of an "authorized organisation," determined by the Russian Federation.
This kind of remuneration method is in line with existing structures established by a presidential decree that was issued last May, which put restrictions on payments to "unfriendly" rights holders.
In justifying the new policy proposals, government officials argue that Hollywood's withdrawal of licensing agreements contradicts the norms of international law and infringes on the basic rights of Russian citizens.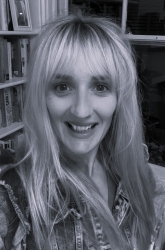 Latest posts by Mary Jane Boland
(see all)