On September 2, the Hotel Excelsior's Spazio Incontri hosted a panel discussion titled "Visibility for Diversity – Promotional Strategies for Arthouse Cinema," as part of this year's Venice Production Bridge at the Venice Film Festival (August 31-September 10). The talk was moderated by Screen International's Editor Matt Mueller and saw the participation of Frédéric Boyer (Artistic Director, Tribeca Film Festival and Les Arcs Film Festival), Christian Bräuer (President, CICAE and CEO, Yorck Kino Gruppe), Carolina Jessula (Head of Marketing, The Match Factory), Alen Munitic (Founder, Kino Mediteran) and Ada Solomon (Producer, Deputy Chairperson, European Film Academy and Executive President, EWA Network).
In his introduction, Mueller explained how the audiences returning to cinemas now are mostly driven by Hollywood, big-budget titles, whilst arthouse enthusiasts are more reluctant to fill the seats. Bräuer agreed and explained how during the first two lockdowns, arthouse theatres recorded good attendance figures, especially because many blockbuster releases were being delayed.
"Last winter, things changed owing to the Delta and Omicron waves hitting Germany and Europe. Many movies were postponed and arthouse viewers were cautious about the situation. Since then, the market is struggling," said Bräuer. "We see right now how [proposing] diversity is difficult, and this might also have something to do with the war in Ukraine. People don't want to see more crises [on screen], thus it's not easy to place challenging stories." He added that there are significant behavioral changes in motion, as the impact of streaming is undeniable and people stay at home more: "Everything around us has changed, but the industry still works as in pre-pandemic times. So how do we get audiences back?"
Munitic explained how he works within a small network of cinemas operating in Croatian islands and coastal towns. Their programme is seasonal and mostly relies on open air cinemas. Diversity of content has been helpful to bring audiences back to cinemas especially in 2020 and 2021, and in Croatia arthouse cinemas were the only ones recording good numbers, avoiding a major drop in admissions. "Without open air cinemas, this winter will be challenging, though," he admitted.
The floor was then given to Solomon who stated, "What we've learned during the pandemic is that we don't need only diversity of content but also in terms of our approaches to circulation, how to work with each specific product. How do we do that? We need three keywords: education, curation and, again, diversity."
"I think that the only way for arthouse films and for specific products to travel and to reach a diverse audience – and building one is another issue – is to treat them as different 'items'. And we can't succeed with a 'one size fits all' recipe," Solomon continued. She went on to mention the successful example of the Month of European Cinema, an initiative organized by the European Film Academy and CICAE, during which the year's best arthouse films hit the screens of the 46 participating theatres. The effort received a good response from moviegoers and its network of theatres is growing steadily.
Boyer explained that over the last two years sales outfits, and in particular the French ones, are focusing on acquiring "safe" content, usually "uninteresting comedies," making it difficult to source more diverse titles. He also warned that the overall quality of arthouse offering has decreased, as his teams now struggle to select even eight to ten good competition titles. "A film is not necessarily good just because it's arthouse. We need to connect with the audiences. The conversation to establish what we can offer and what the audience wants to see is essential," Boyer asserted. "I'm sorry but the quality of arthouse films is not as good as it was six, ten years ago. And I'm not talking about the masters, I'm talking about the new voices and the new titles."
Munitic cited the successful project "Coastline Cinema," backed by the Europa Cinemas' scheme, Collaborate, to Innovate last year. Kino Mediteran partnered with cinemas from Split, Dubrovnik and Rijeka. Together, they managed to host simultaneous premieres of several European films, inviting film crews and directors as guests, but also encouraging local youth to take ownership of the films' marketing, thus attracting DJs, film critics and other personalities to screenings. "We don't need to be afraid of eventization. Today, viewers cannot come just to sit and watch the movie," he concluded.
Finally, Match Factory's marketing head, Jessula, revealed how crucial it has become, over the last two or three years, to coordinate communication between distributors and sales agents, providing the former with the promotional material they need to create buzz, including red carpet pictures to short 30-second trailers for social media. "We're the middle man. We try to make everyone happy," she said. "Sometimes, distributors and sales agents choose different approaches, but we try to put them close to each other. We don't impose anything, though. We trust they know their countries better, and the last word still comes from the distributor."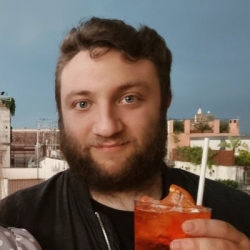 Latest posts by Davide Abbatescianni
(see all)