This post is part of a three part series detailing how Wall Street exploits and social media activism helped AMC, the world's largest cinema chain, survive the economic upheaval caused by the COVID pandemic. Part 1 of the series can be found here and Part 2 can be found here.
---
Life was very different for the world's largest movie theatre operator on 2 June of 2021 than it was back on 1 January. Rather than teetering on the edge of a financial cliff trying desperately to find some way to avoid bankruptcy, AMC had managed to raise USD $1.165 billion in the first five months of the year; USD $658.5 million of which was raised in the second quarter alone. Its stock price had leapt 3,012% to USD $62.55 since the beginning of the year. Since AMC went public in 2013, its share prices had never risen above USD $37. What's more, coronavirus infection rates had been steadily declining and COVID vaccines were being administered, at least in the United States, AMC's largest market.
Rather than being on the ropes, the exhibitor was looking to come out swinging. As the company's CEO, Adam Aron, stated when announcing Mudrick Capital Management's USD $230 million investment, which turned out to be a blatant attempt at market manipulation, "With our increased liquidity, an increasingly vaccinated population and the imminent release of blockbuster new movie titles, it is time for AMC to go on the offense again."
Aron and AMC didn't wait long to execute either.
Thanks For The Meme-ories
On 2 June, the day after Mudrick "shot themselves in the foot" by dumping their USD $230 million investment in a failed attempt to drive AMC's stock price down, the exhibitor announced it had 3.2 million individual shareholders, making up more than 80% of the company's ownership. Many of these were the day traders, or apes, as they like to call themselves, that had been helping shares of AMC defy the odds and textbook financial theory; as more shares were sold by the company to raise capital, their price didn't decline as it should have but kept rising to new heights despite the dilution.
To stay in touch with all of these new retail investors, and perhaps thank them, the exhibitor announced AMC Investor Connect, a program to directly engage with shareholders. "We intend to communicate often with these investors, and from time to time provide them with special benefits at our theatres," explained Aron, who has been nicknamed "Silverback" by the AMC Ape Army. "We start with a free large popcorn on us, when they attend their first movie at an AMC theatre this summer."
AMC is officially leaning into the meme.
We saw this as a smart move for the exhibitor, which now had millions of investors who could potentially be customers at their theatres. Imagine potential revenue that could come if AMC could convince just 1% of their shareholders to visit one of their multiplexes each month. These patrons will actually be benefiting themselves every time they go to the movies. Why not encourage them to do so by, rightly, making them feel special or as if they owned the place… which they actually do.
Of course, the company will need to get more participation in the programming. To date, 300,000 shareholders have signed up for AMC Investor Connect.
The very next day, 3 June, AMC showed it wasn't going to skip a beat. With their share price at record highs, and the apes clambering to buy all the AMC stock they could get their hands on, the company sold 11.55 million new shares in an at-the-market offering that raised USD $587.4 million. In May and June of 2021, AMC raised USD $1.25 billion in equity financing, to go along with the USD $506 million they raised back in January. Plus, they also have the $411 million in debt financing which remains untouched. To put it another way, AMC is sitting on $USD 2 billion of liquidity less than six months after being on the brink of bankruptcy.
Another sign that AMC is catering to its new meme shareholders is the announcement during their second quarter earnings call on 9 August that the theatre chain would start accepting Bitcoin as payment for the online purchases of movie tickets and concessions in US locations. While this could be sloughed off as the exhibitor simply indulging the apes, the move will also give AMC the infrastructure and technology to accept Apple Pay and Google Pay. Being able to accept such electronic payments is wise and gives the cinema operator flexibility to take patrons money any way they want to hand it over.
AMC Does Windows
Another announcement from the Q2 earnings call that was played up in the media was that AMC had reached a formal agreement with Warner Bros. to show the studios releases on a 45 day exclusive theatrical release beginning in 2022. Regal, the second largest cinema chain in the world, reached the same agreement with Warner Bros. back in March of this year. Thus, it was expected that AMC would be offered a similar arrangement.
It would have seemed more newsworthy if AMC could not come to terms with the studio or declined Warner Bros.' offer hoping for a longer theatrical window (which, in turn, would have been offered to Regal). Perhaps all the hoopla stemmed from confirmation for the industry that Warner Bros. would be returning to releasing films theatrically before putting them on their streaming service HBO Max. Last year, the studio upset exhibitors and creative talent alike when they announced all their 2021 movies would be released day-and-date in theatres and on HBO Max.
While the 45-day window is half that of the average 90-day window which existed before the COVID pandemic, it beats the 17-day and 30-day AMC and other major exhibitors put in place for titles released by Universal Pictures. In regards to windows, Aron said, "We actually are in active dialogue with every major studio on this very important topic. We are hearing considerable support in Hollywood that an exclusive theatrical window is an important way to build big and successful movie franchises."
This really only leaves the question of which font Aron should select for that resume everyone thought he'd be needing to become CEO of another company after AMC collapsed. Regular readers of Celluloid Junkie will know we're somewhat partial to sans serif fonts, especially mid-century typefaces. However, it is generally accepted that serif fonts are easier to read on the printed page. Either way, Aron probably won't have any use for his resume anytime soon; on 21 July AMC's Board of Directors elected Aron to serve as Chairman of the Board in addition to his role as CEO.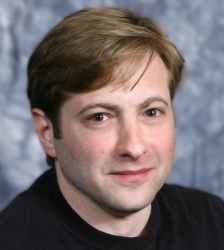 Latest posts by J. Sperling Reich
(see all)