Cinema has seen more changes than almost any other form of entertainment still in existence – and a shift from paper posters to digital displays is only one of the most recent. This change has been gradual, so much so moviegoers almost didn't notice the swapping out of poster frames for LCD screens. The film poster, originally designed to tempt us into the exciting darkness of the cinema, now blandly states what's on the screen – that, yes, we're in the right place to use those tickets we bought online.
Film posters on printed paper remain covetable physical objects, especially to collectors. Cast aside as out-dated advertising in the industry's early days, studios began to see their value and wanted them returned along with the film print. Sometimes, of course, fans got there first, making posters the mark of true cinema connoisseurs. A great movie poster evokes the feeling of the film it represents. It is unique, exciting and beautiful – an image upon which one can dream.
The digital film posters that festoon interiors of most modern multiplexes these days are part of the digital revolution – a logical extension of the paper-and-paste billboard giving way to its LED digital counterpart where the former talks about just one thing, the latter many. Old and ignored framed paper placards lining the wall of, say, London underground's escalator have become hot advertising property since being rejuvenated with ever-changing HD images. Digital can transform a "loss-making format into a profitable format," says Peter Livesey, CEO of Esprit Digital, a world leader in digital screen integration. Livesey, a lover of the traditional film poster, says that there still is a place for them in the world of theatrical exhibition. "My nearest cinema is the Everyman Hampstead and you'd certainly want film posters there. It adds a retro touch."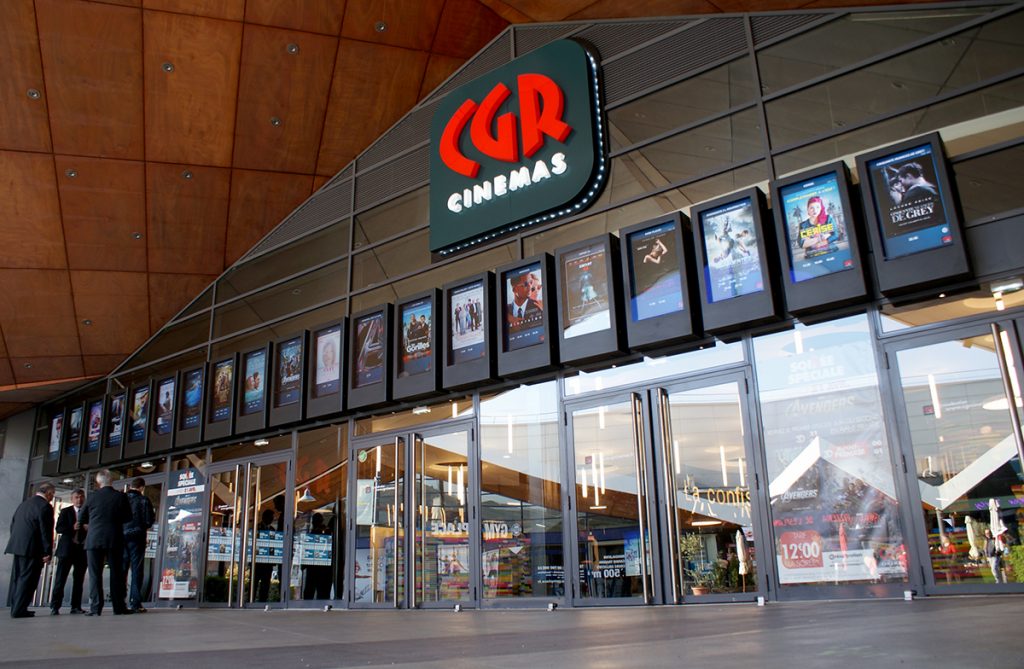 Digital content turns out to be cheaper, more flexible and easier to maintain than paper. One example of their convenience comes from cinemas in the Middle East. "Digital Posters are just the norm as often we have our own artwork based around the Middle East market or censorship (no kissing, not much skin shown)," says Alison Burns, Director of Operations at Novo Cinemas. Based in Dubai, Burns looks after cinemas all over the United Arab Emirates. "Posters here are modified to show strong male leads in the centre as this will attract sales." According to Burns, posters are still doing the work of bringing an audience to the cinema, one reason being "Not everyone can read English or Arabic as we are so diverse – so the image is everything." The use of what poster gets placed where can be quite specific. "We send standard content across all the cinemas pushing certain content or releases. So we are not reliant on the [individual] cinemas to get it right."
The flexibility of digital also lends itself to distribution deals for specific titles or with other certain retail partners, as well as titles that are delayed or pulled forward, a common occurrence in the past year with COVID-19 health protocols in place. The logistics of getting physical posters over borders is challenging, especially when distributors would only deliver to one physical location. Digital allows for a virtual proliferation of imagery over entire shopping areas. "Most of the malls here also have digital assets," says Burns, "so we share a weekly digital poster video for them to use all over the malls."
While digital may reduce costs for cinemas and studios while keeping visual engagement high, what happens to the good old fashioned film poster? Does digital mean that Sotheby's won't have posters of the next "Fast & Furious" to auction in 100 years? Bruce Marchant of the Reel Poster Gallery saw the digital/paper divide coming. "Distributors are starting to not print posters and the day of the film poster will expire – there will be none eventually. It's a matter of practicality. You've already booked your ticket. So the poster isn't needed any more to get bums on seats. The poster is a secondary issue. Similarly, billboard marketing is almost gone," he said.
A collector and dealer with decades of experience, Marchant sold Universal Studios back hundreds of their own posters, ones it had thrown away. Marchant has tried to get the studios to print a few new paper posters along with its current digital output. "Can you let me deal with some of the old time artists and make limited edition artwork?" he asked them. According to the studios, the copyright issues were insurmountable.
While studios shift their concentration to digital imagery, which can include animation and video, they appear not to show any major interest in paper posters.  However appearances can be deceiving. We reached out to senior distribution executives at all of the major studios who assured us the death of the printed one sheet has been greatly exaggerated. All confirmed that there are no plans to stop printing one sheets at this time. They also informed us that, though they are printing fewer one sheets due to the mix of paper and digital, a trend that seems to only be increasing, cinema operators are still requesting printed one sheets. It was pointed out that there are far more one sheet displays installed in theatres throughout the world than digital displays. Even large cinema chains still require both forms of media as not all of their sites have switched to digital signage.
So, the paper one-sheet tradition apparently survives but there are opportunities being missed. "The older great artists are still drawing, tremendous people like Renato Cassaro, are still available to design truly beautiful and valuable works for film posters," says Marchant. The loss of the paper film poster brings with it the loss of collectible works of cinematic art. In Marchant's world, digital cannot vie with the paper poster for sheer collectibility and visual impact. Additionally, paper posters don't require energy to function. That goes double or more for making non-fungible token (NFT) posters – crypto art with a unique digital provenance – a trend that is rousing collectors. NFTs, like all blockchain creations, consume great quantities of energy and so aren't very eco friendly. According to a recent article in Wired, the sale of one item of crypto art used as much energy as the studio that created it used over the last two years.
Like theatrical and streaming, the world of the movie poster is becoming a hybrid. One part is the digital – HD, ever changing, richly coloured LCD screens with bespoke images, video, animation, 3D and interactive facilities. The other part is again bespoke images but 2D this time. In the last few years, great movie poster creations may not come from a film studio – or from a studio film. Filmmaker Yorgos Lathimos commissions designer Vasilis Marmatakis to make non-generic posters for his arguably far from mainstream films. Having made posters for Lathimos since "Dogtooth" in 2005, Marmatakis' creations are unforgettable, a far cry from the awkward star montages and photoshopping of the big studios' creations. The world of AMP (alternative movie posters) thrives, with companies like La Boca Ltd ("Black Swan" and "Parasite") and designers like Olly Moss ("The Jungle Book" and "Harry Potter") and Brandon Schaefer ("A Space Odyssey" and "Kes"). All of these creators, working more often for independent and art house productions, capture the vitality of each film in its own intriguing poster.
The magic of the film poster is a kind of hypnotism. A great poster can instantaneously induce the feeling of a beloved movie. No wonder then that hobbyists have gotten into the game. Noel Blackman of Blackman Images in the Chicagoland area describes himself as, "simply an independent graphic designer". His enthusiasm for digital posters dovetails with that of "fellow home theatre enthusiasts." Blackman admits that while "…any true movie poster collector despises digital displays, similar to how a collector of fine watches hates the Apple Watch"… real posters take up a lot of space. Blackman's personal collection spans 8200 digital poster images all rotating on a digital display frame in his home cinema space. "It takes over 24 hours to cycle them all," he says. Which goes to show that the cinema poster is not dead nor is it dying. Wherever cinema is loved, posters will be loved and collected. Paper, digital or other.

Latest posts by Karen Krizanovich
(see all)