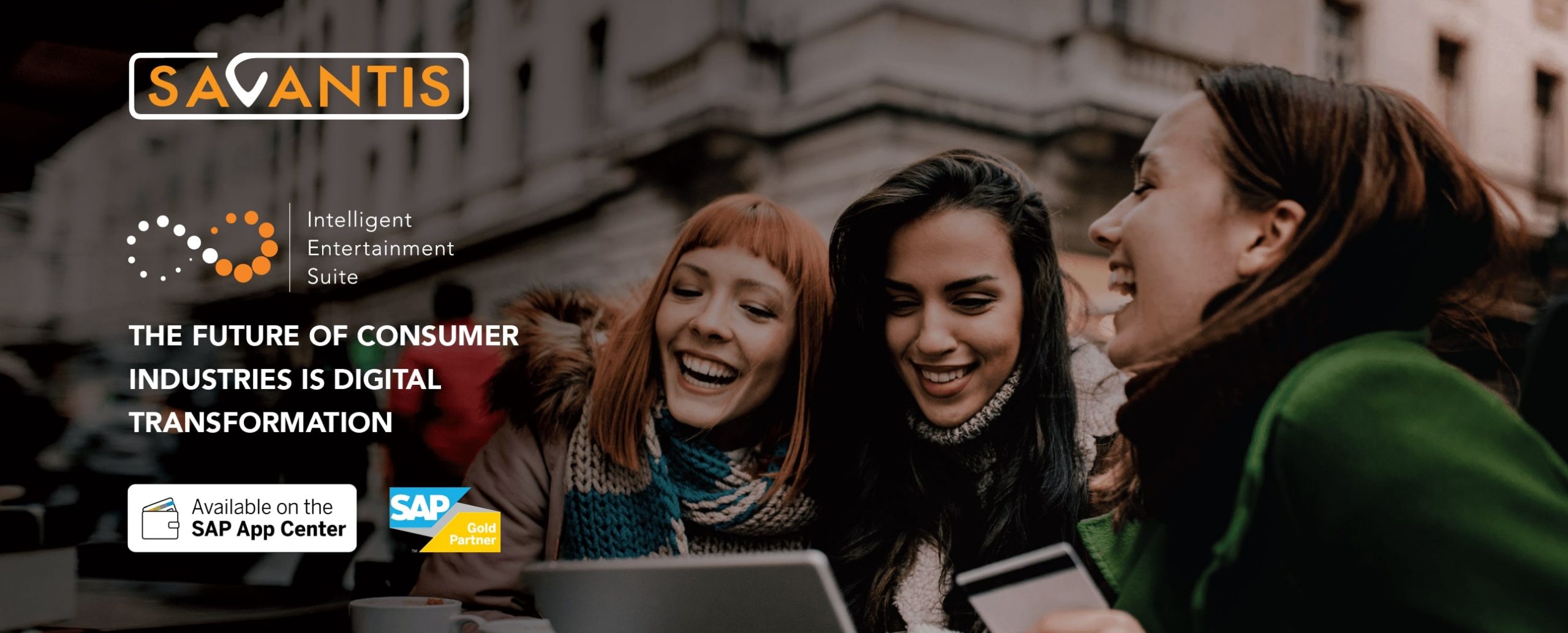 Savantis is a new player to the cinema industry, starting their project in Summer 2018. With a goal to help cinemas upgrade their technology solution so they can adapt to a rapidly changing ecosystem, they have built a suite of applications for the entertainment industry, based on SAP business software and are both consumer and back office facing. Their Intelligent Entertainment Suite started off as a collaboration with a leading LA-based cinema chain, who were eyeing up a SAP solution.
SAP stands for "System Applications and Products" and is the name of the company who pioneered this approach and also one of the few European online giants. In short, they produce software for the management of businesses – enterprise application software. The software combines experience with operation – allows businesses to make intelligent decisions and do more, for less. In practical terms, this means one (digital, cloud based) place to connect all processes of the business – so one piece of software to manage ticket sales, restaurant bookings, e commerce etc. 77% of the World's transaction revenue touches an SAP system.
The applications – or "accelerators" as Savantis refer to them – that are grouped together are as you'd expect: sales management of both tickets and F&B items, programming and scheduling modules, loyalty, POS, digital signage, kiosk and self serve. Marketing and promotions can also be managed from here, with intelligent decisions based on previous customer behaviour. For cinemas with a restaurant, all functions can be managed in one place under the one roof. There are also plenty of back office functions – stock and inventory, staff management, end of day reconciliation – everything that you would expect, including the ability to re-order stock automatically when a particular product is running low, to ensure that it never runs out.
There are some lovely touches to the customer facing elements of this solution thanks to the real time connection to data in the whole business. Customers can have a personalised self-serve experience based on their previous behaviour, and the customer journey is completely bespoke based on historical data. When opening the app, customers will be recommended films based on their previous viewing history, and even seat selection based on where they have sat before. You can talk to customers every step of their journey – if they @ you in a tweet, you can immediately engage with them and even reward them for doing so.
One of the biggest ambitions of this software is to eliminate manual tasks, and it certainly does that. But in using data to provide the personalised journey, it feels a little like the personal touch has been lost.
That, as I see it, is one of the key challenges for the IES. It seems very… big and ambitious – almost too big and too ambitious. I can see it is a very attractive option for large circuits with many sites as it streamlines most processes. But there is very little scope for actual human interaction, regardless of how personalised the offer is for each customer.
Some circuits may take the view post Covid that this is the right approach, and there is certainly the opportunity to slash your wage bill across all areas of the business. But my gut instinct is that is the complete opposite to what customers will want from their cinema experience in the (vaccinated) future.
During Covid, the cinema landscape has evolved and Savantis have been, like so many others, on the receiving end of really bad timing. Their targeted customers are the circuits who have suffered disproportionally worse than smaller operators due to a combination of lack of content, high overheads and the desire for customers to support their local independent cinemas. And the other problem is the only people who could once afford this solution can no longer do so. Having been told that the pricing was "competitive" by Savantis, I looked on the SAP App centre to see that it was anything but: $75,000 for the starter package – per year – and that's just one site. If that was the price per site, the Cineworld Group would be looking at a price tag of $56m. A year.
They are however looking into a more affordable solution for smaller operators – an a la carte solution. This may well be the key to success for the company in the short-medium term, given that a new, pricey solution is hardly likely to be a circuits' top priority right now.
Savantis were, like a lot of vendors, scheduled to attend CinemaCon 2020 in order to demonstrate their product. We have discovered before how tough it is for any supplier, let alone a newcomer to the market. But the company now have their sights set on CineEurope 2021 – a good move if they have their smaller operator solution ready to go.
What is very welcoming though is any new player to the marketplace who is thinking through the customer experience and who are trying to streamline some of the more administrative functions in the business. This is a very elegant solution and there is no doubt that the IES would make your life as an operator infinitely easier. But for many cinemas, this is a nice to have and will not be high on the priority list for some time.
UPDATE: This article was amended on 15 December 2020 at the request of Zenergy Communications to remove any reference to ArcLight. 

Latest posts by Claire Beswick
(see all)