Drive-in cinemas have been experiencing a renaissance in Germany ever since the epidemic lockdown forced movie theaters to close their doors on March 16. Over the course of the past few weeks, the number of drive-in cinemas increased from a mere handful to more than hundred. The Federal Network Agency has already assigned 43 frequencies for drive-in cinemas; about 80 more applications have been submitted.
Rental companies that offer mobile LED video walls have reported a surge in demand. One of them is Hifi-Klang, whose inventory of outdoor screens ranges from a 15-square-meter LED trailer to a 51-square-meter LED video wall. This rental company can also, by special request, set up a huge 100-square-meter screen. The advantage of LED screens is that films can be screened in broad daylight because of the inherent high brightness and contrast values. The downside is that these outdoor LED screens [unlike, for example' Samsung's Onyx Cinema LED] are not DCI-compliant, so the most recent studio releases can't be screened. The films are either Blu-ray or are streamed in 4K. But there are also drive-in cinemas with either permanent or inflatable screens that provide DCI-compliant projection.
The Autokino Stuttgart-Kornwestheim is one of the permanent drive-in cinemas that is equipped with two screens, one of 540 square meters (12m x 36m) and the other 240 square meters (10m x 24m). Powered by a 7,000 lumen 2D projector, up to 600 cars can be parked in front of the big screen. When the Stuttgart International Festival of Animated Film (ITFS) presented Jeff Fowler's action comedy "Sonic the Hedgehog", the drive-in cinema completely sold out the show. "Turn your car into your own private cinema" is the slogan of the Drive-In Autokinos company Der Wert, which operates drive-in cinemas in five locations in Germany.
Meanwhile, there are also plenty of new kids on the block. In some cases, exhibitors are teaming up with event organizers to set up drive-in cinemas. While exhibitors have expertise in film programing, relationships with distributors, and experience with ticketing, event operators contribute logistic know-how, equipment, and their own business relationships. Such a partnership has been set up between Cineplex Marburg, Goldfisch Art, and Depro Konzerte who together launched a drive-in cinema at the Marburg fairground at the end of April. "Our partner organizes huge music concerts for touring shows and it has expertise in security, alignments, and even one whole kilometer of site fencing in stock", says Marion Closmann, CEO of the seven-screen Cineplex Marburg. "We built our drive-in cinema overnight."
The event organizer helped find a 90 square meter (15 x 6) LED screen. The gigantic screen with over 4.2 million pixels and 6.3K Nit h whose price tag is about a half a million euro, costs a fortune to rent. It took two days to set up the gigantic screen, which weighed almost 30 tons. "For the screen, we needed a construction permit. The scaffolding had to be ballasted with 25 tons of weight to stabilize the screen."
But there are also restrictions as well as a spectrum of issues that need to be solved, which include fencing to prevent passing drivers from being distracted by the giant cinema image, the installation of sewer lines for toilets, and solving the problem of ticket scanners that lose power during precipitation.
Admission to the drive-in cinema starts one hour before show time. The staff, equipped with reflective vests and signaling discs, pre-sorts the automobiles so that the smaller vehicles are parked closest to the screen, which prevents large busses and SUVs from blocking their view. When the tickets are scanned and the pre-paid snacks are picked up at the concession stand chute, up to 60 cars get their parking instructions in the pre-sort area. "We had to equip our staff with radio sets so they could communicate on site." For security reasons, there has to be a six-meter distance between cars.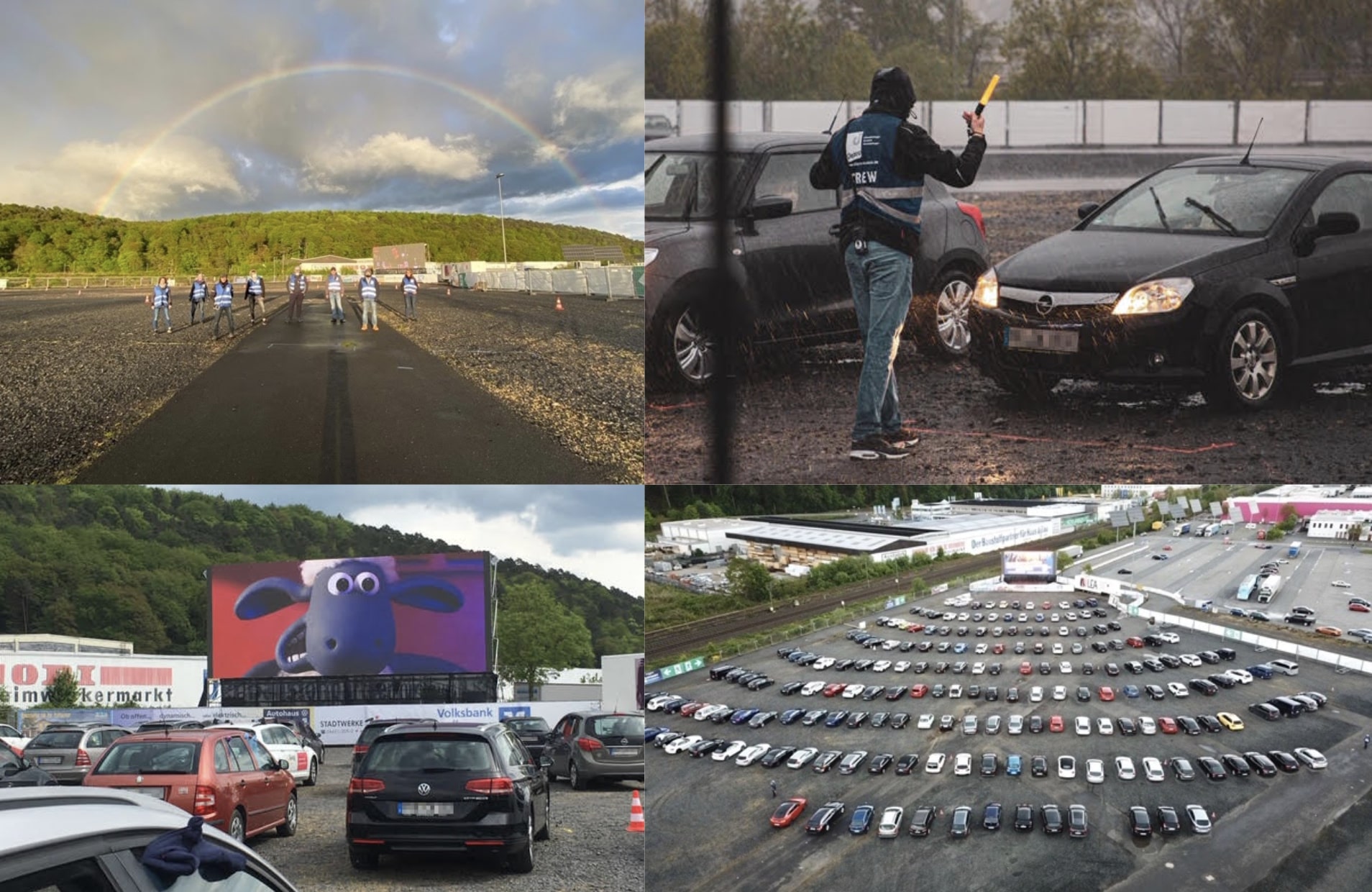 Due to the COVID-19 hygienic rules, cinemagoers must keep their windows closed. But it happens sometimes that guests can't operate their car radio, which is instead used to amplify the film soundtrack. "We had one lady in a convertible who didn't have a radio at all", emphasized Closmann. "We have to deal with problems I never could have anticipated." A father who brought his three young children to a family entertainment show had a flat tire. The staff helped him push the vehicle in front of the screen and then helped him change the tire while his kids watched an animated action-adventure film about a raven. "We're better prepared now for anything that happens", says the exhibitor. "At any given show, several cars won't start because their batteries ran out."
Meanwhile, it has become routine for the "yellow angels" of the German automobile club ADAC to be on site at the drive-in ten minutes before the end of each screening in order to provide roadside assistance. It's also a logistical challenge when all 200 cars want to exit the site at the same time. "We make sure that the exit runs smoothly." Four to six employees are needed on any given shift just to direct the drivers. Furthermore, a security company is on site 24/7. "A drive-in cinema is not a business model because personnel expenses can be enormous", says Closmann. "But we want to give our audience the chance to watch movies on the big screen."
After having kicked off with the German comedy hit "Kangaroo Chronicles," the program includes "Bohemian Rhapsody" and "A Star Is Born" as well as "Shaun the Sheep" and the cult classic "Pulp Ficton." Tickets can only be purchased online. Cineplex Marburg is using the same ticketing software for the drive-in cinema as for its multiplex. "We created an additional screening room and signed up as an out-door cinema at the German Distributors Association Verband der Filmverleiher (VdF) in order to apply for a registration number", says the exhibitor. This is an essential part for the billing process.
Some distributors don't release movies to pop-up drive-in cinemas if no traditional exhibitor is involved. "It makes a lot of sense for the distributors that the operators of drive-in cinemas implement certified ticketing software and work with reputable online service providers", stresses Johannes Klingsporn, Managing Director of the German Distributors Association, which initiated this accounting control system eight years ago. Meanwhile, there are a handful of certified ticketing systems that make sure that any ticket sold is also registered. "We keep an eye on drive-ins all over Germany", underlines Klingsporn. Due to the recent boom in drive-in cinemas, Comscore reported 114,000 visitors to drive-in cinemas and a turnover of more than a million euros as of the first weekend of May.
The demand for drive-in cinemas in Germany keeps growing. "We're receiving a large number of requests", says Johannes Brecht, CEO of Cinetixx, which equipped more than 300 cinemas all across Germany with their ticketing software. The seating plan can easily be embedded on the homepage of every cinema. "We're offering a cloud-based solution and we can quickly create an account for a new market participant. If someone sends us a request in the morning, we can give them access by lunchtime." Besides the online ticketing at the frontend, the Cinetixx software can also manage the billing process for the distributor's licensing fee. The cinemas don't need additional hardware; a laptop and an internet connection does the trick while Cinetixx manages the data at center and backs it up. The software also manages concession stand purchases.
"Germany has never had so many drive-in cinemas", emphasizes Stefan Kuhlow, Managing Director of Weischer.Media. "Right now, there are 65 drive-in cinemas in continuous operation, and more are popping up every day. Drive-in cinemas not only attract audiences but they are also advertising clients. We've already signed up the first national and regional bookings, and there are more in the pipeline. This is great news for all parties involved." For Frank Senger, Head of Marketing and Communication at Weischer.Media, this is a clear indication that people don't just want to go shopping but that they also want to go to the movies. "In Düsseldorf, live concerts are being held in drive-ins and the audience applauds by honking their horns and turning on their brights. This is a car-country phenomenon in Germany."
Some regions in Germany were hesitating to issue permits for drive-in cinemas in public squares, but almost every bigger city already had a drive-in. At first, the City of Hamburg declined to approve a permit for a drive-in cinema at a 200,000-square-meter area in the city center, which is typically used to feature amusement park attractions like roller coasters to attract mass audiences. In response to ongoing requests by exhibitors, the City has now reversed its position and has decided to launch a tender for a drive-in cinema. One of the applicants is the Hamburg-based Zeise Kino which teamed up with bergmanngruppe, an event management agency that has extensive experience organizing street fairs and holiday cruises,. "We developed a special concept. Let's see what will be possible," says Matthias Elwardt, Managing Director of Zeise Kino, who is also be scouting other suitable locations.
Thanks to the increasing number of drive-in cinemas, the Friedrich Wilhelm Murnau Foundation has set up a program of ten classic German films, among them "The Blue Angel," "The Cabinet of Dr. Caligari," and "Viktor and Viktoria" that can be bock-booked for drive-ins. But it's not just classics. New releases are also premiering at drive-ins. The documentary "Suzi Q" about the first female rock star held its German premiere at the Tübingen drive-in. "We reluctantly decided to show 'Suzi Q' in drive-ins so that the audience could see the film on the big screen". says Stefan Paul, CEO of Arsenal Filmverleih, the German arthouse distribution company which is planning to hold nationwide screenings in order to celebrate the 70th anniversary of this unique musician on June 4, 2020.
"It is amazing to see how quickly this form of theatrical release has become so popular", says Klingsporn. Indeed, many screenings at drive-in cinemas sell out quickly. "People have an enormous appetite for diversion and entertainment." But the drive-in cinema boom also has a downside. "Enthusiastic mayors and competitors from the event sector are forcing many exhibitors to take on bigger projects", points out Christine Berg, Chief Executive of the German Cinema Association HDF Kino. "This is the case, although they are not always economically promising. Exhibitors often only manage to break even." Nevertheless she considers it a priceless service to keep cinema as well as its client contacts alive. "On the other hand, we have reason to fear that, due to the increasing popularity of drive-in cinemas, the support or re-start of regular cinemas may get bogged down in politics", warns Berg. "Freely adapt motto: The industry can help itself better than anyone else can. But this is a fallacy."

Latest posts by Birgit Heidsiek
(see all)