This week, I was poring over the most recent results from our 2nd national survey wave, in as many months, about consumer sentiment pertaining to when audiences think they'll return to the theatrical movie experience, post-Coronavirus. As the head of research for National CineMedia (NCM), the largest cinema advertising company in the United States, I am often tasked with keeping my finger on the pulse of the movie-going public for our company.
While NCM is neither an exhibitor nor a studio, we rely heavily upon the symbiosis of that business relationship to keep our business afloat. It is our job to present the Noovie branded pre-show, a pastiche of entertaining content, ads, and games, to movie-going audiences as they prepare to take their seats prior to the start of a feature film.
Our business has ground to a halt with virtually no U.S. indoor theatres open (though pop-up drive-ins have exploded as an entertainment safety valve that has uniquely taken advantage of an old concept and somehow made it seem new to an uninitiated audience) and no major film studio releases in circulation. It is the embodiment of what we all have come to know, but not so much love, about COVID-19; it spawns a set of circumstances by which we can only watch and hope for resolution.
But, the study I was reviewing, brings me that glimmer of hope in its findings. "Behind the Screens," a proprietary community of 5,000 NCM moviegoers, conducted a two-wave survey with a subset sample of over 1,400 respondents in late March (March 20-26) and just last week (April 20-25). As most of the theatres in our national network began shuttering their doors after St. Patrick's Day (i.e. March 17th), we decided to seize the opportunity to create a baseline of measurement by which we could track the potential change in people's perception, over time, in the safety of theatrical movie-going as a result of sheltering-in-place.
Would their decision to return to their local megaplex en masse correlate with the amount of media they consumed while in self quarantine, or would staying at home feasting on an endless array of video content tamp down the desire to see a feature film theatrically released?  It also begged the question, which we asked, "When would consumers estimate it to be safe to return to their local cinema, and what measures were they willing to tolerate in order to reassure their feelings of safety and cleanliness?"
What initially jumped out at me was how palpable that pent-up desire was in the numbers reported in both survey waves for people champing at the bit to return to the cinemas.  91% reported "I miss going to movie theatres to watch movies" in wave 1, which jumped an additional 4 percentage points in the follow up wave.  And while that might seem a logical progression that after being isolated for more than eight weeks from friends, families and public events, respondents would crave those bygone "socializing luxuries" of movie-going, dining out and attending a concert.
And what helps to feed that FOMO (fear of missing out) desire is the fact that the closer we creep toward the Memorial Day holiday weekend the more moviegoers have the anticipatory reaction that "summer blockbusters" should be revving up for release soon.  In wave one (fielded back in late March) a little over half (i.e. 52%) the respondents said they would "…have lots of movies to catch up on in theatres when they reopen."  Wave two saw that figure rise to three out of four (75%).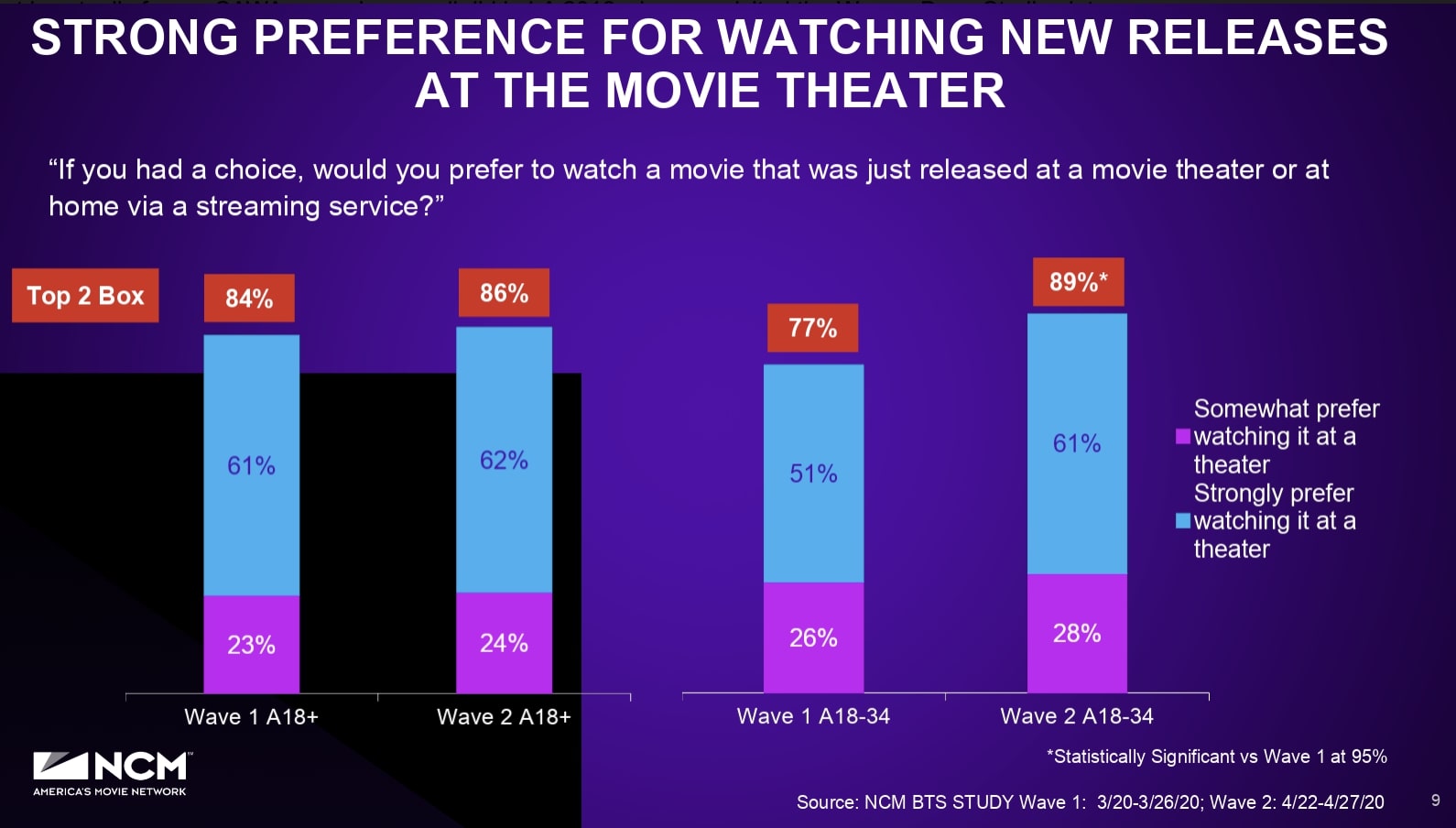 Equally intriguing was the revelation that even though recently released feature films were finding their way into people's homes at an unprecedented level via VOD, 86% (up from 84% in the first research wave) said that "If [they] had a choice, [they] would…prefer to watch a movie that was just released at a movie theatre…[than] at home via a streaming service?"  In spite of the convenience, and the ability to watch multiple showings over a 48-hour period (an especially appealing factor for families with very young children during a quarantine), this audience remained unconvinced that this was a new and/or better way to watch movies, rather than seeing them in-theatre.  The same was true for Cinema's core audience of Adults aged 18-34, with 89% of 18-34-year-olds preferring to see a major movie in their local theatre vs. at home viewing.
Topline results from Wave 2 of our movie-going perception in the wake of the COVID-19 pandemic for Adults 18-34 showed that:
96% miss going to movie theatres to see feature films (vs. 91% in wave 1)
88% prefer watching a new movie at a theatre vs. seeing it at home (vs. 77% in wave 1)
68% said they'll return to theatres as soon as they reopen or after an official announcement that COVID-19 has been contained is made (vs 73% in wave 1)
When movie theatres reopen, 75% plan to go to the movies the same amount or more frequently as compared to before COVID-19 (new question for wave 2).
Something else I also found fascinating was to see how moviegoers were already preparing themselves to embrace the "new normal" when allowed back into attending public events. 90% said limiting auditorium capacity was an acceptable social distancing practice to be enforced in theatres. 87% wanted hand sanitizers prominently displayed in theatre lobbies, 52% said face masks should be required for entry into the theatre.
But I think the bigger point that the results of this survey bring to light, more than the obvious finding that people miss seeing movies on a big screen, comes all the way back to the social aspect of movie-going that made it such a wonderful art form and entertainment in the first place. It is the modern era's own brand of sitting around the campfire and telling stories to the community. Films are stories that teach a lesson, make us laugh, make us think or make us cry not as individuals but, more importantly, as members of the local community to whom we belong. Having a shared group experience through a common vehicle is my definition of "social media."
The validation of that experience, for good or bad, is instantaneous the moment you leave that theatre and begin talking about what you just saw and, possibly, felt. And one can repudiate that same experience by decrying it for whatever perceived unfair or emotional tricks used by the filmmaker to manipulate the viewer. And if the best of both worlds should collide where those two divergent experiences promulgate a social discourse, rather than physical and/or virtual social media distancing, then aren't we, the movie-going audience and global population, richer for that?   In the 2007 movie trailer "Love in the Time of Cholera" the closing title asks the audience, "How Long Would You Wait for Love?" I think most movie loving audiences would answer, "As short a period as possible!"

Latest posts by Doug Pulick
(see all)