"Lose our jobs and starve, most likely." The Vulture critic Bilge Ebiri's response to the question, "What will film critics do if all cinemas close for several months" was pithy and to the point. In a profession that had already shed many writers, the critical community is, as are others connected to the cinema industry, facing a wall.
Since the online age, professional film critics' rates in the UK alone have dropped to 1980s levels: single film reviews on average pay GBP £20. Interviews and features in some national UK newspapers can pay 34p a word with promoted content paying slightly more. Assignments are parcelled out by editors who can make many broadsheets and magazines function like private clubs.
Critics love their work but many also have families to support. Far from being an apparently cushy gig, professional viewing, reviewing, writing and researching is an ongoing process. Deadlines must be hit. There are interviews to be done and transcribed. Unforgiving live broadcasts. There are many podcasts too which pay nothing to their contributors.
For freelancers the competition is fierce. For staffers, the amount of high quality work can be immense. Most critics will see a minimum of three to five films a week, plus, "…cramming in links whenever and wherever I could," says Ann Hornaday of The Washington Post and author of "Talking Pictures: How To Watch Movies" (Basic Books, June 2017). Hornaday would normally file two to three reviews per week as well as a weekly column. The COVID-19 crisis has left her, "…heartbroken, especially for first-time and emerging filmmakers who will be forced to miss their festival debuts, and the career momentum that goes with them. I am also very anxious about independent theaters and art houses, which are particularly narrow-margin operations."
For The Telegraph's Robbie Collin, "The Bond film moving to November caught me totally off-guard. Then the Telegraph asked me to write a retrospective feature on "Contagion" – and after rewatching it, and realising what we were prospectively heading towards, I realised just how smart Eon had been. The release calendar is (or at least was) so regimented that it's unsettling for a critic to no longer have those enormous releases to rappel between… so as someone who loves film and also depends on it for my income, I was shaken up twice over."
Barry Hertz, Deputy Arts Editor/Film Editor of the Globe and Mail, says, of course, his daily routine of going to the office has stopped but he will continue to, "Review as many films are made available digitally as I can, and report on the impact that the closures are having on the industry." As a staff writer, Hertz says of his freelance colleagues. "They're being directly impacted — no movies means no reviews, and that means no work. It's a terrible situation."
Critic Wendy Ide writes for The Observer, Screen International and many others. "Each week was different. One on, one off for The Observer, then also a lot of festival coverage. I also write obits, and some corporate work. So if it was an Observer week, screenings Monday and Tuesday, writing Observer reviews on Wednesday; Thursday and Friday filled with other writing (reviews for Screen International, etc)," she says. "My plan now: I am in the privileged position of working (freelance) for amazing publications who are currently doing everything they can to keep some review work flowing, through remote festival coverage (Screen International) and, at the Observer, we plan to shrink the review section and just cover the films which are streaming. It's crucially important to champion the indies at the moment, so for the foreseeable future that's what we will be doing."
Jonathan Romney teaches and writes for Film Comment and The Observer. His average week was 2 days a week teaching – which he still does remotely. He reviewed selected TV films for Observer, a weekly review column for Film Comment (US) and assorted other freelance writing. His immediate reaction to films being pulled and cinemas being cancelled? "Thinking about other possibilities for reviewing – VOD releases, possibly Netflix and other possibilities, or writing about old films. Very sad to see cinemas shut – concerned for independent distributors and cinemas especially." But some things won't change – for example, will Romney review Trolls 2 when it opens streaming? "I didn't review Trolls 1, so why break the habit?"
In the UK, The Guardian's Peter Bradshaw hasn't found the change to be,"…as huge as I thought – yet. I am still doing 4 or 5 or 6 releases a week. Many distributors are moving to release directly onto streaming or VOD and they will give online screener links. I have a digital projector at home, but of course it's not the same. Having said that, I think distributors realise that people self-isolating will want to see new movies at home. The danger is that this will become the new normal – the "theatrical window" in which films can only be seen at the cinema will be effectively abolished and the big-screen experience will be eroded." But, Bradshaw adds, "We should bear in mind the immortal words of Robert Duvall in Apocalypse Now: 'Some day, this war's gonna end.'"
Katie Walsh writes for The Tribune Agency and for the LA Times. She teaches writing and guest hosts the Switchblade Sisters podcast, as well as reviewing films for Press Play on KCRW. "My weeks were a mix of screenings, writing at home, with a trip to Orange County on Fridays, and then yoga and fitness classes, and weekends for socializing with friends or rep screenings." Walsh says she'll still, "…submit 4 pieces a week to Tribune, but one is now a streaming recommendations column (mostly older titles), with 2 full length reviews for new streaming/On Demand releases. The Family Guide is going to be more streaming recommendations for kids and parents." As for being freelance, Walsh says, "The main difference is that staff has the time and space to figure out this new normal without having an interruption in income. As a freelancer, there's no safety net or paid sick leave or vacation time. You don't work, you don't get paid.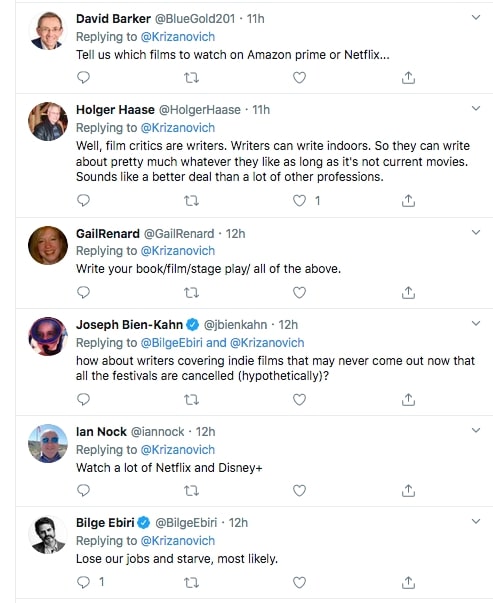 "Hopefully, you have a lot of irons in the fire and contacts, and have that muscle developed to pivot and hustle, because freelancing can be so uncertain. But for those film freelancers who depend on the big junkets and selling interviews and other pieces tied to big releases, this is a devastating time."
Walsh's support group includes Twitter and the "California Freelance Writers United on Facebook, which is a group dedicated to fighting AB5 in California (a whole other story about a new law that is devastating to independent contractors and freelancers here). But I always worked from home, and have done so for about 5 years, so I'm used to this. I also have a lot of friends in the LA yoga community on Instagram, so I am taking classes through Zoom and keeping in touch with them. It's nice to have a group of friends outside of the film/journalism worlds." Will Walsh review Trolls 2 when it opens streaming? "Yup! The people need to know!"
Wendy Ide points out, "Obviously, this is a terrifying time for freelancers everywhere. I am trying not to panic and to just keep working to ensure that there's some income for the months ahead but for me, the lack of festivals will be a real hit. Cannes – let's assume that it doesn't happen – is expensive but lucrative. Unfortunately, many of us have laid out the expense but now have no way to recoup it. Ouch."
With more people watching more films and moving image content, there could be new life in the profession yet. "[T]here will be opportunities to write that weren't there beforehand because I think the written word has a unique role to play in the months ahead: well-informed, entertaining voices can serve as an antidote to the storm of misinformation and panic out there, and keep readers feeling sane and connected in trying times." Robbie Collin says, "I suppose now is the time critics will find out how much our work actually matters."

Latest posts by Karen Krizanovich
(see all)