CinemaCon 2019 was bracketed by two PLF-style announcements, with a third announced the week prior. All three involve high profile manufacturers and industry specialists. Each announcement has enough nuanced information to make the future for all of them …interesting.
On Day One of CinemaCon, instead of a new hardware product launch, dozens of the industry press were driven to, then shown the first "Sony Digital Cinema™" PLF installation. It is in Auditorium 12 of the new-build Las Vegas Galaxy Theatres Luxury+ Boulevard Complex in the expanding Boulevard Mall.
Although pre-show press releases stated that this was the first of a nationwide roll-out, Sony Head of Digital Cinema Bob Raposo told us that from this installation they will listen and evaluate the needs of their PLF roll-out in the future.  
He began his introduction to Sony's new PLF offering by pointing out that Sony's broad knowledge of entertainment technology – which ranges from professional cameras through to consumer screens and games, plus their movie and television productions – gives them a unique vision into delivering to the needs of the cinema exhibition market.
Does this PLF offering use an elevated HDR DCP?  
Initial questions were obviously warped by the data from other PLF announcements, and by general buzz about the newly released DCI document on HDR and cinema technology evolution. The Sony projectors are unique in their contrast ratio capability (10,000:1), but HDR (high dynamic range) is as yet undefined and standard DCPs (Digital Cinema Packages) are only typically released at 2,000:1 Contrast Ratio. The hope was that there might be unique packages created to take advantage of the projectors potential.
Bob explained that this system uses a standard DCP, as do other 8 screens in the facility. But while those other 8 rooms all use a single SRX-R815P laser projector, the PLF auditorium's image comes from Sony's dual SRX-R815DS laser projector system. He further cleared up the issue by saying that whenever and however DCI defines HDR in the future, Sony will comply with that in order to deliver "a premium experience to the customer". This term became the mantra for the presentation.
The image is shown on Las Vegas' largest screen, a 70 x 40 foot, dark grey, 2.8 gain screen. Like many wall-to-wall PLF auditoriums, this room ignores SMPTE and DCI masking requirements, showing projector derived black bars above and below for Scope presentations. And like many rooms designed for use with passive glasses 3D, the luminance uniformity requirements of DCI and SMPTE 431-2 are ignored in favor of more light at the center of the screen at the center seats of the auditorium for 3D. Though as a result disadvantaging 2D. As Bob pointed out, the benefit of the high gain screen is that they can play 3D material at 7 ft/lamberts instead of the 4.5 ft/lamberts that the Sony projector spec lists – another example Bob pointed out toward Sony Digital Cinema PLF delivering a premium experience for the customer.
Since the media block of the 815 also supports Dolby Atmos, the question came as to whether the Sony PLF would include Atmos. The answer is that the Sony Digital Cinema will deliver a premium experience to the customer and will always provide a premium sound system.
Questions regarding whether the system could play the upcoming 120 frames per second releases, or dealing with color space or most other technology questions were handled by saying that the primary goal of delivering a premium experience to the customer will be met. (As it turns out, the SRX-R815DS works in the P3 color space and can play 60 fps 3D.)  
As a final point of clarity, Bob mentioned that when he was at Labatt Breweries introducing Stella Artois to North America he didn't have to tell people the type and amount of hops that went into the beer, and he noticed that the press writers weren't asking him the horsepower values in the luxury moving seats. Again, the primary concern is that the consumer will know that they are will be enjoying a premium experience when they see Sony Digital Cinema at the door of the theater.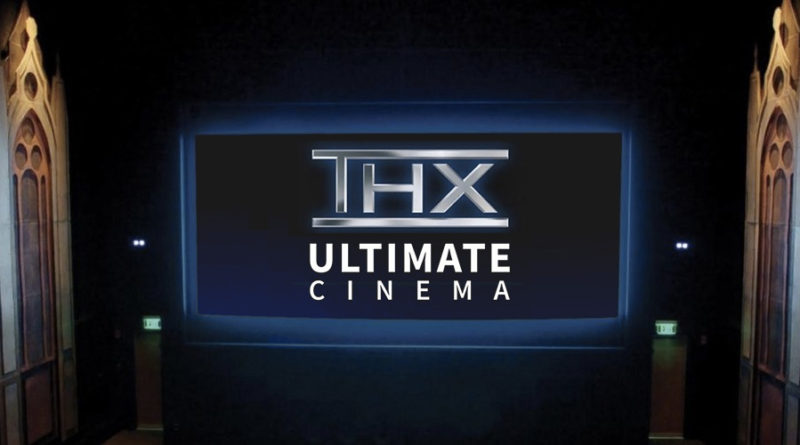 PLF systems with 'Press Here for Confusion'
There were other components of the press writers' confusion. One came from the 28 March announcement from THX that includes the phrase "remastered content…". This holds the meaning that THX will get permission from directors to modify the presentation in the manner that Dolby does for select movies (though not all movies) that play in the Dolby Vision auditoriums, and which IMAX does for movies that play in their badged PLF auditoriums.  
In addition, a few members of the press were also treated to the first Cinionic/CGS PLF at the Regal L.A. Live auditorium. Combining that with a November 2017 THX / CGS announcement that spoke of a large THX Certification at a then new cinema, and  future technology development, plus an announcement that a new – in fact, the first – THX Ultimate Cinema installation at the storied Village Theatre in Westwood California in association with Cinionic, a partnership of CGS and Barco (and ALPD, which is not mentioned in this grouping.)
Fortunately a LaserDriven CircleSquaring Tool was included in the CinemaCon 2019 Press Kit including the optional Marketing Bits decomposer and Venn Diagram kits. These tools are typically only required when a technology has gotten so common, so commoditized, that there is little difference between manufacturers offerings, excepting branding and hype.
But that is not yet the case for digital cinema this year. The the long promised transition to the better-in-every-way (more and brighter colors / less expensive to operate) RGB Laser Projector (more and brighter colors / less expensive to operate), are only obvious in one company's entire product line and only beginning to filter into another's. The long promised standard format for exchangeable-immersive audio is still just entering the test phase, and the cinema ratio of better bits – higher dynamic range, wider color gamut, higher frames per second, and more resolution (pick any two or three, but never the same three or four) – is still a work in progress at manufacturers R&D Labs and the hallowed halls of DCI.
In the background though, there are two vaguely discussed problems which marketing and special services are required to solve. The first of these is the end of the VPF, that financing mechanism that the studios employed to encourage the film to digital transition. The second is the unexpected long life of the specialized computer systems that make up the modern digital cinema chain – servers/IMBs/Projectors which leaves the vast majority of auditorium systems without a compelling reason to update/upgrade.
Cinionic and THX are meeting these challenges by adding features that address several exhibition issues with a variety of solutions. The packages revolve upon an up-front promise of a no surprises contract, that include all-in cost for product, product support, maintenance and replacement parts, and warranty services. Second is a choice of branding for high end premium large format auditoriums (PLF) that can be either a 'white-labeled' addition to an exhibitors existing PLF, or a certified THX PLF. Third is the above-mentioned 'remastered content', a promise of at least 30 specially formatted movies per year, delivered in the style of the facility – scope-centric for those auditoriums built to best deliver in that style, or the taller flat format for screens that deliver the movie's story better that way.
(The latter is an often unappreciated feature since auditoriums in the United States will have 'flat' style screens, while rooms in the EU will have 'scope' formatted screens. A scope screen receiving a flat movie will cut out a lot of potential picture, and the same is true for a flat screen showing a scope movie. In keeping with this theme of local content, there is even a plan to offer local content remastering if certain order and distribution milestones are met.)
Like the original THX specifications that ushered in the modern audio chain, there are some parameters that are required to be met while specifics might allow a latitude of variation – as long as the meet a certain level of quality. For example, where the first THX specs demanded a baffle wall and describe a baseline for speaker and amplifier component specs, both the white label and the THX variation of these PLF systems will all have dual RGB laser-driven projectors and screens with a minimum width of 50 feet while other components, e.g, the audio system design is specified immersive though not with a particular brand nor comprised of particular components – again just as long as the components are above a certain approved level from the THX lists. Exhibitors that choose the THX Ultimate Cinema Experience badging (and included yearly certifications) will also get the advantage of THX' years of audio design experience.
The first of these new THX branded facilities is the recently rejuvenated and famed Village Theatre in Westwood, California – just in time for "Avengers: Endgame". In addition to the equipment and screen additions, acoustic modifications were made to allow more seats to have a more refined audio experience from the Dolby Atmos sound system,with additional low frequency equipment to achieve a better low-end throughout the room.
The big and somewhat hidden leap that sits behind this adventure is that CGS, once known as China Film Giant Screen and previously named DMAX (until a lawsuit from IMAX) and now called China Giant Screen or CGS depending on the market. CGS has the 2nd largest PLF install base (after IMAX), with over 300 auditoriums (predominantly in China and South-east asia, and now one at the Regal L.A. Live in downtown Los Angeles) and having made and distributed over 500 remastered movies.
The movies have been remastered at the CineVizion facilities in Hollywood and the CGS facility in Beijing, less than half of which have been Chinese language movies. This familiarity with tent pole movies and a well established chain of distribution takes away some of the hurdles that other companies are still facing in creating and promoting their vision in the cinema.  
As the slide from the Technicolor presentation (above) shows, there are several key variables that go into the modern mix of picture quality – and into the discussion of 'better pixels' that will define the future Cinema HDR specification. We've all experienced the reaction of the well done demonstration of 1,000,000:1 CR of a Dolby Vision presentation. Did anyone notice when the first generation of 4K DLP projectors couldn't reliably recreate 2,000:1 contrast ratio? What will be the Acceptable Compromise that allows new techniques and equipment to push the boundaries while still providing the distribution chain the easy of access of quality products to everyone? Where does future BuzzwordCompliance lay (Grammar question: lay or lie?)
Cinionic does offer that when Barco's promising light-steering projectors become available that their PLF customers will be the first to be offered those products whether they are white labelled or THX system. That systems pre-debut at CinemaCon 2018 showed great potential, as have recent sightings. The system is expected to have a 2020 release.
Finally, at the end of CinemaCon – and dealing with the extreme end of current projection technology came another announcement with a different set of Acceptable Compromises.
The announcement came in the form of a signing ceremony by China's Huaxia Film Distribution company, with Christie Digital and GDC Technology as their technology partners. In the short term it has to do with Ang Lee's next movie "Gemini Man", especially so since he spoke first about the details that he has learned to appreciate – pushing the technology to get a better performance and better presentation to the audience.
In the long term it is a Premium Large Format play. The announcement deals with a technology agreement that helps create the currently impossible data transfer required for the "Cinity Cinema System".
The problem that needs solving is getting beyond one of the distribution problems encountered with Ang Lee's "Billy Lynn's Long Halftime Walk". Essentially, only one cinema was able to show the movie in its intended format of 120 fps per eye 3D at 12FtL, with immersive audio.
Christie Digital did yeoman's work during the filming, post and exhibition of "Billy Lynn's Long Halftime Walk" with specially created variants of their existing equipment. The systems that were used, from the dailies to the color timing, were extremely capable but not DCI certified. The final format was quite beyond what any cinema could recreate.
For "Gemini Man", Christie continues its involvement with Mr. Lee, and further intends to deliver a new system that will become available to a broader cinema exhibitor base and audience. It will still be quite elite since every limit of 'better pixels is being pushed (WCG, HDR, HFR), but this will create a system that will pass through the DCI Compliance System.
The dual RGB laser projector solution will put over 100,000 Lumens on the screen at 5000:1 contrast, supporting playback of 4k content at frame rates of 120Hz per projector
To accomplish the extreme dataflow requirements of the Cinity Cinema System, Christie are teamed with GDC which, at their CinemaCon booth, showed the SR-6400C prototype board. This extension of GDC's multi-year networking developments is designed to accomplish the data flow requirements for the Christie projectors' tasks.
It is also announced that the Cinity system will use the RealD Ultimate Screen and 3D system.  
That GDC are part of the technology team may also be propitious as immersive audio is part of the announced specification. This logically leads to the speculation that the Cinity system will use the GDC adaptation of the DTS:X immersive audio system, which has announced over 1,000 systems installed. Again, this is not verified.
In the background, Paramount Studios has for the last 2 months been inviting exhibitors to download and run test materials that will discover whether an installed system can play 120 frames per second materials in a 2K, 2D format and 60 fps in 3D. The new agreement specifies that Christie and GDC will create a system for Huaxia Film Distribution that pushes development of their announced Cinity PLF system which will play 120 fps per eye 3D 4K materials, at a wide color gamut and with immersive sound.  
The release date for "Gemini Man" is October 4.
Ang Lee, James Cameron, Peter Jackson are only the latest of many directors and cinematographers who have worked with manufacturers in the past century to get the elements of their vision recorded in new and groundbreaking ways. But raising the capabilities of the exhibition equipment is not often an area that they have control over. One remembers the 2002 plea made by George Lucas to inspire exhibitors to install at least a thousand digital cinema systems for the release of "Star Wars: Episode 2 – Attack of the Clones". Only 100 were installed.
Huaxia Chairman Fu Ruoqing refines these points:
"The industry has made some successful efforts in shooting and post-production of advanced-format movies, and developed some preliminary solutions. At present, technical challenges along the industry chain are mostly linked to projection, with the application of HFR and other technologies as the bottleneck.

By entering into strategic partnerships with Christie and GDC Technology, Huaxia Film will work closely with them to remove this bottleneck and develop the Cinity Cinema System, thus driving innovation and upgrading of the advanced-format movie industry with technological breakthroughs in the field of projection.

By combining art with technology, we will deliver more forms of artistic presentation to the shooting and production processes to improve movie production, create a differentiated and high-end market, and keep movies alive and competitive."
–––––––––
Looking in the archives, Celluloid Junkie has monitored the PLF environment with several articles over the years. Five years ago the point was made (October of 2014) that there were 72 active PLF brands: IHS: 72 PLF Brands Compete With Imax (But Only Two Are a Threat)
Since then IMAX has grown from about 1,000 screens to 1,500, Dolby is near 200 with 200 more promised, and RealD is making the play to typify their existing sites as a PLF. The already mentioned CGS of China is also new since the 2014 report and already has 500 screens. (Stats from IHS Markit).
To put the numbers into perspective, one CinemaCon announcement was that the world-wide screen count has just crossed over 190,000 screens. Another is that IMAX last year announced its first year breaking through the billion dollar level. And "Avengers: Endgame" sure made a lot of money from IMAX, PLF and 3D screens this past weekend, so don't expect the interest to die down. 

Latest posts by C J Flynn
(see all)