By
Jim Amos
| October 22, 2017 3:21 pm PDT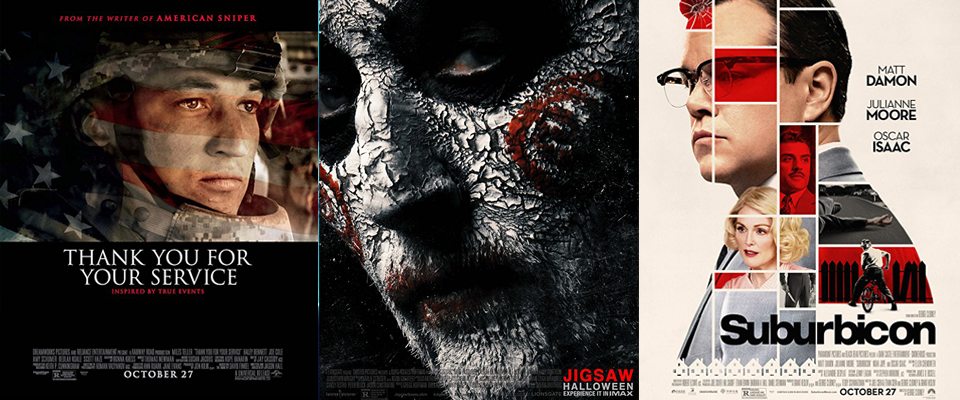 Well at least one part of this fairly wretched weekend at the box office went according to plan. Tyler Perry donned the makeup, dusted off the body pillows and went back to the well yet again for his sixth #1 opening as "Boo! 2" nabbed a $21.6 million opening, easily holding off all comers this weekend. As usual, the disparity between the Rotten Tomatoes score (8) and the Cinemascore (A-) was the proverbial night and day but that's usually the case with Tyler Perry's films, or at least the Madea efforts.
Elsewhere, it was entertaining reading a few of the industry recaps on Saturday morning with their intricate dissections as to why this was one of the worst mid October weekends in recent memory. Yesterday morning was filled with abacus-assisted regression analyses explaining yet another down week in 2017. Stop dialing M.I.T. folks, it's not that complicated. Why didn't the movies work this past weekend? Here it is in a nutshell. Warners' "Geostorm" ended up with a Rotten Tomatoes score of 13, which as we know is pretty abysmal. However, that was only the third worst among the four new openings. Yes, two other films (the aforementioned "Boo! 2" and "The Snowman") actually scored less than 13.
Pour a cuppa and strap yourself in for this scientific assessment; the movies this weekend didn't work because they weren't very good (cue the applauding old ladies from Monty Python). Studios saw this week was somewhat available and decided to take a shot with films that either hadn't turned out like they hoped or had their box office hopes pinned on too finite of an audience. Sometimes it works, most times it does not and it's been this way for 100 years. It's not the end of the cinematic world as we know it. It's another down week because the quality was lacking. Save your Descartesian Dualism-like opinings for when, heaven help us, something like "Thor", "Justice League" or "Star Wars" fizzles. Then the sky may be falling and we can all commisserate when we're asking customers if they brought their own bags at the Piggly Wiggly. Until then, just calm down, better days are coming in T Minus 10 days.
Where were we? Ah yes, "Geostorm". Producer Dean Devlin's first foray into the world of directing proved that 120 minutes of mind-numbing disaster sequences does not a classic make. A Cinemascore of B- doesn't help either. Devlin, along with partner Roland Emmerich, can make an entertaining action film as shown by "Independence Day" and even the underrated "2012". "Geostorm" was not in that league. It was probably best summed up by this week's always-cherished Celluloid Junkie Review Quote of the Week, this time courtesy of Peter Sobczynski of RogerEbert.com who wrote that "Geostorm", "really could have used a Sharknado or two to liven things up." When you're pining for Ian Ziering and Tara Reid you know you're in big trouble. That geostorm you'll hear next weekend at this time will be this movie barrell-rolling down the top 10.
Sony's "Only the Brave" turned out to be a noble failure as even sneaks couldn't germinate interest in this story of brave firefighters battling an out-of-control wildfire. The few who did go truly enjoyed the film (A Cinemascore) and the Rotten Tomatoes score of 89 should ensure that the second week drop should be less than 50% but even with that it's difficult to see this ending up any higher than $20 million.
And then there's "The Snowman". Universal's Michael Fassbender led murder mystery proved to be the cinematic equivalent of the New York Yankees in last night's Game 7. No runs, no hits, nobody left. Speaking of huge second week drops, a Rotten Tomatoes score of 9 accompanied by a Cinemascore that was far too reminiscent of my second semester senior year college grades (D) will melt the film out of the Top 10 next weekend quicker than a snowman in a microwave. The film may not even hit $6 million overall here in the States. Hopefully Norway and Finland can make up for it. Someone tell the good folks in Grunerlokka that it's on the way.
Elsewhere, Pure Flix's "Same Kind of Different As Me" rustled up $2.5 million in its debut. "Wonderstruck" was hardly wonderful with a per location average (PLA) of $17,000 in its first four locations. On the plus side, "The Killing of a Sacred Deer" managed to debut a bit better with a PLA of $28,000 in four locales.
In other items of note…
NATO announced this week that the average movie ticket price rose to $8.93 in the third quarter of 2017, slightly higher than the $8.65 in Q3 in 2016. We always have to put that number in perspective as that takes into consideration all tickets sold, obviously. It's apples and oranges to use that ticket price to assume that's what the average adult American pays for a first run movie on any given Saturday night. Obviously it's higher than that. The $8.93 takes into account child tickets, seniors, discount days, morning and early afternoon matinees, etc. Yes, Elko, NV might be $8.00 per ticket for a Saturday night but that's the exception rather than the norm. I know we all know that but it's astonishing to me when I hear talking heads on financial cable networks (as they did last week on a certain cable outlet) quote that figure as if that's what we're all paying on a Friday night at the AMC Century City or even the Flix Brewhouse in Des Moines.
Great piece on CJ about the too-cool-for-its-own-good Pathe Tuschinski theater in Amsterdam, Holland. The theatre is an absolutely stunning piece of architecture with an especially interesting history. A must read;
There's a little something for everyone as we head into Halloween week.
"Jigsaw" (LG)—After seven trips to the "Saw" well, Lionsgate obviously felt it was time for a reboot. Neither of the last two films could manage to break $50 million overall here in the States so the thinking is that they needed to shake the Etch-A-Sketch and start anew.
The Verdict: It should stand to reason that after "It", "Happy Death Day" and heck, even "Boo 2", that "Jigsaw" should be the latest horror film to stake its claim to box office gold this fall. But something feels a bit off here. Exhibitor reactions were fair at best (even for a horror film) and social media is just so-so. It probably tops the $20 million mark but not much more than that. $22 million.
"Suburbicon" (Paramount)—Director George Clooney and star Matt Damon make a great pairing on paper and throw in the Coen Brothers and this would normally feel like a can't miss. This crime/drama/black comedy set in suburban America in the 1950's also stars Julianne Moore and Oscar Isaac.
The Verdict: And yet, what looks good on paper often doesn't materialize on screen and that may be the moral to the "Suburbicon" story. Film fest reviews have been middling and the Rotten Tomato score is a perplexing 41 at press time. It's difficult to imagine a Damon/Clooney/Coen Brothers film struggling to reach double digits but that's what it's looking like. Seriously, is it November yet? Have the Bad Moms arrived? $10 million.
"Thank You for Your Service" (U)—Miles Teller, Haley Bennett and Amy Schumer star in the PTSD drama from actor and first time director Jason Ball. Exhibitor response was very positive but, as with this past weekend's "Only The Brave", the subject matter is going to make it difficult for Universal to implore moviegoers to see this in theaters on opening weekend instead of six months from now on Netflix.
The Verdict: "Good but not great" was the response from many of the exhibition screening reactions I received in recent days. For TYFYS to break through it would have to be part of this year's Oscar vernacular. It doesn't feel like that at the moment, unfortunately. Probably another noble failure. $5 million.
ALSO OPENING
"All I See is You" (Open Road)—250 or so runs on this Marc Forster ("Monsters Ball", "World War Z") helmed drama starring Blake Lively as a wife who regains her sight only to discover her life is not what it appeared.
On the EVENT CINEMA front this week, Monday starts us off on a classy note with the Royal Opera House's presentation of "Alice in Wonderland". Wednesday is certainly the kookiest day of the week with Riff Trax Live's showing of "Night of the Living Dead" as well as the start of the "Grace Jones and Friends" showings. Thursday is (unofficially) MDMA Night at the Movies with "Avicii: True Stories" and Sunday finishes the week with the Studio Ghibli Fest's "Spirited Away".
In addition, several circuits have scheduled showings of "Witches of Eastwick" and "Little Shop of Horrors" in the States but one would have to hop a Virgin Atlantic flight to catch the best of the lot: Halloween evening shows of "The Shining" in the UK, Ireland and Europe.
I'd make a great Gordon, Gordon– "Local Hero"