This story first appeared in a special CineEurope 2016 issue of BoxOffice magazine. To subscribe to the magazine click here.
Name: Bobbie Andrews
Company: RealD
Title: Marketing Director, EMEA
Country: United Kingdom
Even though it "wasn't the best cinema", when Bobbie Andrews' mother took him to see "Lady and the Tramp" at a local independent movie theatre, he instantly fell in love.
Andrews is presently the Marketing Director, EMEA for RealD, the 3D projection technology giant, where since February of this year he has been working on ways to maintain and re-energise the company's exhibition and distribution partner initiatives. "We are putting some exciting strategies in place, which are mutually beneficial to all parties, and our focus is on getting them in front of as many people as possible," Andrews reports. "The other area is the launch of our Ultimate Screen technology, and we have a side by side demo at CineEurope to show people."
Naturally, Andrews will be at CineEurope 2016 in Barcelona. Like any good marketing executive should, he urges everyone who sees him at the show to say hello and hear all about what RealD is developing.
RealD isn't the first motion picture company Andrews has worked for. He started out at Cineworld as a national marketing manager in 2007 and five years later made the jump to 20th Century Fox where was the commercial marketing manager EMEA. At the end of 2013 he became the Group Director for Innovation and Technology at Lick Creative, an integrated marketing agency where he worked with major studios and retailers.
Throughout his nearly 10 years in the business, there have been a large number of people that Andrews has looked up to, "but the most influential would have to be Steve Weiner and Paul Higginson. They both taught me valuable lessons which I use to help make decisions everyday. I spent five years working for Steve, and he showed more faith in me than I could have ever hoped for. Without him, I don't think I'd still be working in the industry."
What excites Andrews most about the market is just how fast technological innovation in cinemas has been moving of late. In just the last few years we've seen the introduction of laser projection, new audio formats, high frame rates and even RealD's Ultimate Screen. That's a good thing he says since "We need maintain this investment to justify the premium that theatrical demands and deserves. For me it's about how we, as an industry, stay relevant to the youth demographic. Multi screening is a way of life for most kids, and the cinema doesn't naturally lend itself to this type of behaviour."
Technology is changing the film business so fast, Andrews isn't quite sure where he'll be ten years from now. "Hopefully sharing news of my Top 50 under 50 award with my own wife and kids," he jokes. "If I'm still in the film industry at that point, I will consider myself very lucky indeed."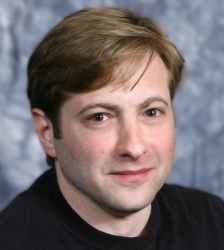 Latest posts by J. Sperling Reich
(see all)