Many North American cinema operators probably associate Adam Gottlieb with candy, refreshments and a wide variety of cinema concessions. During the past 17 years Gottlieb has been the cinema industry liaison for Continental Concession Supplies Inc. (CCSI) helping exhibitors of all sizes improve their concession product offerings.
However, industry professionals are just as likely to be familiar with Gottlieb due to his longtime sponsorship of the Al Lapidus Golf Tournament, held annually at CinemaCon to benefit a number of charitable organizations including Variety Boys & Girls Club of East Los Angeles and the Will Rogers Motion Picture Pioneers Foundation. Now the EVP of Sales and Procurement for CCSI, Gottlieb will receive the 2015 Bert Nathan Memorial Award next week in Las Vegas at this year's CinemaCon in Las Vegas
According to the press release announcing Gottlieb as this year's honoree:
The award designates active involvement in NAC, providing positive leadership direction, significant contributions to the development and professionalism of the concessions industry with significant accomplishments and longevity to the theatre concessions industry and current, active involvement in theatre concessions at the executive level.
While that description might seem a tad excessive, it accurately captures Gottlieb's extensive participation in the industry and the National Association of Concessionaires (NAC), for which he has sponsored 20 new members. He has been involved with the NAC since 2004 and is currently on the organization's Executive Committee of the Board of Directors.
Though it may seem as if Gottlieb has spent his entire career in concessions he actually started out working in sales for electronics retailers such as Circuit City and The Wiz. That is how he met Aaron Slonim, the founder of CCSI, and joined what was then a regional concessions distributor. Gottlieb helped grow CCSI into one of the leading national suppliers of concessions to cinemas, stadiums and arenas.
A native New Yorker, Gottlieb is based in Jericho, New York, were CCSI recently located its headquarters. He lives with Lori, his wife of 14 years who he's known since the first grade, and their children Alexa, age 11 and Addison, age 6. Gottlieb's 19-year-old son is a freshman at Florida State University, but may have been bitten by the exhibition bug since he works at a movie theatre when he's home from school.
When it was announced he would receive this year's Bert Nathan Memorial Award, CJ got in touch with Gottlieb to have him answer a few questions. Surely, in reading his responses it will become apparent why Gottlieb is being honored.
Celluloid Junkie: What is your first memory of going to the cinema to see a film? What movie were you seeing?
Adam Gottlieb: My first memory of going to the cinema was to see "Star Wars". I saw it at the Wantagh Theater in my home town. The Wantagh Theater was an old one screen that seemed to play the same movies forever. It was a great place to see a film, but it's an office building now. I still live in Wantagh, and I can't bring myself to step foot in the office building.
CJ: You have been with Continental Concession Supplies, Inc. for over 17 years. Can you tell us a little bit about the company? Who are some of its major clients?
Adam Gottlieb: Our business has changed a lot in 17 years. When I started, we were a small distributor with one location servicing movie theatres and specialty market customers. Our biggest customer back then was Blockbuster, and we only did a small portion of their locations. In time, we expanded nationally, and we had as many as nine distribution facilities. Today, we operate six company owned distribution centers throughout the country and service national accounts like Carmike Cinemas, Starplex Cinemas, Staples, Toys R Us, Party City and Family Video, as well as regional chains like National Amusements, MJR Cinemas, Regency Theaters, Goodrich Quality Theaters, Modells sporting goods and more. We also service a large amount of independents and mom-and-pop theatre accounts.
CJ: Like all industries, the concessions business changes with time. What are some of the biggest changes you've experienced, and what were some of the changes that surprised you the most?
Adam Gottlieb: First of all, I can't believe how much bottled water we sell these days. I never thought large amounts of people would pay for the one thing that was always free at the theatre. It makes me laugh every time I think about how wrong I was.
As far as changes in the concessions business, I am surprised at how the hot foods business has grown in theatres. When I started, it was nachos, pretzels, and hot dogs. Now, it seems the hot food choices are endless, and we continue to add to our hot food offerings for theatres every day.
You know what doesn't change, or rarely changes? The candy offerings at the theatres. It's not for lack of trying, but the theatre customer is pretty set in their ways when it comes to what candy they are going to consume while watching a movie. With a few exceptions, in the 17 years I have been doing this, only a few items have been able to gain space in the movie theatre candy case, and stay there. Sour Patch Kids, Buncha Crunch, Cookie Dough Bites, Airhead extreme belts, Welch's Fruit Snacks, and maybe a few others. I am not sure why, but I have a theory. I think teens and young adults buy the same candy at the theatres their parents shared with them when they were younger, and their parents eat the same candies their parents shared with them when they were young. I think that getting those Twizzlers or Raisinets that were the "movie treat" when they first started going to the movies, are the same treats they go for as they grow up.
CJ: What are some of the challenges you've faced during your tenure providing concessions to theatre operators? How did you overcome them?
Adam Gottlieb: There are all sorts of challenges when supplying theatre accounts, but servicing theatres is 50% of our business, and we are really good at it. I don't want to talk too much about the challenges in providing product to theatres because they are almost always one offs, like the theatre changed its locks and our key doesn't work, or there's no place to park the truck to unload, the roll up gate won't open, and so on. As a company, we don't let those challenges get in our way.
CJ: What are some of the challenges people might be surprised concession suppliers currently face?
Adam Gottlieb: The biggest one currently, is the fact that our suppliers now want us to be the warehouses. In order to cut down their exposure and to keep their costs down, they are constantly raising minimum requirements for our orders, thus forcing us to carry more inventory. While this poses a problem for us with cash flow, warehouse space, logistics, etc., the real problem is that it could lead to product hitting the shelves of our customers that isn't as fresh as it could be. That is when we fight back. That is when we have to say enough is enough.
The other challenges we can't really control. Traffic, weather, natural disasters, you name it, anything out of the ordinary can make our jobs a lot more challenging. Our job is to "get the groceries to the theatres." While our customers are usually extremely understanding of the challenges we face, the fact is if they don't have M&M's or Airheads Extreme Belts on the shelf because we couldn't get it to them, they are losing sales they will never get back. We try to make sure that never happens.
CJ: Have you ever been surprised a concession item you thought might be questionable was a success with cinemagoers? Alternatively, have you ever been disappointed that moviegoers never adopted a concession product you thought might be a hit?
Adam Gottlieb: One of our best sellers now, wherever we can get placement, is the Kenny's Dr. Pepper twists. They are licorice that smell and taste just like Dr. Pepper. I love the item, and I wanted to give it a shot at theatres. Where we have placed it, it has excelled. I didn't think it would do well because its one of those things that you have to try to know how good it is, and we introduced it right at its launch. Every once in a while a new item surprises me and does extremely well at the theatres, but if you look at candy, most of the new ones, even if they do well in the beginning don't last.
On the flip side, there have been many items I really wanted to do well at theatres, but just couldn't make it. It's a really hard thing. Theaters have 18 to 25 items in their candy case, and they don't have a lot of room to display new concepts. A grocery store has hundreds of items and much more space. Theatres can't afford to introduce new items that might underperform. The space is just too valuable to gamble with.
CJ: There have been recent attempts to ban sugary drinks and campaigns to limit candy consumption in an effort to fight obesity. How has this affected the concessions business? As well, do you have any personal thoughts on such social, and at times political, issues?
Adam Gottlieb: The New York City sugary drink ban had a lot of people panicked. New cup sets, the inability to upwell, how to make up the lost revenue, etc. It was a scary time for anyone selling soda in NYC, and the rest of the country was worried too. Luckily, that initiative got shot down, but there is always going to be another legislator waiting in the wings trying to impose their will on consumers. Personally, I think the obesity issue is less about intake, and more about the inactivity of our kids these days. I am not the fittest guy in the world, but as a kid, I was outside every day the sun was out playing baseball, soccer, football, and riding my bike all over town. Granted, the world isn't the same these days, and there is no way I would give my kids the freedom to roam the neighborhood that I had growing up, but I can't stand how much time my kids (Aaron, Alexa, and Addison) spend looking at phones, iPads and the like every day.
CJ: How are traditional concessions like popcorn, soda and candy competing with higher end offerings like alcohol and in-theatre dining?
Adam Gottlieb: I don't want to put anyone's name on this, but I remember when I was first starting in the industry, I went in to meet with a concessions buyer for a decent sized regional chain. I had a ton of new items and concepts to dazzle him with. I think he let me get through one or two of them before he put his hand up and said "Adam, you are a smart kid, so I am going to educate you a little bit. I have been doing this a long time, and all I care about selling is popcorn and soda, and F*#! everything else." That stuck with me, and for a long time it seemed like that little bit of information was spot on. It's nice to see the landscape changing a bit. It definitely makes my job more interesting. Alcohol has really helped to improve per caps, and the worries operators had about drunks causing havoc in the theatres all seem to be unfounded.
With regard to the in-theatre dining, it is hard to say how it is effecting the traditional concessions items. Many of the exhibitors featuring in-theatre dining have really cut down their traditional concession offerings (except popcorn), or gone to layouts without concession stands. I think it's too early to tell how in-theatre dining will ultimately effect the concession stand and sales of concession products, but I for one hope there is always a concession stand in every theatre selling traditional theatre concession items. The trip to the concession stand, especially with my kids, when I go to the theatre, is as much of a part of the movie going experience as the film itself. Maybe I have been doing this too long, but I don't want to see that part of the experience change for my kids or my (future) grandkids.
CJ: What do you think or wish concession manufacturers could do better or take more risks with?
Adam Gottlieb: I want to see more concession manufacturers make packs specifically for the theatres. I understand that warehousing additional SKUs adds incremental costs that the manufacturers don't want to incur, but a dedicated case pack, that wouldn't see competition from other retail channels could make a real difference for the theatre concessionaire. If the theatre had a different size of, let's say, Mike and Ike's, that couldn't be purchased anywhere but theatres, the consumer might not have the sticker shock they sometimes have now when shopping in the theatre. Let's take this a step further. There is no like item to shop on any item offered in the candy case at the theatre. No sticker shock. The consumers gradually begin to purchase more and more often at the concession stand. Theatres are making more money, and they can maybe drop the pricing a little bit, but the profits are still there because they are selling more product overall. It's a pie in the sky idea. Most manufacturers aren't willing to make theatre specific packs anymore, but what if they did? Could we all make more money, sell more product, and improve the pricing for our customers?
CJ: Alternatively, What are concession manufacturers getting right?
Adam Gottlieb: Some of the manufacturers get very little right, but there are a few, like Coke, Nestle, Mars, Pepsi, Promotion in Motion, Ricos, and Taste of Nature who have championed the idea of creating promotions featuring their products to drive business at the theatre concession stand. Whether it involves a contest for the consumer, free product with the purchase of a combo, or offering a product or products at one or two dollars as an upwell of some sort, the programs the theatres run, with their vendor partners, can really move the needle on sales at the stand. Promotions that have a component tied to them that also incentivize the concessions staff generally are the ones that perform the best. Running a promotion at the concession stand at a theatre is not easily attained, so the manufacturer had better offer the right program for the exhibitor. I don't know very many manufacturers who have run the right promo with a theatre group, that wouldn't fight for the opportunity to run it again.
CJ: Is your focus strictly North America or do you see opportunities in China and emerging markets?
Adam Gottlieb: I think there are opportunities all over the world, but for Continental Concession Supplies Inc. today, we are primarily operating in the US. We do some export business, but it is very limited. Someday, I hope to do more outside the US, but for today, there are plenty of opportunities to explore here.
CJ: When exhibitor consolidation occurs, does that mean concessions suppliers get squeezed at the margins?
Adam Gottlieb: What do you think?! We get squeezed when the wind blows in the wrong direction. In reality, the theatres need to garner as much margin as they can from the items they are selling at the concession stand. I understand it, I just hate it. No one would believe the razor thin margins a distribution company like ours works on. I don't believe the numbers myself, and we get squeezed all the time. The customers that understand what a company like ours does, and allows us to make a living (albeit a very tight one), and who partner with us are always the best to work with. We never treat one customer differently from another, but it's always a little nicer to work with a partner than it is to work with a customer.
CJ: If 2015, or any year, is a good year for the box office, does that automatically mean a good year for concessions?
Adam Gottlieb: It really depends on the movies that do well, but usually, yes, a good box office year is a good concessions year. Believe me when I tell you, "Passion of the Christ" did a lot of business at the box office, but very few people were throwing down large popcorns and boxes of Butterfinger while they watched it.
CJ: What advice would you give to theatre operators about their concession offerings?
Adam Gottlieb: At this point, I think most operators have a pretty good idea of what sells to their customers. My advice would be to keep the product in the cases looking neat, and clean. A bunch of faded boxes that have been in the candy case for two years aren't appealing to the customer. The manufacturers spend a lot of money to design those candy boxes, and they make sure the color schemes and artwork catch the eye of the consumer. It isn't going to put anyone in the poor house if they change out the display boxes in their case every month or two.
One more piece of advice, try new concepts, expand your menu, and promote your items. Sales will benefit, and per caps will rise.
CJ: What predictions would you make about the future of cinema concessions?
Adam Gottlieb: Since I started doing this, not a lot has changed, but we keep trying. I think in-theatre dining, in some form, is here to stay. I don't know if it will be full, restaurant type menus like we see at places like Alamo Drafthouse and Cinema Movie Grille, or a more truncated menu with some sort of in seat service, but I think in-theatre dining will continue to expand and the market will decide what the best format is.
CJ: What is your favorite concession item? What refreshments do you get when going to the movies?
Adam Gottlieb: I always get a large popcorn, and I never finish it. Those concession brats at my local theatre (Your Neighborhood Theater in Seaford, New York) are really good at upselling. I used to get a giant diet soda as well, but I am onto water now. I don't eat a lot of candy anymore, but when I go to the theatre with my kids, there is usually a bag of M&M's, a Kit Kat bar, or more recently, a bag of Welch's Fruit snacks involved.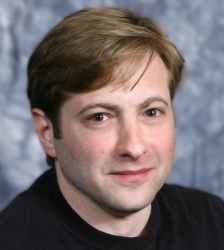 Latest posts by J. Sperling Reich
(see all)