In an effort to provide updates on the proceedings of the 2014 SMPTE Technical Conference and Exhibition presently taking place in Los Angeles, CA, this post was written live, and in the present tense, during one of the event's panel discussions. Comments attributed to panel members are paraphrased unless denoted specifically by quotation marks.
The afternoon session of SMPTE 2014 Symposium begins with a preview of footage from "Emma", a short film directed by Howard Lukk, formerly the Vice President of Production Technologies at Walt Disney Studios. "Emma" was shot in high dynamic range by Lukk and cinematographer Daryn Okada.
Four minutes of the 13 minute film is shown. To maintain eligibility for film festivals Lukk can't show the entire piece. Nor can he show it in true HDR at the symposium since the projector being used isn't capable of HDR. Still, Lukk says what he is showing should give attendees a good sense of the latitude HDR gives filmmakers.
"Emma" was shot in Los Angeles over four days in May and June of 2014. Locations included Griffith Park, the historic Mount Pleasant House and a sound stage. Okada used an Alexa camera with an open gate to facilitate a scope picture shooting ARRIRAW in the ACES color space.
Since the piece is a suspense thriller Lukk and his cinematographer strove to get rich contrast. Lukk cites the work of cinematographer Greg Toland on "Citizen Kane" as an inspiration.
One of the biggest problems on set was monitoring, says Lukk, "We were shooting an HDR movie and using and SDR monitor." As such Okada had to rely on his light meter to estimate light drop-off in certain shots.
Lukk reports that HDR allowed his team to rely heavily on natural light, but that in closeups the use of (too much) makeup was an issue. "When we went in for the closeups you can see a lot of flaws in peoples faces," he recalls. "I wanted to see those realistic things."
Lukk gets a few laughs showing attendees his post-produciton workstation which resides in a spare bedroom. The raw camera files took up 4.25 terabytes of space and the working files an additional 5.28 terabytes of storage. In all the final 4K conform came to 737 gigabytes and the 16-bit TIFF master wound up at 75 gigabytes. Lukk found himself expanding his NAS by purchasing extra Synology drives but warns, "This was good for a short film at 4K but never would have worked for a feature film." He had roughly 50 TB at his facility and still ran out of storage.
His workstation includes one PC and one Mac. For editing Lukk used DaVinci Resolve 11, which he gives goods marks. Additional software included Arri ARC 3.0, After Effects and Logic.
Florian 'Utsi' Martin, a lead digital colorist at Arri, joins the presentation from Munich via Skype. He goes into detail about how he color graded specific shots and scenes in "Emma". Lukk says that to hold deep shadows onscreen and still have nice contrast they were running into problems on the high end and often had to let onscreen light sources clip.
Martin describes how with HDR you see so much more, not only in the actors face but also details in the background, where you might not want to see that much. In HDR it is more difficult to hide things and he spent more time on masks to get the right compositions.
Both Lukk and Martin review items that would help with future HDR productions, including:
Finding an HDR display to use on screen for monitoring
Locking down a transfer function for the HDR master such as ACES or OCES
Settling aspect ratio, since scope on Ultra-HD has to be downsized and letterboxes otherwise it will be pan and scan
Settling on a standard light level
Lukk says HDR is about brightness and luminance, but it's also about contrast. "For me the big attraction to HDR was trying to get back to that high contrast, key light Greg Toland-look," he explains. "I think you get more realistic lighting. There is great contrast to the shadow details and to the bright light. I was looking for a project to do in HDR and this just screamed out for HDR."
Can you turn previously shot projects into HDR, asks an attendee. According to Lukk, "If you shot on a very good dynamic range element, meaning film, you can probably pull out an HDR out of it. If you're trying to go back and pull it out of a video camera from 10 years ago it will be impossible."
Lukk and Martin suggest when doing color timing to do the HDR-version first and then go back and do the cinema-grade. He says shooting in HDR didn't add any extra time, stating, "I don't think HDR will slow you down but if I were to go into another HDR, especially in 4K, I would spend more time with the makeup artist."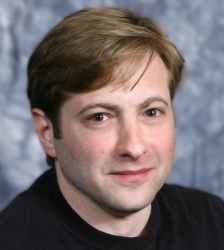 Latest posts by J. Sperling Reich
(see all)