Arriving at McCarran International Airport in Las Vegas for my return flight from CinemaCon last month I was greeted at the gate by a potpourri of industry professionals, as was to be expected. There were engineers and sales reps from manufactures such as QSC and Volfoni, studio distribution executives from the likes of Twentieth Century Fox and film buyers from exhibition chains both large and small.
Among this assemblage was Nikki Rocco, the president of domestic distribution at Universal Pictures, who at the time was using an iPad to work on something I could only assume must be very important. Earlier today Universal announced Rocco will retire at the end of 2014 after spending 47 years with the company, the last 18 as the first woman ever to head up distribution at a major studio.
Just three days before I watched Rocco walk CinemaCon attendees through Universal's summer slate during the studio's annual presentation of its upcoming releases. As I listened to Rocco skillfully introduce titles such as the raunchy comedy, "Neighbors", Seth MacFarlane's "A Million Ways to Die in the West" and the James Brown biopic "Get On Up", I was once again reminded just how talented and special she is as a person and an executive.
If spending nearly five decades at a single company wasn't evidence enough to demonstrate just how special Rocco is, consider for a moment that the company at which she has spent her entire professional career is a movie studio. How many studio executives in senior management roles make it past the decade mark at just one company? Not very many. Especially ones that joined their studios as paid interns in 1967.
On top of that, Rocco has been able to survive as the head of distribution during several ownership and leadership changes at Universal. Seagrams purchased the studio the year before Rocco was named the head of distribution in 1996. This was after five trying years under the ownership of Matsushita Electric. In 2000 Universal was sold to Vivendi, a french water utility, transforming into Vivendi Universal. By 2004 Universal was sold again, this time to GE, which already owned NBC, the broadcast television network, thus creating NBCUniversal. Cable operator Comcast then bought a controlling share of NBCUniversal in 2011 and acquired the company outright in 2013.
Through it all Rocco remained in charge of distribution at Universal. Also with the studio throughout this same period has been Ron Meyer, now the company's Vice Chairman. "Nikki Rocco is one of the hardest working, most loyal people I've ever known, and I've cherished every moment we have worked together at this company," Meyer said of a Rocco in a widely quoted statement accompanying the news of her retirement. Such praise from the likes of Meyer holds significant weight, given that has been the head of a movie studio longer than anyone else in the history of the business.
In addition, Rocco is known for scheduling significant releases during all 12 months of the year, not just during the summer months or year-end holiday windows. For instance, Universal distributed "Fast & Furious" in April of 2009 shocking the industry by earning USD $70 million during its opening weekend. In 2000, Rocco oversaw the release of "Erin Brockovich" in March and "Meet The Parents" in October, both of which opened to USD $28 million. More recently, the studio's "Lone Survivor" has done respectable business this past January.
During her CinemaCon appearance in Las Vegas Rocco joked, "The only gambling I really like to do is picking release dates." It's certainly paid off for her over time. In 2013 Rocco helped Universal movies earn USD $1.42 domestically, the studio's best year ever.
In my own personal experiences and interactions with Rocco she has been nothing but pleasant, professional smart and helpful. She never failed to return a phone call by the end of the day, even when she wasn't sure why I was calling. Maybe that's why I always skip straight to her quotes in weekend box office articles whenever Universal has a movie opening.
In his own statement regarding Rocco's retirement, the relatively new chairman of Universal Filmed Entertainment, Jeff Shell, referred to her as "an industry icon", though he just as easily could have used the word "legend". That's why I'm sad to hear Rocco won't be on Universal's studio lot everyday starting in 2015 (though she will continue on as a consultant).
If there is a positive way to look at thew news of Rocco's retirement, it's that Nicholas Carpou, currently Rocco's second in command as the co-president of domestic distribution at Universal, is widely expected to step into her role. And justifiably so I might add.
As we boarded our short flight home to Los Angeles from CinemaCon, Rocco put her iPad away and in the process I saw the important work that had been consuming her attention, was indeed some kind of virtual card game. Maybe that's how Rocco learned how to gamble so effectively on all those release dates, though more than likely, her success in such endeavors comes from an intimate knowledge of motion picture distribution acquired through years of first-hand experience.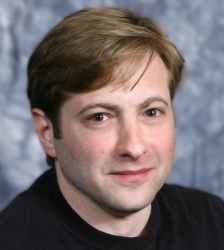 Latest posts by J. Sperling Reich
(see all)