[youtube width="560″ height="340″]http://www.youtube.com/watch?v=rfnXx4mBO4k[/youtube]
This past Sunday Cinedigm, a leading North American digital cinema deployment entity, achieved another live event milestone and I was there to witness it first hand. As we reported back in June, Cinedigm partnered with Sensio Technologies to bring the FIFA World Cup Final live and in 3D to theatres throughout the United States and Canada.
Event Details
At the time there was some uncertainty as to how many theatres were to show the FIFA World Cup matches and where they would be located. In total 25 FIFA World Cup matches were shown live in 3D at 475 venues in 33 different countries accounting for 4,500 screenings.
Cinedigm was given permission directly from FIFA to show the matches at 15 locations and theatres in Arizona, California, Florida, New Jersey, New Mexico, New York, Ontario Texas and Virginia were selected. Another 15 locations were allocated to NCM Fathom.
Originally Cinedigm intended to show both the semi-final matches as well as the championship game, which pitted Spain against The Netherlands. Instead they chose to hold screenings only for Sunday's final in order to have one marquee event. The feed for the event was supplied by ESPN, which was capturing the match in 3D for its new 3D network.
From what I was told ESPN wasn't too pleased about the final being broadcast in cinemas.
First Hand Account
Dave McNamee of the HL Group, Cinedigm's public relations firm, was kind enough to provide me with a pass to see the FIFA World Cup final at Rave Los Angeles 18 (formerly The Bridge). I was told to arrive early as seating was on a first come first served basis, but due to traffic and weekend errands I wound up arriving just as the match began.
The box office was empty and I figured this would be yet another lesson in how football (or soccer) was an underappreciated sport in North America. However, the quietness of what appeared to be a deserted multiplex was an illusion shattered upon entering the 364-seat auditorium in which the World Cup game was being shown. Every seat was filled except for the one I managed to squeeze into (and only because it was broken).
The theatre also sold out a 218-seat auditorium for the football (or soccer) match. It was later reported that Cinedigm sold out all of its World Cup Final screenings with 50% of the venues selling out more than one screen.
The picture quality of the game varied between a perfectly crystal clear image on closer field-level shots to the standard half-field shots from the stands which were a little fuzzier. I overheard a couple of people in the audience say they couldn't make out the soccer ball within the frame.
I noticed this problem as well on a few occasions, but only on half-field shots that showed half the stadium. At times the ball appeared to have some ghosting issues. In all likelihood what was causing this on a technical level was the live feed itself, which was being broadcast in 1080i and projected at 1080p. The fuzziness of the ball was a byproduct of the interlacing.
Even so, the 3D effect was truly amazing, especially on field level shots where you could see the exact position of the ball, the distance between players and the true length of the field. Penalty kicks near each teams goal really came to life since it was possible to see all the obstructions the goalie had to contend with. I've heard many people say that football (or soccer) is a sport that wouldn't work in 3D since most broadcasts rely heavily on wide shots rather than 3D friendly close-ups. I can assure you that 3D added value to the viewing experience.
So did being among more than 300 sports fans glued to the screen, intermittently screaming and cheering with every shot on goal, amazing save and questionable foul. One patron even blew a vuvuzela in support of Spain every time they came close to scoring. At halftime a long line formed for the men's bathroom and someone wearing a soccer jersey exclaimed, "Hey, it's just like being at the stadium!"
Indeed, other than the lack of beer and alcohol, it was.
Reaction
Like the positive comments found on Rave's Facebook page, those I spoke with after Spain won the match in extra time were all pleased with the event and praised the 3D picture quality.
Dev Oli, a young meditation and yoga instructor, traveled all the way from San Diego to Los Angeles to be present. "I though the ball would really come out of the screen, but I still enjoyed it," he said. Though Oli had seen numerous 3D movies, it was his first time seeing a sporting event at a cinema in 3D. He said he would definitely return to see another sporting event in the future, "especially if they figure out how to shoot it."
Cinedigm has previously broadcast live 3D sporting events such as the 2009 BCS Championship, the 2009 NBA All Star Saturday Night and this past year's NCAA Men's Basketball championship. If such 3D sporting events being broadcast in cinemas are sure to improve with more time and experience, then with the 2010 FIFA World Cup Final Cinedigm made a convincing argument for a bright future.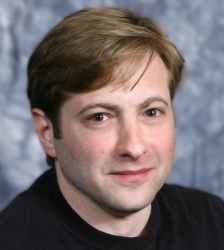 Latest posts by J. Sperling Reich
(see all)