Last week Cinedigm announced a partnership with Sensio that will allow them to bring the FIFA World Cup Soccer Tournament being held in South Africa this month to theatres all over the world. What's more, the matches will be shown live and in 3D.
The press release sent around to promote the partnership was was pretty standard, but there was one sentence that raised a question for me:
"To kick things off, the companies will use Sensio's technology and Cinedigm's theatre technology design to bring select matches from this year's FIFA World Cup Soccer Tournament in Live 3D to hundreds of theatres around the world."
My curiosity wasn't necessarily stirred over which of the matches would be shown, because the release goes on to mention they'll start with the quarterfinals. Instead, I was left wondering what "Sensio's technology" actually was and how Cinedigm, a leading North American digital cinema integrator, would utilize it to project a live broadcast of a World Cup Soccer game in 3D. The rest of the press release only served to make me even more inquisitive, especially upon reading:
"…Cinedigm's extensive experience in bringing live 3D sporting events to U.S. theatres through Sensio 3D format and CineLive technology."
I was aware that Cinedigm had done a good job broadcasting live 3D events into theatres previously, and even attended some of the events, such as the 2009 NBA All-Star Saturday Night and the 2010 NCAA Men's Final Four. I knew that the company had created the CineLive Network specifically for this purpose. However I thought it was about time to actually understand what this Sensio technology actually was and why it was being referred to as a 3D format.
A quick visit to Sensio's website provided me with little more than the company's history and mission which made it clear that their focus is on 3D technology. The professional 3D cinema section of the website only lists two different products:
SFX Pro Cinema – 3D live encoder/decoder for digital cinema and live events
CineLive – Cinedigm's exclusive product which allows live 3D and 2D content broadcasting into digital cinemas
So now I knew that Sensio had something to do with encoding and decoding live 3D content. But specifics were hard to come by. With enough clicking around on the website I came across Sensio's media kit which contained the same verbiage sent to me by Cinedigm's PR firm, HL Group, when I inquired about the company and its technology:
Sensio develops and markets stereoscopic 3D digital compression, decompression and display formatting technologies. Its solutions are deployed on a global scale by content creators, game developers, broadcasters, specialty channels, and digital cinemas. . . It's flagship technology, Sensio 3D, allows the high-quality distribution of 3D content through conventional existing 2D broadcast networks and playback on any 3D display device, including plasma TVs, LED/LCD, HDTVs, PC and glass free 3D displays, as well as home theater and digital cinema projectors.
Finally I had my answer. Sensio must be enabling Cinedigm to receive and decode 3D content that arrives through their satellite network. Presumably the content is being compressed at the live event in a proprietary manner that allows it to be transmitted over a standard broadcast network. What Cinedigm must bring to the relationship is cinema technology experience as well as strong relationships with theatre owners.
So, now that you're up to speed on how Cinedigm will bring live FIFA World Cup matches in 3D to movie theatres, do you plan on attending one of the broadcasts?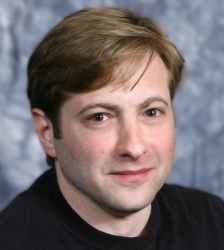 Latest posts by J. Sperling Reich
(see all)