[/caption]
Here is another entry in our series presenting the comments of industry participants on last month's Cinema Expo.
Frank de Neeve is not only an experienced projectionist working in The Netherlands, but he also runs the digital cinema news website Cineserver.nl. For those whose Dutch might be a little rusty, the site can be translated by clicking on the U.K. flag in the upper right hand side of the navigation bar.
Without further ado, here is de Neeve's thorough accounting of Cinema Expo:
Naturally this year's Cinema Expo was the first one that was a joint production between UNIC – the European exhibitors Association and the Sunshines. I think the cooperation can work well; UNIC might not be able to manage on their own as NATO will do next year. Last year there were two conflicting shows: Cinema Expo and the week before that the European Cinema Summit in Brussels.
The European Cinema Summit was by far the worst show I have ever been to: it was badly organized, panels were boring and went on for too long, there were too many people that liked to hear themselves talk etc. No refreshments, hardly any companies on the trade show (Doremi even left after the first afternoon!). However, the topics they wanted to cover in discussions were good.
For years – although people flocked to Cinema Expo – Europeans have also been critical of the show:
It was too American, with only blockbusters, Coca Cola sponsored seminars, etc.
The trade show only being open a few hours a day as otherwise people might miss 'important' Hollywood films
There was not enough room for discussion that reflected the cultural diversity of Europe, with traditional discussion points like piracy and windows always popping up.
You could this year already see a shift in the panels:
Many were presented by Phil Clapp of the UK exhibitors association
There were even two instances where headphones were handed out, as one of the panelists was speaking in French. I think this has only happened once before.
On Monday there was a session about alternative content. I thought that that session was okay, but vendors like Arqiva and in particular Smartjog, cannot really do 'non commercial' presentations as required. Also, the Smartjog presentation only presented their system about delivering DCP's and did not focus on alternative content.
Like last year there was then a quiz about trends and opinions in the market. There were two panels of industry experts on stage, opinions were presented on screen and the audience then had to pick their view with a personal remote control. That was quite good.
What was really good was a meeting of the European Digital Cinema Forum where Peter Buckingham presented something that they're doing at the UK Film Council. Basically they have gathered film data from 2007-2010 of all screenings in the UK – not only in cinema but also festivals etc. They will make that available on-line from early July onwards. What they say that you can then do is test out VPF deals with real data – although nobody can guarantee that in digital programming will be similar to 35mm. The URL is http://ukfilmcouncil.org.uk/audiencedev
The panel about piracy was quite good. Paramount gave a presentation that showed how the piracy world has evolved since peer to peer. The presentation discussed Cyber Lockers and showed how pirate sites mimic commercial sites so consumers have no idea that they're actually accessing illegal content. The presenter also had one really eye popping demo where in just six clicks you could access illegal streaming films – current releases, starting with a simple Google query.
The seminar on the digital cinema roll out in Europe on Tuesday started with David Hancock doing a great overview – as always. The panel afterwards focused on different ways of how European countries and regions are financing the digital roll out and how the European Union can step in to help. It was a good example of how with the input of European exhibitors in the program of Cinema Expo, the show can be better tailored towards the questions that face Europeans in the industry.
At the same time there were also disappointing panels, like the totally unnecessary 3D panel on Thursday; I walked out like most other people halfway as there hadn't been a single original thought.
The trade show was smaller than before, even though Bob Sunshine had said on Monday that figures were up. I hear that one European integrator paid over EUR €10,000 for a small booth, which is almost EUR €1000 for every hour that the trade show is open. I think this is terrible.
I like the media block that USL is developing, although it's not ready yet. And Christie had a striking booth: no projector visible, only an entrance to a small auditorium where they were screening content. The message seemed to be: you have seen our projectors, but it's all about the content.
Another product that I like is Doremi's new but long announced StreamIt. With this product you can distribute 2D or 3D satellite signals via fiber within the cinema to up to 4 screens and play out via the Doremi server. These kind of products can ease the introduction of 'alternative content' in cinemas, make screenings more reliable and ensure that the quality of presentation remains high.
The one real new product that was on the show was the Panavision 3D system.
I thought their presentation was very poor. John Galt and Eric Rodli from Panavision just let the product speak for itself. They did of course mention that it can also work with white screens, but they never tried to convince us why it was, for instance, better than Dolby. It was not a commercial presentation. Reactions were mixed. I heard one exhibitor who was really enthusiastic and said that the quality was good and the product cheap. But I overheard one other major exhibitor from Europe who thought that the quality was lousy.
Panavision never talked about light efficiency in relation to other systems, but did mention in the end that they used two Barco projectors, which on the big screen in the RAI is also quite logical.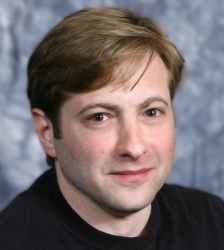 Latest posts by J. Sperling Reich
(see all)