[youtube width="560″ height="340″]http://www.youtube.com/watch?v=JZhMuTdL5n8[/youtube]
These days trying to gain awareness for a product through the marketing clutter can be an uphill battle in the best of times.  The amount of advertising most people are subjected to on a daily basis has skyrocketed over the last decade to hundreds, if not thousands, of messages per day.  Whatever the number, getting the message out about a new product is no easy task and that is certainly true when it comes to movies.
With at least three new films opening each week in North America, moviegoers are inundated with trailers, posters, news stories, commercials, billboards, merchandise, promotions, etc. for new releases.  Up until the last five years there almost seemed to be a set formula for how to market an upcoming release.  Now with media such as the Internet and video games competing for consumers attention, it's even more difficult to market products, especially movies.  As many companies in various industries are discovering, the hugely expensive marketing campaigns movie studios are known for throwing at their films may not be as effective as a grass roots word of mouth campaign implemented that employs the networking characteristics of the web.
Just ask the filmmakers behind "Bart Got A Room".  What. . . . you haven't heard of the indie film "Bart Got A Room?"  Yeah, neither had I until mid-February.  I stumbled across a one of ScreenCrave's Twitter posts that mentioned the trailer for "Bart Got A Room" was now online and the film looked hilarious.  That was enough of a plug to get me to click on the link they provided and watch the trailer on YouTube.
Turns out "Bart Got A Room" is an independent film from first time writer/director Brian Hecker that received enough positive reviews when it premiered at the Tribeca Film Festival last April that Anchor Bay came along and acquired it.  The coming-of-age movie about a teenage boy in desperate search of a prom date opened on April 3rd on 11 screens in New York, Miami and Los Angeles.  After 10 days in theatres, the film has made USD $50,000.  This may not sound like much, but the trailer was about the only marketing the film had. . . or was it.
While watching the trailer on YouTube I noticed a number of related links referencing the film, all of which featured what seemed to be the same heavyset, adolescent-looking boy.  With a few clicks I discovered this "boy" was Brandon Hardesty, an up-and-coming comedian who gained fame on YouTube making short quirky videos.  He initially gained recognition doing clips documenting his strange faces and voices that received millions of views.  His short "The 30 Second Video" made him a YouTube star and he now has over 66,000 subscribers to his channel.  He is now best known for doing a series of reenactments of classic film scenes in which he plays all of the characters.
Hardesty somehow parlayed his YouTube notoriety into a supporting role in "Bart Got A Room" in which he stars with the likes of William H. Macy and Cheryl Himes.  But the young comedian decided that once the film cameras stopped rolling,  his video camera would take over.  He produced a series of unofficial video blogs on YouTube about his experience working on the film, including ones where he announces landing the role and another where he is attending the film's premiere at the Tribeca Film Festival.  These videos have been viewed hundreds of thousands of times.  As seen above, when "Bart Got A Room" was about to hit theatres, Hardesty made another comical video announcing its release date and which theatres the movie would be playing in.
While all of this did not turn "Bart Got A Room" into a USD $100 million blockbuster, it did work to increase awareness of the film with Internet savvy moviegoers (you know, the ones that usually have expendable income).  As well, it made me feel like I knew a little bit more about the film before going to see it.  After watching all of Hardesty's videos I felt quite gratified that I had learned about a film that I was unaware of in a manner that didn't require a trade publication or a television commercial.  And isn't that the intent of marketing. . . to build awareness?
As Hardesty is now proving, major Hollywood studios are reluctant to head down such a grass roots path with their big budget films.  He is now starring in the next "American Pie" sequel and, like with "Bart Got A Room", he is posting videos about his experience on YouTube.  Unfortunately, in his first posting he reveals that his posts might not be as frequent as he must run everything past the execs at Universal for approval.  It's a shame really, because Hardesty's efforts are truly complimentary to the marketing of such a film.  In fact, I had no idea another "American Pie" sequel was in the works until I saw Hardesty's latest post.
Major studios may find that following Hardesty's lead by conducting some of their own inexpensive social networking campaigns could help them build awareness of a film with the public and maintain that awareness for an extended period of time.  If executed properly, such campaigns could very well become part of the moviegoing experience – rather than being turned off by traditional advertising, audiences might actually seek out and participate in the marketing.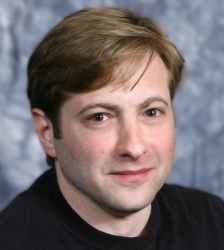 Latest posts by J. Sperling Reich
(see all)