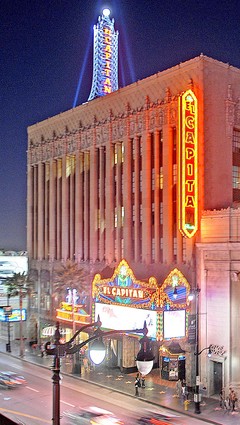 You can own a piece of Hollywood history for a mere. . . USD $31 million!
The Los Angeles Times reported yesterday that the El Capitan Theatre, located in the heart of Hollywood, has been put up for sale by its owner, CUNA Mutual Group.  The building in which the theatre resides also contains six-stories of office space filled with entertainment industry tenants, including the studio for late night talks show, "Jimmy Kimmel Live".  The theatre sits across Hollywood Boulevard from Grauman's Chinese Theatre and just down the street from the Egyptian Theatre.
Built in 1926 as a live theatre venue, the El Capitan has seen the entire gamut of Hollywood history.  From the first motion pictures with sound to the world premiere of "Citizen Kane" to the decline of Hollywood into filth and squalor, to its recent rise again as one of the hottest parts of Los Angeles.  Through it all the El Capitan never stopped functioning as a theatre accept during renovations.  In 1991, Walt Disney Company and Pacific Theaters spent $6 million restoring the venue to the way famed theatre designer G. Albert Lansburg had intended back in the 1920s and returned the outdoor lighting and architectural features to their original state.
Unfortunately, the restored El Capitan was open long when in 1994 the theatre suffered sever damage during the Northridge earthquake.  The building's frame came close to being condemned and the theatre's renovated interior was ruined by flooding when sprinkler systems malfunctioned.At the time the El Capitan's owners decided that repairing the building would be too costly and turned it over to CUNA.  The theatre may not have survived if Disney hadn't signed a long term lease.  That gave CUNA the confidence to spend $10 million to fix all the earthquake damage and return the theatre to pristine condition.
Disney remains the El Capitan's tenant and told the LA Times that intended to remain in the theatre after its sale.  Most every major Disney animated film opens at the El Capitan, usually with a stage show featuring popular Disney characters.  The news that the theatre is now up for sale may worry some historical movie palace aficionados, but essentially the only thing CUNA hopes will change is the building's landlord.  Company spokesperson Rick Uhlmann told the Times:
"The El Capitan has a bright history in the entertainment industry and we really want to find a buyer who will maintain its entertainment legacy for a long time."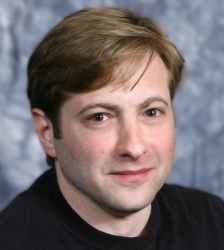 Latest posts by J. Sperling Reich
(see all)