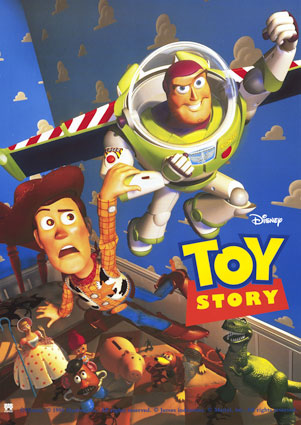 Walt Disney Studios announced today that it will be reworking both of their blockbuster "Toy Story" films, creating Disney Digital 3-D versions which will be released theatrically before "Toy Story 3", which is presently being produced as a 3-D movie with a June 18, 2010 launch date. Dick Cook, chairman of The Walt Disney Studios said that overseeing the project would be John Lasseter, who directed both "Toy Story" films and who is presently serving as creative officer for Disney and Pixar Animation studios.
"Toy Story" was initially released as Pixar's first film in 1995. The movie went on to huge critical fanfare and financial success garnering three Academy Award nominations. Lasseter himself won a special Oscar "for the development and inspired application of techniques that have made possible the first feature-length-computer animated film." Say that three times real fast. It's a mouthful.
The movie features the voices of Tom Hanks and Tim Allen as Woody and Buzz Lightyear, two toy dolls who come to life when the boy who plays with them leaves his bedroom. In fact all of the toys in "Toy Story" have a life of their own when humans aren't around and they manage to get into a lot of mischief out in the real world. In "Toy Story 2", which was originally released in 1999, Buzz and Woody are reunited to face a whole new set of adventures.
According to the press release Disney put out, Lasseter is looking forward to seeing his
"With 'Toy Story 3' shaping up to be another great adventure for Buzz, Woody and the gang from Andy's room, we thought it would be great to let audiences experience the first two films all over again and in a brand new way. 3-D offers lots of great new possibilities for the art of animation and we will continue to use this new technology to tell our stories in the best possible way."
Indeed, what better way to market the latest addition to a successful franchise than to release all of the previous films. Just ask George Lucas who restored and re-released the original "Star Wars" trilogy in 1997, twenty years after their initial debut and two years before the first of the "Star Wars" prequels hit theaters. Frankly, it's not such a bad idea when you think about it; Disney will be giving audiences a reason to see (and pay for) a film that they probably already own on DVD and at the same time introduce the films to children who may not have even been born when the films were originally released.
What might make things a little easier for Disney to perform the conversion is that they will be digging up the original digital elements Pixar used during production of the "Toy Story" movies. Given that they were produced digitally one can presume Pixar artists will be shuffling through gigabytes, if not terabytes, of files with relatively few hurdles in their way when performing the conversion. Though surely, as the release date draws near we'll be bombarded with news stories about the arduous process of transforming the films into 3-D and this presumption will look oversimplified.
The converted version of "Toy Story" will be released on October 2, 2009, while the 3-D version of "Toy Story 2" will land in theaters February 12, 2010.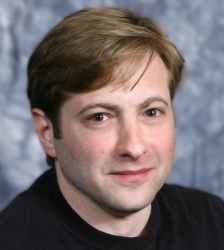 Latest posts by J. Sperling Reich
(see all)