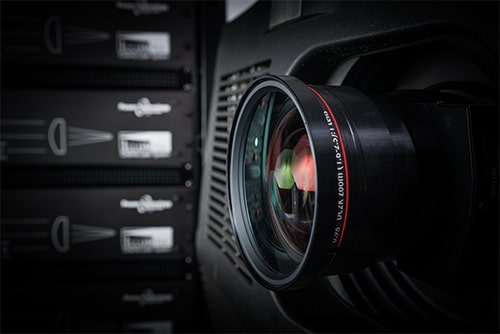 During CinemaCon 2019, DigiCine and Power Technology will host a joint demonstration of innovative solutions that breath new life into existing projection equipment. Both solutions allow theater owners to delay the purchase of a new projector and  extend the life of their existing projector.Using DigiCine's media servers and Power Technology's Illumina light source, visitors can experience the most modern content DCP's delivered to an older Series 1 projector. The same projector will demonstrate how laser illuminated projection can be applied to older projectors as an upgrade.
A special panel discussion will be held on Wednesday, April 3 from 2PM to 3PM and will be moderated by Patrick von Sychowski from Celluloid Junkie. Thought leaders will discuss "How to stretch your investments in booth hardware". Panelist will include Mark Collins with Harman International (formerly Marcus Theater's Director of Projection Technology), Mark Louis, Senior Director of Presentation at Alamo Drafthouse, and Thomas MacCalla, Partner at Convergent.
CinemaCon is held annually at Caesars Palace in Las Vegas, Nevada. This year's event will be held April 1-4, 2019.
"As an upgrade to existing cinema projectors, the Illumina laser light source offers RGB laser performance without buying an entirely new projector." said Walter Burgess, VP of Power Technology's cinema division.
Karl Anderson, CEO of Digital Cinema Systems Corp (DigiCine) added "The DigiCine media server makes it possible to play ultra modern SMPTE DCP content on the oldest of projectors. By smartly applying technology it is possible to get more value from these older porojectors."
Both the media servers and the laser light source integrate with Barco, NEC and Christie projectors. The Illumina light source is also compatible with Sony cinema projectors.
For the CinemaCon demo, studio content has generously been provided by Warner Brothers. Godzilla, King of Monsters will be the featured cinemagraphic content.  Content from The Lego Movie 2 will demonstrate the range of vibrant and dynamic colors that can be generated with laser illuminated projection. Additional content will feature difference performance aspects of the Illumina laser system.
Ongoing demonstrations will be held Tuesday 11AM – 5PM, Wednesday 9AM – 5PM and Thursday 9AM -12:30PM. Walk in anytime. As a courtesy/convenience to CinemaCon attendees, demonstrations will be running continuously and attendees are encouraged to stop in any time.  The demonstration is located in the Sorrento room (Promenade level) just down the hall from Milano 1 and Millan IV.
About Power Technology – Power Technology, Inc., established in 1969, is a leading manufacturer of lasers for OEM projection, analytical, biomedical, industrial, defense/security, and machine vision applications. For more information about Power Technology, visit powertechnology.com or contact Walter Burgess, VP Cinema at  waburgess@powertechnology.com or 501.407.0712 x203
About Digital Cinema Systems (dba DigiCine) -Digital Cinema Systems are experts in providing solutions to movie exhibitors and digital cinema deployment entities. Working collaboratively with clients, Digital Cinema Systems help them achieve their objectives, through the provision of software, consulting and support services.Visit them in the Augustus Ballroom at CinemaCon at booth 2715A.  For more information about Digital Cinema Systems visit www.digicine.com or contact Karl Anderson at karl.anderson@digicine.com or 424.477.3444